Lobster Fest - Big Treats, Great Value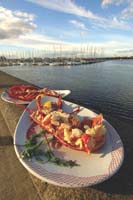 Ask around to see what's regarded as the ultimate treat when dining out, and the chances are most people will say lobster – and the good news is that it's so plentiful this summer that prices have come way, way down. So not only can you enjoy lobster more often in your favourite seafood restaurants, but it's a real option for cooking at home or in your holiday kitchen too - and easily available from good fishmongers.

Beshoff's (01 8390766), on the West Pier in Howth for example, are offering it at a very reasonable price - about €19.95 per kilo at the time of writing (early August 09) and still going down).

The average size of lobster served in restaurants is around 1-11/4lb/500g, so your kilo of live lobster should be enough for two main course servings, or four starters – fantastic value!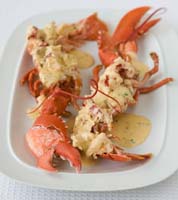 Lobster is the treat of the moment, so make the most of it – irresistible offers are on menus all round the coast, and even smart city restaurants like Richard Corrigan's Bentleys are in on the act (€22 for a native half lobster). Beshoff's also have a lobster sale in their restaurant, Ivans , with a good-sized lobster offered half a dozen ways at just €29.95 for the month of August – and, across Howth Harbour at the King Sitric , the lobster season sale is in full swing, with grilled/steamed lobster at €24 per lb/450g - and lobster dishes can even be included in their special 2-course €28 dinner menu at only €5/10 supplement (traditional lobster cocktail starter, for example, and classic main courses like Dublin Lawyer, Thermidor or lemon butter sauce).

Unless you buy it freshly cooked, lobster – like any other crustaceans or shellfish - must be bought live. They are then killed humanely in boiling water, or using a sharp knife; the two methods are described in the recipes below.

To Prepare the Cooked Lobster

1. Remove claws
2. Cut away underside shell
3. Remove flesh
4. Remove stomach and discard
5. Crack claws
6. Remove meat from claws

The prepared lobster meat is then ready to use in any made up dish and, for anyone avoiding sauces, can also be served very simply with salad, seasoning and a squeeze of lemon juice.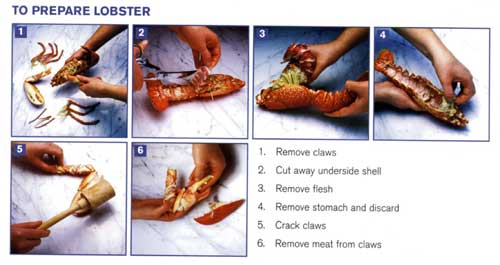 Lobster Dublin Lawyer & Variations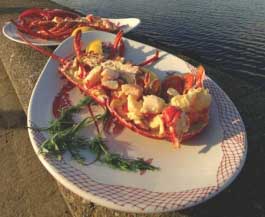 Lobsters don't get fresher than the ones served by Aidan MacManus at The King Sitric in Howth, which are caught in Balscadden Bay just outside the restaurant.

Aidan's cooking method is given here, together with some of the variations offered along with one of the most popular dishes, Dublin Lawyer – as it's rich and full of whiskey, it doesn't take too much imagination to guess how it got its name!

Click here for recipe



Lobster Salad with Lemon and Dill Mayonnaise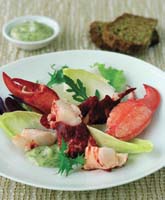 This old favourite is from Trish O'Mahony who, together with her husband Fergus, owns Mary Ann's Bar & Restaurant in Castletownshend, County Cork. This salad (and a crab variation) often makes an appearance on the daily blackboard specials in the bar, served with their famous home-made brown bread, and it never fails to draw compliments. The leftover lobster shells can be frozen and used for making lobster stock for soups.

Click for recipe
Apps and Books
iPhone App (Free)

Quickly and easily find all the very best places to eat, drink & stay across the island of I ...

more...

Blackberry App

Quickly and easily find all the very best places to eat, drink & stay across the island of I ...

more...