Rachel Gaffney's Letter from Texas - Cultural Tourism in Ireland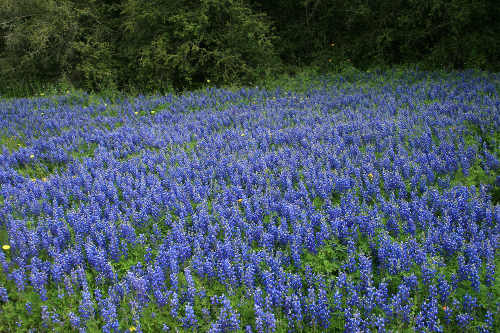 Rachel Gaffney, the famous foodie who's flying the flag for Ireland in Texas, is turning her attention to other aspects of Irish culture - especially our historic buildings
Spring has certainly arrived here in Texas. The landscape is carpeted with the ubiquitous site of 'Texas Blue Bonnets'. Families can be seen photographing their little ones as they wade through this blue and at times purple sea. Flowers are indeed one of the first signs of spring and along with it brings the rebirth of things that have being lying dormant all winter.
Perhaps it is no coincidence that I am excited about the rebirth of the Irish Georgian Society here in North Texas. "The Irish Georgian Society is a membership organisation whose purpose is to promote awareness and the protection of Ireland's architectural heritage and decorative arts."
It was founded in 1958 by the Hon. Desmond Guinness and Mariga Guinness for the protection of buildings of architectural merit in Ireland. It is based in Dublin but has chapters in the UK and USA also. In the 1970's and 1980's the Dallas chapter was an extremely vibrant and active chapter.
During these years Desmond Guinness was a frequent visitor to Dallas Fort Worth and as a result the people here travelled to Ireland in support of his mission to save the buildings in Ireland that are in danger of being destroyed. At a later stage I plan on telling the story of the people here in Dallas Fort Worth that to this day still travel to Ireland and donate their money to preserve our national heritage.
This is neither folly nor a whim of the idle rich. This is a deep rooted passion for preserving and conserving our past and our heritage. The longer I live in this country, the more I identify with this commitment. I have now committed to joining this group and picking up where some have left off.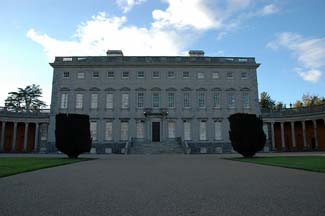 Much work needs to be done. Although raising funds is the primary objective so places like 'Castletown House' in Co Kildare (see image), 'Damer House' in Co Tipperary and 'Doneraile Court' Co Cork could be saved from demolition, appreciation for Irish craftsmanship is equally important.
When I was growing up in Cork, my father used to say to me that people who lived next door to the church tended to be last to mass! As the years rolled by, I moved to London and lived in South Kensington. I did not visit the Royal Albert Hall until a return visit some years later. I took it for granted. I lived a mere short distance from it and was never in a hurry to visit. I do not think there is to be any blame for taking these magnificent buildings for granted until the threat of demolition comes along or you move away completely.
After all, growing up in Cork, walking up the sycamore tree lined avenue of the Ursuline Convent every morning was merely walking up the avenue to school, my daily grind! Playing music and attending the Cork School of Music each and every week was also part of my schedule and not a time to stop and admire the buildings of my own lovely Lee. All that has changed for me now.
So, what to do about it? My answer has always been and will always be tourism. I have some pretty strong ideas about how Ireland is marketed here in the United States but I will leave that topic alone right now. (That is a topic for another day.)
If you read through the Irish Georgian Society website you can read where Desmond Guinness wrote in their newsletter back in 1960 'We are the only country in Europe that has not yet developed its architecture as a tourist asset'. I agree wholeheartedly.
In the early 1990's, I proposed the idea that Ireland market itself as a tourist attraction for her ingredients. 'What a ridiculous idea Rachel' was what I frequently heard. We now know how this has turned out. It did not happen overnight. It happened because a became a trend. To become a trend, there must be enough people demanding the same thing all at once. The great advantage of aging, I find, is that I care less and less what people think. To those who think this is a ridiculous idea, so be it. For myself, I certainly do not intend to wait like I did in my twenties and thirties.
I have begun the process of planning trips to Ireland for people who are interested in history, culture, architecture and music. These trips are not intended for 'The Irish' they are intended for anyone with an interest in travel and the aforementioned. I will leave you with the words of George Bernard Shaw: "People who say it cannot be done should not interrupt those who are doing it".

-------------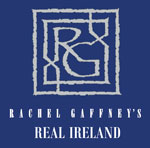 http://rachelgaffneysrealireland.com

Facebook: Rachel Gaffneys Real Ireland
Follow me on Twitter: @Rachelgaffney
Email: Rachel@Rachelgaffneys.com

Watch 'The Irish Kitchen' now on HULU
http://www.hulu.com/the-irish-kitchen-with-rachel-gaffney