Rachel Gaffney's Letter from Texas - Dallas food trucks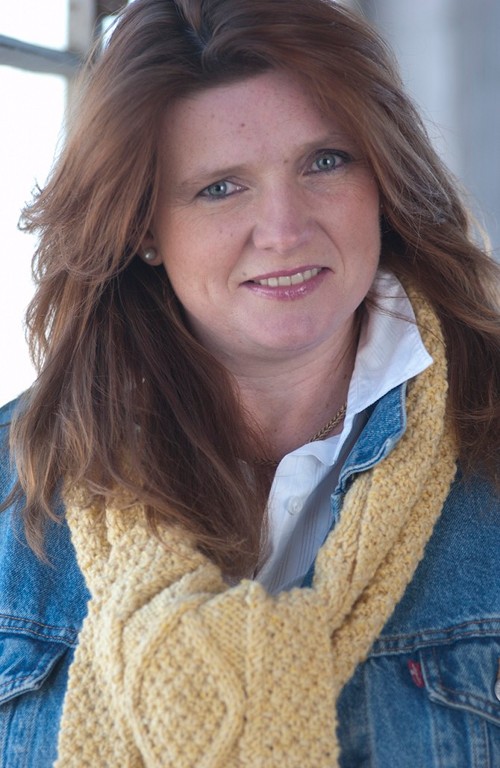 Rachel Gaffney, the famous foodie who's flying the flag for Ireland in Texas, introduces an Irish visitor to a local food phenomenen the Dallas food trucks - and, who knows, maybe the food truck could be the next big thing over here too.
Last weekend saw the inaugural American Ireland Funds Emerald Ball at the Adolphus Hotel, Dallas. The Ireland Funds is a global organisation raising money for peace and reconciliation, arts and culture, education and community development throughout Ireland. Thus Dallas was invaded by people from Belfast, Dublin, Limerick, Cork, Mullingar and Galway.
Playing host, I drove to the Adolphus Hotel on the day after the ball to escort my group around the city of Dallas. We spent the morning at the Sixth Floor Museum at Dealey Plaza, where they have chronicled the assassination of John F Kennedy in great detail.
From here I drove past the grassy knoll and made my way to the Woodall Rogers Freeway.
The impressive Hunt Oil building stood tall over the freeway, windows gleaming and squinting in the bright sunlight and below on a Sunday afternoon the Klyde Warren Park was buzzing with activity. Families meandered through with strollers, lovers lay lazily in the sun, others read beneath the shade of a tree and groups gathered playing Petanque (French version of bocce ball) chess and mahjong (ancient Chinese game played with tiles).
This area in Dallas is relatively new. It was opened in 2009 and is still being developed. Historically, this area was a commercial and financial area and now with such an influx of social activity, the need to feed people has prompted the familiar site of lines of food trucks. My guest from Dublin asked me about the food trucks. She informed me that she was aware of pop up restaurants in Ireland but had not seen so many food trucks in one place.
We are all familiar with the ice cream truck. I can remember the sound of the truck as it made its way down my street, playing it's off tune jingle, drawing us into its web like a spider draws flies. Now, these trucks are far more sophisticated and inspire the entrepreneurial spirit in all.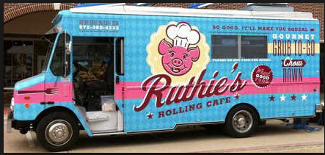 'Ruthies' Rolling Cafe' was the first to catch my eye. I am now familiar with the iconic pink truck rolling around Dallas but my guests weren't, so we parked the car and embarked on a food truck crawl!
'Ruthies' serves a grilled cheese sandwich. Not just any grilled cheese sandwich. It sources its bread from the best bakery in Dallas, namely 'Empire Baking Company'
Choose from San Francisco style sourdough, jalapeno cheese, classic white or hippie health multi-grain breads. Select from artisan cheeses such as swiss, mozzarella or American and add caramelised onions , tomatoes and more. All products are locally sourced.
Perhaps you feel like a little cajun food. If so, then 'Cajun Tailgators' is the food truck for you. This truck is easily recognized around Dallas by it's iconic purple and yellow colours, Taste southern food at its finest. A cajun BBQ pork sandwich made from pulled pork and BBQ sauce on a fresh bun will satisfy your hunger for $7 or a bowl of crawfish etoufee, a hearty crawfish stew with fresh crawfish and vegetables served over rice.
For those among us with a sweet tooth, try a portion of the famous Beignets for just $3. These French doughnuts are flash fried and covered with powdered sugar or maybe a portion of their bread pudding, a down home favourite covered in their truckmade Bourbon sauce.
Food trucks in Dallas are affordable and easily accessible. They will travel to your office building, church or event. Each week, those of us who have come to know these trucks will log on to search the 'Food Truck Finder' a service provide by the long running publication 'D Magazine' .
The locations are posted a week in advance, so you are sure to find a truck near you!
After my Irish guests and I ate and drank our fill, we left for an afternoon at 'Southfork Ranch' sated and ready to walk off the wonderful foods we had sampled together.

-------------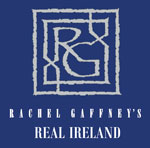 http://rachelgaffneysrealireland.com

Facebook: Rachel Gaffneys Real Ireland
Twitter: @Rachelgaffney

Watch 'The Irish Kitchen' now on HULU
http://www.hulu.com/the-irish-kitchen-with-rachel-gaffney