The Darina Allen Column - Foraging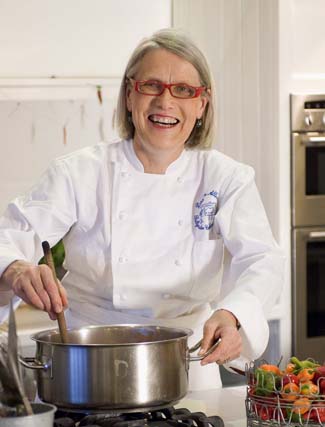 This month Darina gets stuck into one of her favourite topics - foraging.
Wild and foraged foods are once again becoming part of chic restaurant menus as well as family meals. Beware; once you get on the foraging groove it becomes totally addictive. Every walk whether in the woods or the countryside turns into a foraging expedition and it's free. Even more important wild foods still have their full complement of vitamins, minerals and trace elements, unlike much of the food we now have access to.
People usually associate an abundance of wild foods with late Summer and Autumn but we forage throughout the year. Even in depths of Winter there's always something to nibble on or add to a salad. At present Alexanders (Smyrnium olusatrum) are growing in profusion along the roadside, peel the stalks, cook the pieces gently in well salted water, then toss in a little melted butter or olive oil, the delicate flavour is delicious with fish or scallops. Young nettles (urtica dioica) the cure for so many ailments, are already springing up. Use them in pesto and soups or add the wilted leaves to champ or colcannon.
We've got tons of chickweed (Stellaria media) in the greenhouse; you'll pay $10.00 a pound for it in the Union Square market in New York but here it's the bane of gardeners' lives – just eat it, it's delicious in a green salad. Pennywort (Centella Asiatica), another of my favourite wild foods, grows with wild abandon out the stone walls and stony ditches, sometimes called navel wort or 'bread and butter', it is thirst quenching and a favourite nibble for hill-walkers. We use it in salad and as a garnish. Bittercress (Cardamine hirsute) grows in little clumps in gravel paths or in damp places – we love its peppery taste. The Queen had it included in the starter for her 90th birthday feast.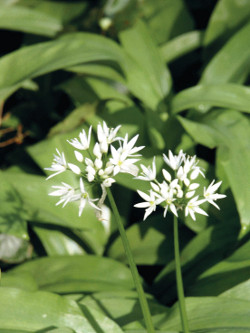 Watercress (Nasturtium officinal) too is lush and abundant at present, it grows side by side with wild celery also called fools watercress (Apium nodiflorum) but the top leaf of the watercress is always the biggest. The shamrock shaped leaves of wood sorrel (oxalis) lend a clean lemony taste to starters and salad, there's also lots of sheep's tongue sorrel (Rumex acetosella) and buckler leaf sorrel ( Rumex scutatus) in the orchard, sea beet (beta vulgaris) down by the strand and the ramsoms or wild garlic (allium ursinum) are bushy and green at present. We've been making lots of pesto and adding it to everything from pasta sauce, to flavoured butters and mashed potatoes and even soda bread.
Our Spring Foraging, the first foraging course of the year (at Ballymaloe Cookery School) will be on Saturday 27th April 2013. But if you want to get going yourself there are now several good illustrated field guides to help you including Biddy White Lennon and Evan Doyle's excellent new field guide and cookbook Wild Food Natures Harvest: How to Gather, Cook and Preserve published recently by O'Brien Press. This book was born out of the Slow Food Wild and Slow Festival held at Macreddin Village in Co Wicklow every year, but both Biddy and Evan have been seasoned foragers since childhood.
Evan showcases wild food on his menu at the Strawberry Tree Restaurant at Macreddin Village. All the chefs are trained to forage and have a bountiful wild food pantry beside the restaurant to store jars of pickles, chutneys, cordials, preserves and infusions. Evan Doyle employs one person whose sole job is to forage for the restaurant. This field guide and cook book combined also includes a charter for sustainable harvesting of wild foods, a foragers calendar and a whole chapter on preserving wild foods. It's a must have for any wanna-be forager.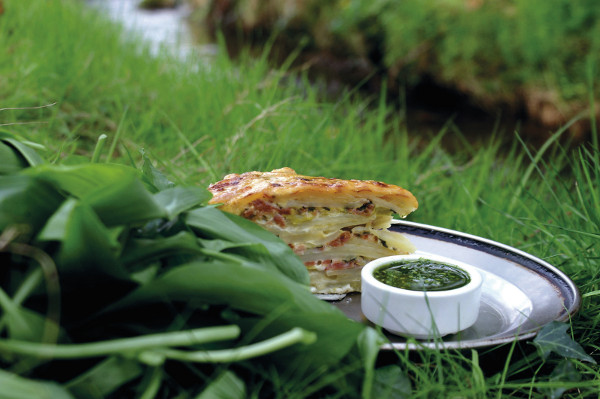 Biddy White Lennon and Evan Doyle's Wild Garlic, Leek and Potato Bake
30 leaves of fresh wild garlic, roughly chopped
125ml organic chicken or vegetable stock
150ml carton of organic cream
150ml organic milk
a knob of organic butter
Sea salt and freshly ground black pepper
2 organic leeks, thinly sliced
175g real ham, chopped
500g last year's organic potatoes peeled, sliced thinly
90g organic cheddar, grated

How it Goes
Pour the stock, cream and milk into a small saucepan and bring to the boil. Season well.
Butter a one-litre gratin dish. Layer the potatoes, leeks and ham together in the dish, and spread out in even layers with the chopped wild garlic leaves. Pour over the seasoned liquid. Cover with foil and bake for 40 minutes at 180°C.
How to Finish
Remove the foil, sprinkle with the cheese and bake for another 30–40 minutes, spooning stock over occasionally, until the potatoes are tender.
What you Get
Well, the perfect accompaniment to a Sunday roast chicken, or as the first touch of spring to the last of the winter spuds or a great TV snack, when you have the munchies …

***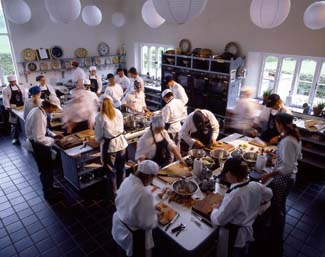 Once again this year, the Ballymaloe Cookery School in East Cork has a great programme of cookery courses for all interests and abilities running throughout 2013. Ranging from a relaxing visit to sit in on an afternoon cookery demonstration to a week long 'Intensive Introductory Course'.

Sitting in the middle of a 100 acre organic farm the Ballymaloe Cookery School provides its students not only with a life skill learnt under the expert tutelage of their very capable teachers but also a place to relax and unwind from the stresses and strains of normal everyday life. The cottage accommodation available onsite for residential courses consists of a collection of delightful converted outbuildings which have been transformed over the years by the Allens, and other accommodation is available locally for the short courses.

www.cookingisfun.ie