The Eunice Power Column - Rhubarb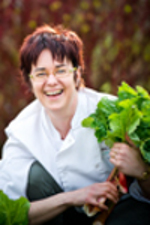 There is lot of talk about the economy showing green shoots, for me the pink shoots of Rhubarb pushing through the ground in early Spring are uplifting, a new season bringing with it new growth.
Rhubarb is at its best when it is young and tender. We use it a home in tarts and in compote with Greek yoghurt, or to cheer up the early morning porridge.
Last weekend I catered for the Launch of the 6th Waterford festival of food, we had a feast in Colligan Woods, Wild Garlic Soup, followed by Wood fired Comeragh mountain lamb, and finished with Panna Cotta with Rhubarb and rose water compote – delicious!
Panna cotta with Rhubarb and rose water compote
Serves 4
300ml Cream
100 ml milk
25g sugar
3 leaves of gelatine
1 Vanilla pod, split the vanilla pod in half length ways and scrape out the seeds
For the Rhubarb
5 stems of slim Rhubarb, trimmed and cut into 5cm pieces
1 teaspoon of rosewater
100mls water
100mls of sugar
A tiny drop of pink food colouring
A teaspoon of arrowroot
Soak the gelatine in water in a bowl. Pour the milk, cream and sugar into a saucepan along with the vanilla pod and seeds, simmer over a gentle heat but don't allow to boil.
Drain the water off the gelatine and pour the hot cream over the gelatine, stir to dissolve the gelatine. Pour into glasses. Allow to set in the fridge overnight.
Put the water and sugar into a saucepan and simmer until the sugar is dissolved. Add the teaspoon of rosewater and a tiny (and I mean tiny) drop of pink food colouring – simmer gently and add the rhubarb, simmer very gently for a minute or two then take of the heat and allow the rhubarb to cook as the liquid cools.
When the rhubarb is soft, remove from the liquid with a slotted spoon, then add a teaspoon of arrowroot, bring to a gentle simmer until the liquid thickens, cover over rhubarb and allow to cool over night.
Serve the panna cotta with a generous spoon of rhubarb compote and sprinkle with chopped pistachio nuts.
------------

More recipes from Eunice Power are available on www.eunicepower.com

Room reservations can be made on www.powersfield.com - hope to see you in Dungarvan during the year.

------------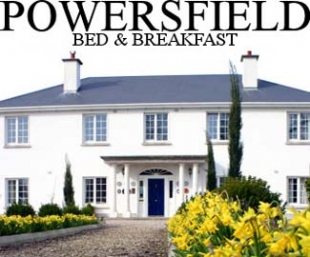 Eunice Power is a professional chef with over twenty years experience in the hospitality business. She runs Powersfield House in Dungarvan County Waterford, which is our B&B of the Year for 2012 and also the winner of the Best B&B Breakfast. Her philosophy is to use fresh, seasonal, locally produced food, sourced organically where possible.

Eunice has a successful outside catering company, writes about food (she is the author of an excellent cookery book written for local company Waterford Stanley) and teaches at Paul Flynn's Tannery Cooking School, where her enthusiasm and zest for a life filled with good food are given free rein."