The Seafood Interview supported by BIM - Cullinan's Seafood Restaurant & Guesthouse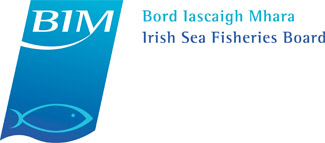 This month Marilyn Bright talks to James Cullinan, owner-chef Cullinan's Seafood Restaurant & Guesthouse, in Doolin, Co. Clare
When the surf's up in Doolin, it also means the tide is in at Cullinan's Restaurant serving up some of the Clare coast's finest and freshest seafood. Chef proprietor James Cullinan confirms that the global attraction of the mighty Atlantic rollers has brought an influx of visitors to the seaside village and a lively buzz that extends far beyond traditional high summer holiday times.
"We'll celebrate 20 years in business next year, " James reflects, "And we've seen the interest in water sports balloon, bringing a lively mix of everything from backpackers to campers and family groups. The restaurant was built to include ten guestrooms and the village has developed a good standard of hostels and campsites so there's something for everyone and the season is much longer - from about mid February to early December now."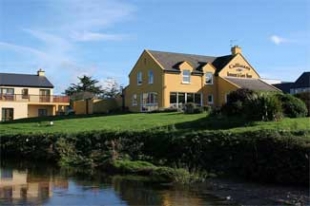 Doolin's reputation for traditional music adds to the atmosphere in the evenings when surf boards and diving gear is stowed away. James is a noted musician, following in the fabled footsteps of "the fiddler of Doolin", and a popular performer at the evening sessions and folk festivals the village is known for. "Playing music is similar to cooking," James asserts, "You have to be passionate about it to be any good."
Cullinan's Restaurant menu displays that passion with dishes that showcase finest local ingredients — Atlantic haddock with asparagus and smoked salmon chiffonade napped in pink grapefruit butter, or seared monkfish tail with basil mash and roast pepper and parsley salsa. "We do as much as possible in-house, James explains, "yeast breads like tomato and olive or red onion, brown soda bread and ice creams and sorbets."
Fresh fish is mainly sourced through Garrihy Seafood Company half a mile away and James prefers to buy in whole fish which he fillets and portions in in-house. "You have more control that way and we use off-cuts to make our own stock and sauces - we don't buy in any convenience products."
One exception is the fresh Miltown Malbay crab bought in ready-picked. "You'd need a separate area of the kitchen to process crab in the quantities we use. We get excellent quality local crab meat ready to use for dishes like the popular tian of crab layered with a cherry tomato compote, baby salad leaves and avocado crème fraiche."
Cullinan's Atlantic seafood chowder is legendary, made on a velouté base with their own fish stock and white aromatic vegetables. "The secret is good jellied fish stock which we make a couple of times a week. We cook to order in that the base is made up, with fresh seafood added last minute - no smoked fish as I think that can be too dominant, so we'd have prawns and a variety of white fish, kept a bit chunky and finished with a bit of cream, but not too much to mask flavours,"
Fresh and local is a theme that runs through James's menus -- salad leaves and herbs grown a few miles away in Bell Harbour, St Tola goats cheese from Inagh, Cratloe Hills sheeps' cheese and Burren Smoked Salmon that travels just a few minutes from Birgitta Curtin's smokehouse to Cullinan's kitchen door.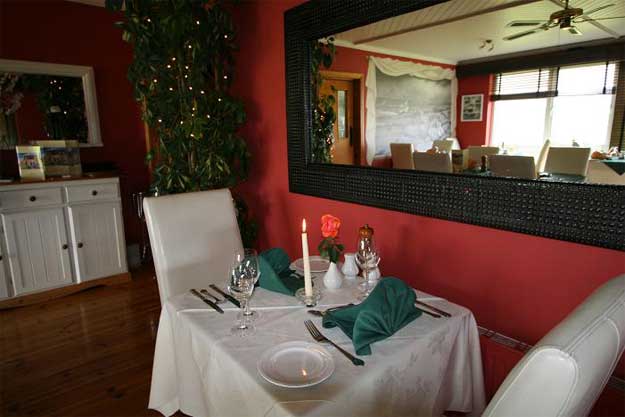 Much of James's appreciation of fresh produce stems from early training in the much missed Rockwell College with its own farm supplying food for the school and monastery. Everything was produced on site - eggs, vegetables and dairy - and CERT students had to deal with every stage of food preparation from the field or the barn to the plate. Putting out three meals a day was like living a hotel experience — tough but fun."
James' career later included several stints in Irish hotels and a year in the United States at Cape Cod dealing with nightly volumes of 250 diners. "It was high pressure, " he recalls, "aand I was stunned by the huge portions and the size of the steaks."
James returned to his native Clare with his wife Carol and opened Cullinan's Restaurant and Guesthouse in 1994, quickly gaining a top reputation for excellent Irish food with the French influences that reflect his classical training. It's a sound training and passion that he has been happy to pass on, becoming involved in training new generations of chefs at the highly regarded Shannon College of Hotel Management.
In earlier years, the academic year dovetailed neatly with the restaurant's seasonality, but now as Doolin's dramatic coast and reputation for traditional music attracts visitors nearly year round, James spends more time on his home ground, happy to use both culinary and fiddling skills that add to the lively scene in this corner of Clare.