The Seafood Interview supported by BIM - John Feeney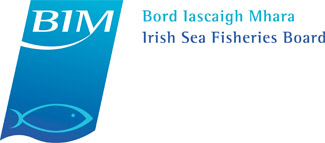 What makes the best of our young fishmongers stand out from the crowd? Marilyn Bright talks to John Feeney of Galway Bay Seafoods at Salthill, Galway and finds that this newcomer to fishmongering has an infectious enthusiasm for fish
In Salthill, above the churning seas of Galway's Atlantic coast, John Feeney presides over the newly opened branch of Galway Bay Seafoods with a sparkling display of fish so fresh it might have leapt straight from the wave onto the fishmonger's slab.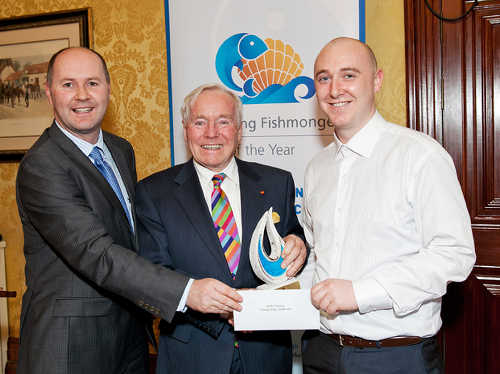 John, one of five finalists in BIM's Young Fishmonger of the Year competition, confesses it's been a steep learning curve since he changed careers just three years ago. "Coming from carpentry and construction, I started on the fisheries plant floor down on the New Docks, packing fish for the restaurant and supermarket trade.
First off, I had to learn how to recognise all the different kinds of fish, and learn to judge freshness by the condition of eyes, scales and gills. It was exciting learning something new and it sure beat working on a freezing rooftop site in winter."
John progressed to Galway Bay Seafood's state of the art processing and smoking facility where he learned the skills of brining and smoking that produce the company's award winning smoked mackerel, salmon and newly introduced kippers.
Filleting was John's most recently acquired skill and he admits to taking this up just a few weeks before the Young Fishmongers' competition. "The lads on the Galway Bay team have been working with fish for years and I learned working alongside them - how to scale and skin, pinbone and trim."
The move into the retail shop on New Docks Road initiated John into another aspect of the seafood business, where interfacing with customers required calling on the knowledge he'd gained behind the scenes. Employer John Holland, who owns Galway Bay Seafoods with his brother Noel, confirms that the enthusiastic young apprentice got on well with both customers and others on the team. "We employ about 26 people," John says. "All training is in-house and on-going so every aspect of the business is covered, but not everyone is suited to working behind the counter."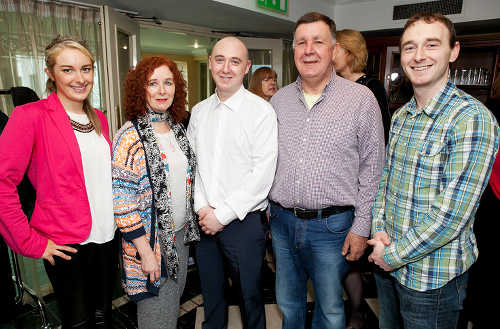 John Feeney was working in the retail shop when the manager gave him the BIM competition entry form. "I thought I might as well have a go and I'm glad I did because I really enjoyed it. There were four stages to go through - the judges ask questions and watch you in action in the shop. For the practical, all the finalists were given a box of 30 different fish to clean, fillet and display in half-an-hour. I won a cracking set of professional knives I expect to have for the rest of my life and I love showing them off."
The Holland brothers have continued to develop and modernise the Galway Bay Seafood business founded by their father over sixty years ago. A cookery school was established in 2006, attracting customers with sessions on all aspects of seafood preparation, keeping up with current trends like homemade sushi, eastern seafood curries and use of spices and herbs, while the programme is rounded out with a series of wine tastings.
John Feeney confesses that Wednesday has become a favourite day, as staff meet up every week for a cookery session with the chef. "It's not just a demo - we actually do the chopping and cooking for a new dish every week. The chef sets homework too; last week we had to go home and make a meal with whatever was in the cupboard. I made a stir-fry with bits of fish and veg that were in the fridge and it was so good I made it twice."
The house chef also develops the range of value-added products that feature in both retail shops. Dishes like stuffed sole, fish cakes, salmon lattice pasties with cream cheese, pepper and spinach filling are tasted and discussed at the weekly meetings and feedback from customers is exchanged. "You have to pass on what you've learned to the customers," John says. " The most often asked questions are 'does it have bones?' and and 'how do you cook it?' "
John's own enthusiasm for fish is contagious and he lists seafood risotto as a favourite, with cod or hake turned in butter and stirred through. Mackerel or herring is his breakfast choice and he'd choose simply cooked plaice or lemon sole for lunch.
The variety of fish available has been a bit less during the winter storms, but John says that supplies from the bigger boats have been reasonably regular, with fish netted on the Monday on the counter for sale on Wednesday,
John is clearly happy that he's found his niche in fishmongering and insists that he is learning more every day. "It's exciting because you never know everything and you have to try to give the experience back to your customers."