The Seafood Interview supported by BIM - The Exchange Restaurant at The Westin Hotel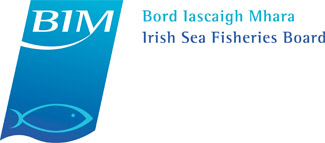 This month Marilyn Bright talks to John Hickey, Head Chef of The Exchange Restaurant at the Westin Hotel, Dublin 2, where an innovative Daily Catch menu offers diners a choice of cooking methods, side dishes and sauces for their daily-changing selection of spanking fresh fish.
A stone's throw from the quays where street hawkers once cried their fresh herrings, cockles and mussels, The Exchange Restaurant in Dublin's Westin Hotel is enticing diners with fresh seafood menus that change with the daily catch.
In an initiative that has been in place for the past year, head chef John Hickey receives a list of the day's catch as the boats head back into port overnight and plans the day's menu as the fish is en route to the hotel's kitchens. "We're dependent on our suppliers and we've had impressive service from Quinlan's in Cahirciveen. Fish can be expensive if it's not used so we don't carry a huge stock, with typically three choices on our special fish menu on any given day," John explains.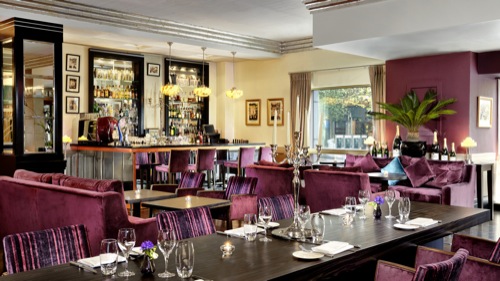 While the main à la carte menu features starters of Carlingford oysters - natural or Rockefeller style, crab cakes and spring rolls, king scallops and prawns, the changing fish of the day menu is separate. Restaurant manager Dermot Green explains that customers select their preferred fish, the side dishes and one of the half-dozen sauces that range from hollandaise or prawn butter to salsa verde and spicy chipotle chilli aioli. While a typical day's choice might appear on the menu as roasted fillet of hake, baked plaice with sundried tomato and herb crust and pan-fried sea bream, the chef is happy to cook the fish any way the diner wishes.
When the daily catch menu was introduced, they expected greatest uptake from female diners, but that has not been the case, Dermot has observed. Seafood is now equally popular with men, and increasingly, with children in family groups at the weekend and bumper holidays like St Patrick's day. "We'll do small portions of any fish of the day for the kids, or homemade fish nuggets made from the fillets, rolled in panko crumbs, just browned and finished in the oven so they're not deep-fried," John says.
Sharing plates add extra choices, with an oyster platter or a seafood selection that includes crab, prawns, smoked salmon and oysters with homemade brown scones, A Mediterranean platter pairs spicy merguez sausage with Dublin Bay prawns, Parmesan aioli and toasted sourdough bread. The oysters come from Carlingford and are especially popular with French and American visitors.
With a glass frontage overlooking the elegant pillars of the Bank of Ireland, The Exchange Restaurant has direct access from busy Westmoreland Street as well as from the hotel's spacious reception area. This was a deliberate design, Dermot explains. "The Westin's view is that the city centre restaurant should be accessible for everyone, not just the residents, and that diners needn't pay over-inflated prices, even though this is a five star hotel."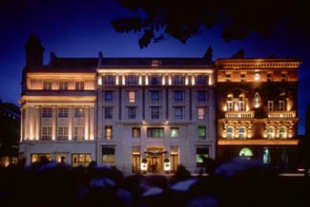 Signally perhaps, for a hotel whose opening day fell on the infamous 9/11 of 2001, attention to pricing has always been a precept. . An "Early Doors" dining menu is in place from 6-7.30pm and a weekly no corkage BYOB evening is flagged as "Wine on Wednesdays - It's on your house". Chef Hickey minds food costings with an eye to market prices. "We'd rarely put on Dover sole because it's so expensive, but hake is more available now at a reasonable price and lesser used fish like gurnard and mackerel are popular with customers. The mackerel in particular sells well, I think because people associate it with summer holidays when they were children and it's a fine fish when it's absolutely fresh."
Catch of the day features downstairs too, in the award winning Mint Bar, along with traditional beer battered fish and chips. More formal dining for weddings and events takes place in the elegant ballroom where chandeliers glitter in what was once a grand banking hall. Banqueting food is all cooked to order and The Westin's puff pastry topped fish pie nudges the traditional roasts as an events favourite. The food and beverage staff also confirm that crab cakes and smoked salmon are top choices for weddings.
Prepping and portioning of the fresh fish is all done in-house, which John finds cost effective as well as allowing greatest flexibility for the day's needs. "We use bones and trimmings to make our own stocks and off cuts can be used in anything from fish pies and chowders to canapés and sandwich fillings. Fillet sizes have to be adaptable because the main kitchen is responsible for everything from bar and restaurant food to conference buffets, formal events and room service which may involve special orders."
Restaurant manager Dermot Green attributes the success of the Daily Catch menu to the increasing interest in healthy eating. "People see fish as a healthy choice so they might choose something like baked fillet of halibut, pair it with a Greek salad and still indulge in a few chunky chips without feeling too guilty."