Limerick Hotels
Limerick Hotels - find the best here: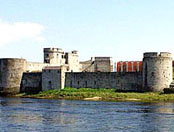 Limerick is a city of contrast between old and new, it is a medieval city with almost 50% of its' population being under the age of 29. It is the capital of the Shannon West tourist region and stands at the mouth of the mighty river Shannon, Ireland's longest river.
Limerick has undergone a lot of change and improvement in recent years, with particular attention being paid to the roads and infrastructure in general and Limmerick is now one of Ireland's biggest centres for third level education.
Limerick's convenient location to Shannon International Airport has ensured that the city is a key centre for international business and its' rich history and many historical landmarks together with its' convenience to the West coast and to Cork and Kerry makes it an ideal base for the roving tourist.
The city is buzzing due to the youth and vitality within it and has much in the way of shopping, art, food, nightlife and culture. Ther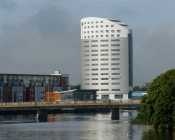 e is now a huge variety of accommodation to choose from with internationally recognized hotel chains at the fore, but there are also many smaller family run hotels to choose from too.
Please note that these Limerick Hotels are all within Limerick City, there are also some great hotels in the suburbs of County Limerick that offer something different to the Limerick Hotels such as a beautiful countryside location that may only be a short drive from Limerick, these can be found through the search to the left of your page or in the Places to Stay tab at the top of the page.
Please browse the Limerick Hotels below and where possible you can also make a secure online booking.
* For other accommodations such as
B&Bs
or
guesthouses
and for the best
restaurants
in town please use the search to the left of your page or in the Places to Stay tab at the top of the page.
Limerick Hotels that we recommend:
Absolute Hotel
€€

This stylish new sister hotel to The House in Galway (see entry) enjoys a great site with a waterside bar and restaurant, decked outdoor seating area and views of the hills - and a peaceful situation in what is still a city centre area.
Carlton Castletroy Park Hotel
€€€
Immaculately maintained gardens, a large and warmly furnished foyer and welcoming staff create a good first impression at this 4* hotel that was recently re-branded as a Carlton Hotel near the university.
Clarion Hotel Limerick €€€€
This exciting cigar-shaped 17-storey hotel right on the River Shannon waterfront in the centre of Limerick city enjoys panoramic views over the city and the Shannon region
George Hotel
€€

This new boutique hotel is a warm and welcoming hotel right in the heart of Limerick's commercial and shopping centre, and makes a very convenient meeting place.
Jurys Inn Limerick €€
Like other Jurys Inns, this budget hotel enjoys a prime city centre location and has car parking available in an adjacent multi-storey carpark.
Lynch South Court Hotel €€€
Ideally located for Shannon Airport and the Raheen Industrial Estate.
Marriott Hotel Limerick
€€
The new Limerick Marriott is not the largest hotel in the city but it is one of the most luxurious and scores highly where service is concerned.
No 1 Pery Square Hotel & Spa
€€€
A stunning property occupying a large corner site on the city's most gracious Georgian square - overlooking a leafy park and only a minute's stroll away from the City Art Gallery.
Radisson Blu Hotel & Spa Limerick €€
This low rise hotel is set well back from the road in its own grounds and, although just a short drive from the city centre, enjoys an almost rural setting and views of the Clare Mountains.
The Strand Hotel Limerick
€€
Pleasant and comfortable hotel located just across the Sarsfield bridge from the main commercial heart of Limerick. (recently re-branded, formerly the Hilton)