KERRY - TEN OF THE BEST
With its spectacular and varied scenery, a benign climate and an unrivalled choice of things to do and places to visit on both land and sea, Kerry has been Ireland's prime holiday destination since Victorian times.

The many Irish people who jetted off to sunnier climes in the boom years missed out on the pleasures of a traditional holiday – but destinations like Kerry are now coming back into their own with the resurgence of home holidays, and what a pleasure it must be to discover the gems that are, relatively speaking, on the doorstep.

This is just a small selection of the wonderful places where you can stay in Kerry – for many more throughout the county, and to suit all tastes and ages, browse through the full range of recommendations on Ireland-guide.com.

Park Hotel Kenmare - SOUTH KERRY
Kenmare Co Kerry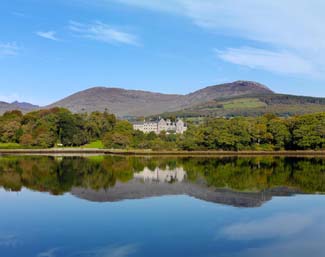 Countless travellers from all over the world have found a home from home here since the hotel was built in 1897 by the Great Southern and Western Railway Company, as an overnight stop for passengers travelling to Parknasilla, 17 miles away - and, enjoying a magnificent waterside location in the midst of Ireland's most scenic landscape, with views over gardens to the ever-changing mountains across the bay yet just a short stroll to the Heritage Town of Kenmare, it remains a uniquely relaxing place to stay. Since Francis "At Your Service" Brennan re-opened the hotel as a five star destination, in 1985, it has been synonymous with exceptional standards of service, comfort and cuisine - and these remain the traditional draw. However, with brother John (the other half of the "At Your Service" presenting team) now General Manager, there have been changes in recent years including the addition of the hotel's deluxe destination spa, Sámas ('indulgence of the senses'), which provides a high pamper factor – and, by contrast, a strong emphasis on outdoor activities, also with plenty of luxury to counter long days on foot or in the saddle. Christmas at The Park is a speciality too - loads of things to do indoors and out, children's activities – and, joy of joys, an in-house cinema screening classics like Miracle of 34th Street (1947) and It's a Wonderful Life (1948).


The Moorings – RING of KERRRY
Portmagee Co Kerry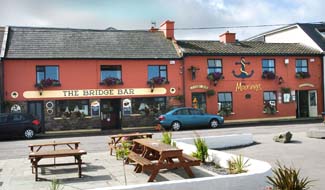 Overlooking the harbour in this attractive little fishing port, Gerard and Patricia Kennedy's bar, restaurant and accommodation is pretty much the one-stop shop in Portmagee these days, as they work hard to provide everything the visitor could need – they even have a lovely gift shop, "Cois Cuain", next door, selling unusual items, including local crafts, artwork and some artisan foods (anyone for Skelligs Chocolates?). Their Bridge Bar is a popular place to drop in to for a wholesome bite to eat when touring this beautiful area, and it's also well known for music and craic, with traditional Irish music, set dancing and Irish songs on various evenings. Appealing accommodation includes four superior rooms and some family rooms; many rooms have a sea view and all are very comfortably furnished, with good facilities. They offer attractive packages, notably a 2-night Skelligs Package (April-September) which includes a pre-booked boat trip to the islands with packed lunch, then dinner in The Moorings restaurant.


Gorman's Clifftop House & Restaurant – WEST KERRY
Glaise Bheag Ballydavid Dingle Peninsula Co Kerry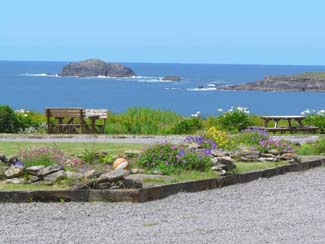 If you feel the call of the wild, but like your creature comforts too, you'll love Sile and Vincent Gorman's beautifully situated guesthouse on the Slea Head scenic drive, eight miles west of Dingle - as they say themselves, it's "just a great place to relax and unwind". Open fires and comfy seating create a laid-back welcoming atmosphere and the comfortable bedrooms all have sea or mountain views and good bathrooms. A great breakfast will set you up for the day, and all guests get the loan of a guide book and ordnance survey map during their stay, so you'll be sure to make the best of your time in the area. Then there's Vincent Gorman's good cooking to look forward to in the evening – he showcases local specialities like Dingle prawns and Annascaul black pudding, along with their home grown organic produce - and, with big windows commanding superb sea views, it's hard to imagine a better place to enjoy good food.


Carrig House Country House & Restaurant – RING of KERRY
Caragh Lake, Killorglin Co Kerry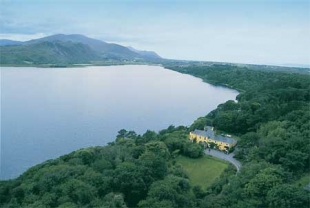 Set in fine gardens in a stunning shoreside location, Frank and Mary Slattery's sensitively extended Victorian house is a feast for the eyes, with the lake and mountains providing a dramatic backdrop. Several charming sitting rooms have turf fires; some of the large, airy bedrooms have their own patios, and all are furnished with antiques. This is a place to lose yourself for hours with a book, or playing chess, cards or board games in the games room, exploring the gardens or boating on the lake. It is a wonderful place to stay, with hands-on service from caring owners and an outstanding dining experience in their beautifully situated Lakeside Restaurant, overlooking the lake, where chef John Luke hits just the right tone with sophisticated country house cooking that showcases local produce. The extensive gardens are of particular interest too, both for the way they interact with their magnificent setting and for plantings of rare and unusual plants from all over the world including various species of acer, magnolia, cornus, acacia and eucryphia, which provide an ever-changing spectacle throughout the year; a map is available, and personalised tours can be arranged.


The Smugglers Inn – RING of KERRY
Cliff Road Waterville Co Kerry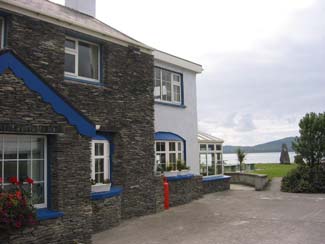 The Hunt family's clifftop inn is in a fantastic location, right beside Waterville Golf Links and overlooking Ballinskelligs Bay, with its miles of golden strand. It has smartened up a lot in recent years - changes to the exterior have been a huge improvement, and the ground floor areas, including the bar and restaurant, are very appealing. It's an ideal stop off to enjoy a bite on the Ring of Kerry and, in fine weather, you can sit at garden tables that overlook beach and sea to the McGillycuddy Reeks beyond. The pleasant bedrooms vary in size, outlook, facilities (one has a balcony) and price; all have been upgraded recently and are comfortably furnished in a pleasant modern style, and most have amazing views. There's also a large first-floor residents' sitting room, complete with comfy sofas and armchairs, books, television - and magnificent, uninterrupted sea views. The popular restaurant is in a large conservatory dining area, which enjoys the same views – just the spot to enjoy Henry Hunt's way with local ingredients, notably seafood. Good for families – and pets are allowed in some areas by arrangement too


Ballyseede Castle – NORTH KERRY
Ballyseede Tralee Co Kerry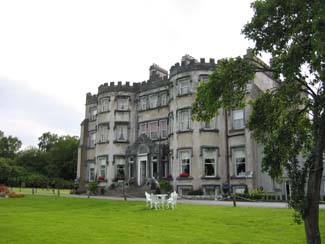 In common ownership with Cabra Castle in Co Cavan, this is a very likeable hotel of character with 15th century origins. Set in 35 acres of parkland and garden on the edge of Tralee town, it is spacious, elegant and comfortable, with quirky features that give a sense of fun - you may well be greeted by the resident Irish wolfhound, Arthur (or a less prestigious but equally friendly canine companion, Einstein). There's a relaxed and airy country house feeling about the place and it would make a charming base for visiting the nearby Dingle Peninsula and the Ring of Kerry, or playing the championship golf courses in the area. And it's a romantic destination too: some of the 23 rooms have four-poster beds, and they have earned a reputation for doing lovely small weddings. The kind of place that people fall in love with – it's a great find.


Tahilla Cove Country House – RING of KERRY
Tahilla Cove Sneem Co Kerry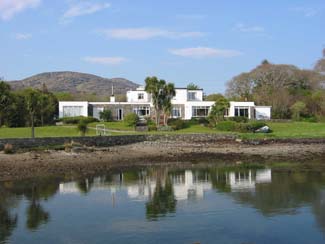 With a proper bar (with its own entrance) and quite an official looking reception desk just inside the front door, this family-run guesthouse feels more like an hotel than a guesthouse. The original house has been much added to over the years and has a blocky annexe in the garden, yet this refreshingly low-key place has two very special features: the location, which is genuinely waterside; and the owners, James and Deirdre Waterhouse. Tahilla Cove has been in the family since 1948, and run since 1987 by James and Deirdre who have the wisdom to understand why their many regulars love it just the way it is and, apart from regular maintenance, little is allowed to change. Comfort and quiet relaxation are the priorities. All the public rooms have sea views, including the dining room and a large sitting room, with plenty of armchairs and sofas, which opens on to a terrace, overlooking the garden and cove. Accommodation is divided between the main house and the annexe; rooms vary considerably but nearly all have sea views, many have private balconies, and all are en-suite, with bathrooms of varying sizes and appointments. Although dated (this is part of the charm), all are very comfortable and many returning guests specify their favourite room when booking. It's also a lovely place to drop into for a cup of tea overlooking the little harbour – and that's the beautiful view that will begin each day as you enjoy breakfast in the dining room. No dinners, but Kenmare offers a great choice of restaurants and is only a short drive away. Pets are allowed in some areas by arrangement.


Lake Hotel Killarney – SOUTH KERRY
Muckross Road Killarney Co Kerry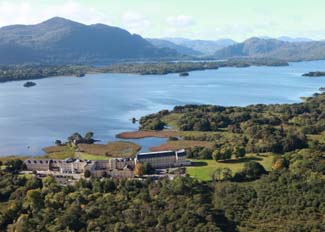 The Huggard family's long-established hotel in Killarney lays claim to 'the most beautiful location in Ireland' and in truth it's hard to argue with that – it certainly has the prime lakeshore site in the area that is regarded by many as the jewel in Ireland's scenic crown. The Huggards are renowned in Irish hospitality – cousins have the famous Butler Arms Hotel in Waterville, which offers the same caring management – and arriving guests are likely to find owner-manager Niall Huggard working quietly at a desk just inside the front door, where he misses nothing. The heart of the hotel still retains the original Victorian feeling, with open log fires and a double height wood-panelled drawing room overlooking the lake. Both the restaurant and bar share the beautiful view, taking in a 12th century castle on the edge of the lake, which is floodlit at night; with long windows and access to outdoor seating, it's a very pleasant place to be. Although parts of the hotel have retained a nice old-fashioned feeling (an atmosphere that matches the nice old-fashioned friendliness of the staff), rooms have been upgraded recently - and in a number of different styles, so there is something to please all tastes and age groups. And there is, of course, masses to do while staying here – the hotel is adjacent to Killarney National Park, the town centre is not far (within walking distance in fine weather) and the Ring of Kerry beckons.


Brookhaven Guesthouse – RING of KERRY
New Line Road Waterville Co Kerry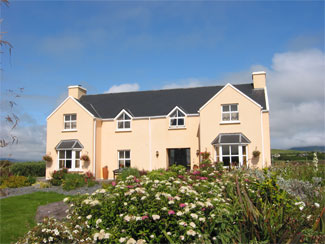 Overlooking the Atlantic Ocean and Waterville Championship Golf Course, Mary Clifford's family-run custom-built guesthouse in the Kerry Geopark (www.kerrygeopark.ie) is known for comfort and personal service and it's surrounded by a colourful garden, with a little river running along its length. It's easy to see why this peaceful place might be an award winner in the Green Tourism Business Scheme (www.green-business.co.uk). GTBS is the national sustainable tourism certification scheme for the UK; dating back to 1997 it now has over 2,000 members across the UK and Ireland, and is the world's largest and most established scheme of its type. Participating businesses are assessed against a rigorous set of criteria, covering areas like energy and water efficiency, waste management and biodiversity; those achieving the standard receive a Bronze, Silver, or Gold award. Brookhaven gained Silver - so, with golf, hill walking, watersports, angling and horse riding all nearby, why not book a seaview room here and enjoy the Ring of Kerry sustainably.


Number Fifty Five – WEST KERRY
55 John Street Dingle Co Kerry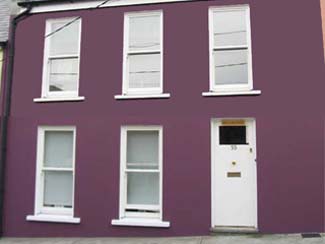 Stella Doyle's charming B&B in the centre of Dingle offers accommodation with character - and a high level of comfort at a very affordable price. Although the frontage seems small from the road, it is larger than it looks: the two guest bedrooms are on the ground floor and delightfully furnished in a fresh country house style, with television and full bathrooms (bath and power shower). But there is a surprise in store when you go upstairs to the first floor and find a light and spacious open plan living room, which has great style and, like the rest of the house, is furnished with antiques and original art. There's a large seating area at one end and, at the other, a dining area with large windows looking out to fields at the back of the house; here Stella, who spent most of her working life as a chef, serves delicious breakfasts for guests; no menu - 'anything you like, really'. Guests are welcomed to this hospitable haven with a cup of tea on arrival - and breakfast is sure to send them happily on their way.

Best places to Stay for...
Apps and Books
Blackberry App

Quickly and easily find all the very best places to eat, drink & stay across the island of I ...

more...

iCook with Neven

Join Neven Maguire in the kitchen with 60 of his favourite recipes - old & new - on his very ...

more...