SUNDAY LUNCH - TEN OF THE BEST
Although always a popular ways to get the whole family out and sitting around a table to relax, Sunday lunch has moved into a whole new phase lately. Forget about the carvery lunch of old, what we're seeing more of now is a seriously classy outing, where the venue is chosen with care so that family members of all ages can get together in lovely surroundings and enjoy the very best of food - at a more reasonable price than is usual at dinner.

The Guide has been so impressed with the quality now offered that we've introduced a new Sunday Lunch of the Year Award – and the stellar standards of the 2012 winner speak volumes for the way this laid-back dining treat has developed of late. Perhaps a voucher could be the perfect treat for Mother's Day, too

(* denotes accommodation available)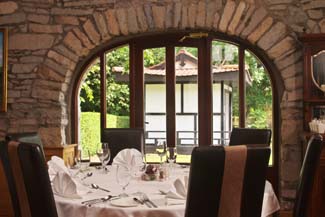 'VM' Restaurant
Viewmount House, Longford, Co Longford

Some of the best meals we have had in recent years have been Sunday lunches – and not only does the Sunday Lunch of the Year Award recognise the special significance of family outings in these cash-strapped times but the 2012 winner, 'VM' Restaurant at Viewmount House, was chosen to demonstrate how it can be done with great style and no compromise in quality, in terms of the food, cooking, surroundings or service, making it a benchmark award. 'VM' one of those exceptional restaurants where every meal is a real treat - suppliers are credited with pride and the cooking, by Euro-Toques chef Gary O'Hanlon, is outstanding, with all the little niceties observed. So any visit this delightful restaurant is sure to be a memorable experience – and diners should make sure to allow time to enjoy a stroll around the beautiful gardens too.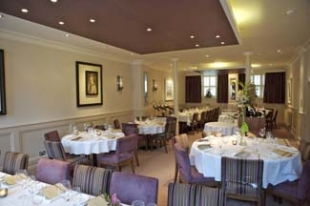 * MacNean House & Restaurant
Blacklion, Co Cavan

People travel amazing distances for the pleasure of one of Ireland's most exceptional dining experiences - well, over 15 years ago, when a reader wrote in to tell us (at The Sunday Press) about this great little place, we got out the map, found Blacklion, and drove up from Dublin for Sunday lunch. Mad? Not a bit of it, it was magic then and it's even more so today - just that everyone knows Neven now, so you have to book weeks in advance, even though they do two Sunday lunch sittings. Neven cooks perfectly judged food that showcases meticulously sourced ingredients from the local and artisan producers he so strongly advocate - and you can stay overnight, although weekends are heavily booked months in advance. It's an experience to treasure, though – worth planning for.???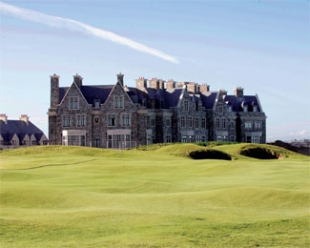 * Lodge at Doonbeg
Doonbeg, Co Clare

Located on Doughmore Bay in West Clare, this gorgeous destination has the wow factor – and then some. The contrast between wild landscape, the brooding sea and the classy interiors of The Lodge lends a distinctly romantic tone to the whole resort, and that most emphatically includes the fine dining experience. Any food offered at The Lodge will be very good; informal choices include the Members' Bar and Darby's pub, but it is the Long Room - an intimate restaurant with its own bar, antique mirrors and a great bay window looking onto the ocean – that provides the ultimate setting for Head Chef Wade Murphy's cooking. He took over the kitchens at the end of the 2010 season, and he has a gift for cooking memorable meals that are in no way over-elaborate or pretentious. The style is modern classic and the cooking is very exact, with real finesse and a rare lightness of touch – and, as a member of Euro-Toques, his commitment to sourcing locally and supporting small food producers is stated on menus, where you will also find valued suppliers credited, including local cheese makers Bluebell Falls (Ennis) and St Tola (Inagh). Although mainly an evening restaurant, The Long Room is also open for lunch on Sunday and, if you want to treat yourself, this is the place to be. Superb.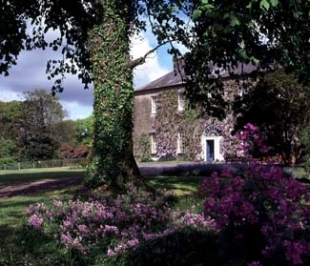 * Ballymaloe House
Shanagarry, Co Cork

Ah now, what can be said about Ballymaloe that hasn't been said before? Not a lot, in truth, but even the most jaded palate will be delighted by the simplicity and real flavour of everything offered for Sunday lunch here. As is well known, a food philosophy that centres on using only the highest quality ingredients is crucial to everything done at Ballymaloe, where much of the produce comes from their own farm and gardens and the rest, including seafood from Ballycotton and Kenmare, is supplied by leading local producers. And the other half of the satisfaction equation is that they don't mess it around - what you get here is pretty much the perfect home-cooked Sunday lunch, even with second helpings of the main course offered, and gentle, unbossy service. A meal here is a treat of the highest order, so make sure you arrive in good time to enjoy the gardens, or an aperitif in the Drawing Room. No wonder everyone just loves it.???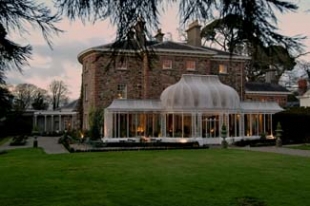 * Marlfield House
Gorey, Co Wexford

Any excuse will get us heading down Wexford way of a Sunday, for the pleasure of experiencing (once again) one of Ireland's most sophisticated luncheon outings, hosted by sisters Margaret and/or Laura Bowe. Aside from excellent food, they're always thinking up something interesting those Bowe girls – Sunday lunchtime recitals are a special attraction in spring and summer, and it's hard to think of a more civilised way to spend a Sunday. Following a gorgeous 4-course lunch in the Conservatory Dining Room, guests head into the Print Room to enjoy some very special music – young talent on some occasions, on others the crème de la crème of Irish classical musicians. All the usual pampering in sumptuous surroundings of course, with the bonus of very special bed and breakfast rates if you want to stay the night before (or after) the event. ???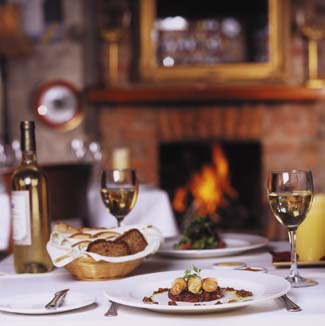 The Olde Poste Inn
Cloverhill, Co Cavan

Gearoid and Tara Lynch's restaurant is in an old stone building in a neatly landscaped garden which served as a post office until 1974 and, since then, has made an atmospheric inn. A committed Euro-Toques chef, Gearoid won the Euro Toques Young Baileys Chef award in 2000 and is now the Commissioner General of Euro-Toques Ireland. This speaks volumes for his commitment to careful sourcing of ingredients, thereby supporting local producers and showing respect for regional and seasonal foods - a philosophy which is abundantly clear to anyone reading the supplier list on one of his (invariably enticing) menus. This – together with the lovely service provided by Tara and her team - has made the Olde Post a destination for food lovers. Any meal here would be a treat but Sunday lunch is especially enjoyable; the Olde Post Inn was chosen as the Guide's Atmospheric Restaurant of the Year 2012, but it was also a hot contender for the Sunday lunch award. With comfortable rooms upstairs too, it's a lovely spot for a foodie break.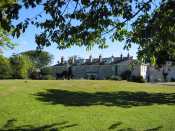 * Dunbrody Country House Hotel & Cookery School
Arthurstown, Co Wexford

Set in twenty acres of parkland and gardens on the Hook Peninsula, just across the estuary from Waterford city, Catherine and Kevin Dundon's elegant Georgian manor has a long tradition of hospitality - and fans who beat a path to the door of one of Ireland's best known and most popular chefs are unlikely to be disappointed. What must be Ireland's most stylish cookery school is in converted outbuildings just across from the front door (and, alongside it, a beautiful spa) and, in the main house, the kitchens have recently been revamped so Kevin is now able to welcome guests in to see the team at work. And the food experience here really is outstanding – the lovely, serene Harvest Room overlooks the gardens and, although mainly an evening restaurant, Sunday lunch here is a very special treat indeed. If you love upbeat classical cooking, don't miss their roast beef: simply superb. For a more informal alternative, Dundon's Champagne Seafood Bar & Terrace (2-10 daily) offers a stylish contemporary treat.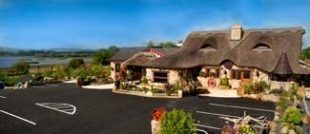 * Watermill Restaurant
Kilmore Quay Lisnaskea Co Fermanagh, BT92 0DT

Spectacularly situated on the shores of Lough Erne, this impressive restaurant offers stunning views over the lough and the lovely rolling countryside beyond. French chef and fishing enthusiast Pascal Brissaud came to the county a number of years ago to fish, and the charm of rural life enticed him to stay and, together with his partner Valerie Smith, build this striking thatched restaurant with rooms. It's full of French character and there is much of interest outside too, as visitors can stroll through the water gardens or admire Pascal's vegetable garden, which provides most of the vegetables and herbs for the restaurant. It's a lovely setting for Pascal's cooking, which is 'Irish with a French twist'. There is usually a sumptuous choice, with local produce to the fore and lobster, scallops and Angus beef among the specialities, and, while it is open every day, it is an especially interesting place for a Sunday lunch outing.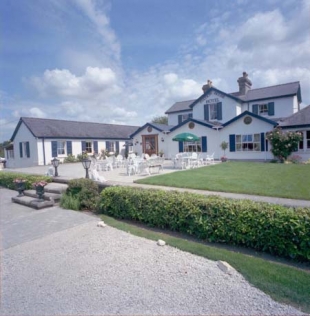 * Station House Hotel
Kilmessan, Co Meath

County Meath is perhaps, for the most part, a hospitality experience waiting to happen, but the old-fashioned charms of the Station House Hotel have been ahead of the posse for years and Sunday lunch provides the perfect opportunity to enjoy it. The idea behind the place is delightful, with all the different parts of the old station finding new uses (there's even a little honeymoon suite in the signal box), the gardens have a lovely, real country look and the restaurant, which is spread over two rooms, is traditionally furnished in a refreshingly un-trendy style. While not at all cutting edge (this is a place, after all, where guests are urged to 'step off the fast track'), the cooking is comfortingly traditional and there is something very relaxing about the experience.

Best places to Eat for...