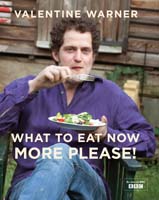 What To Eat Now - More Please!
by Valentine Warner is inspirational for its' use of what are mostly familiar everyday ingredients at the peak of their perfection, while
Green & Black's Chocolate Recipes
is full of all sorts of luscious items that should only be seen as special treats.
more...
Two very appealing new cookbooks have hit my desk recently, and both will merit a re-visit later in the year, as there are some delicious recipes well worth sampling.