An Irish Chef in France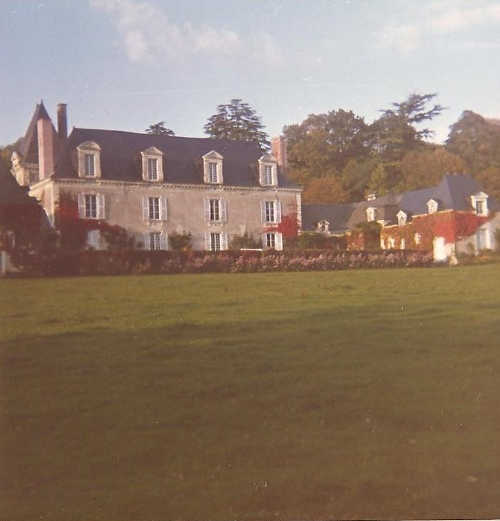 Euro-Toques chef Martin Dwyer, much missed in Ireland since he and his wife Sile sold their eponymous restaurant in Waterford and moved to France. They now live in the Languedoc, where they take guests - and feed them very well.
This month Martin recalls their connections over four decades with Chateau de Teildras, near Angers.
This adventure in France which Sile and I are involved in at the moment was not our first. In 1974, a year after we were married we decided to give up all - I was a chef in Snaffles restaurant in Dublin, Sile a primary school teacher in Dublin's Basin Lane - and move to France.
I had this notion that to have any credence as a chef I would have to spend some time working in France. With this in mind I decided to write to two of my food heroines at the time and look for advice as to how to get some experience in a French kitchen; Elizabeth David and Theodora FitzGibbon.
I got a very pleasant reply from Ms. David (I still have the letter) basically saying that she was now out of touch with kitchens in France. Ms. FitzGibbon however came up with the goods and advised me to contact Madame Graves in Ballylickey House Hotel. They were, she explained, members of the prestigious Relais de Campagne group which had members all over France.
Sure enough Madame Graves put me in touch with the head office of the Relais who were able to offer us a job immediately in Anjou in the Loire area. I was to be a commis chef in the kitchen and Sile to act as a chambermaid and also Au Pair to baby Clementine, granddaughter of Le Comte et Comtesse de Bernard, proprietors of Le Chateau de Teildras in the village of Cheffes sur Sarthe near the town of Angers in the Loire.
With a certain amount of foolhardiness and some courage we set off by boat and train to the town of Anjou where we were picked up by M. Le Comte and brought to the Chateau, which was very beautiful and wore its great age well.
So we settled into our respective roles, I wish I could say that I learned great tricks of the trade from the Chef but truth to tell he reserved all the rough work for me and slyly made all the exciting stuff, the brioches, the puff pastry in the afternoons when I was off.
I do remember becoming very fast at dicing vegetables in tiny even dice for Potage Paysann and also learning always to peel a potato Comme une gousse d'ail that is with six convex sides and one concave- which is still, nerd that I am, the way I peel them to this day.
I actually learned much more on the chef's day off when Madame ruled in the kitchen and was prepared to take the time to teach me some cookery. Sile didn't realise it at the time but in fact the standards of cleaning - a bath had to be washed thoroughly, rinsed, dried and then polished - also stayed with her and are those she applies in Le Presbytère today.
However, after a couple of months we decided that this was not going to be the most stimulating life choice of a job, so we decided to head home to Ireland and regroup, but with a firm intention to head back to France at some stage in our lives. We didn't realise then that it would take quite so long.
About twenty years ago, coming back from our holidays in Le Lot, we stopped by the village and met the Charcutier with whom we had stayed all those years ago. The Count and Countess had long since died and the chateau was sold to the famous Cointreau family who were using it as a country home.
Last year, nearly forty years since our stay in Teildras I got a lovely email from Clementine, the baby Sile had occasionally minded. She had found and read a description of Comtesse de Bernard teaching me how to make Raspberry Jam in the kitchen on the chef's day off, which I had blogged some years ago. She said it was a lovely reminder of a grandmother of whom she had been extremely fond.
-------------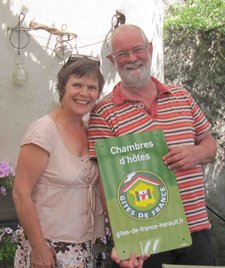 Martin Dwyer started cooking professionally over 40 years ago in the legendary "Snaffles Restaurant" in Dublin. After a time in a Relais Chateau in Anjou and in "The Wife of Bath" in Kent he opened his own much acclaimed restaurant, "Dwyers", in Waterford in 1989. In 2004 he sold this and moved south to France where he and his wife Síle bought and restored an old presbytery in a village in the Languedoc. They now run Le Presbytère as a French style Chambre d'Hôte. Martin however is far too passionate about food to give up cooking so they now enjoy serving dinner to their customers on the terrace of Le Presbytère on warm summer evenings. Martin runs occasional cookery courses in Le Presbytère and Síle's brother Colm does week long Nature Strolls discovering the Flora and Fauna of the Languedoc.

Le Presbytère can be seen at: www.lepresbytere.net;
email: martin@lepresbytere.net