An Irish Chef in France
Euro-Toques chef Martin Dwyer, much missed in Ireland since he and his wife Sile sold their eponymous restaurant in Waterford and moved to France. They now live in the Languedoc, where they take guests - and feed them very well.

This month Martin recounts a very special experience: Dinner in El Celler de Can Roca
It was a chance remark thrown out at a dinner party last Christmas here in our village in the south of France which started this particular ball rolling.
"Do you know" I said, "that the number two restaurant in the world is only two hours down the road". That was quite enough for our extremely organised neighbour, we got a phone call from her within a few days. She had phoned the restaurant and had been offered two possible dates in the following November, which one would suit us best?
This is how we ended up last Thursday going to have dinner in El Celler de can Roca in Girona which had, since the booking had been made, leap frogged over Noma in Copenhagen, and was now rated number one in the world.
The Roca brothers, Joan (head chef, centre in image above) Josep (sommelier) and Jordi were reared in restaurants and the family restaurant, founded by their grandfather and now run by their mother, still serves meals in Girona, just next door to El Celler.
The brothers have run their own restaurant since 1986 and have earned three stars from Michelin since 2009.
I must confess that I was a little nervous when I we got to the front door at 9.00 for our booking but the service from the moment we got in the door was impeccable, no swish no pretention just warmth and welcome.
There were two menu choices, the Tasting Menu or the Tasting Feast but there was no stopping us, we went for the feast - 22 courses (I actually counted 25) all brought seamlessly and smoothly to the table.
My wife Sile's protests that she would never manage that much food proved unfounded. Some of the courses were indeed tiny, a sliver of moist rich artichoke omelette on a teaspoon, a single langoustine steamed at the table in Manzanilla over hot rocks which you then dipped in bisque and sherry caramel.
It would take an entire volume for me to go through all the courses so I will just mention some which were particularly stunning. As one of the starters we were given what they modestly called an Asparagus Vienetta, which did indeed visually resemble a slice of that product. There the comparison ended, it was a smooth creamy, richly savoury essence of white asparagus with a taste bomb of truffle powder which filled the mouth. Utterly unforgettable, I would have happily had this for all the courses.
Around the middle of the evening we were given what I suppose roughly corresponded to the main course. I will give you El Celler's own description of this:
Spicy Mandala of Artichoke Flower , milk fed lamb belly, lamb sweetbreads, curry yoghurt, beetroot, spinach, turnip, lemon tangerine, sweet potato, leaves and flowers.
Sound fussy? Well it wasn't. Every morsel on the plate was evident and edible, from the crisp lamb belly, to the tiny bouquet of shiny artichoke leaflets, to the ring of sweet potato. The curry yoghurt nodded to the name of the dish and its amazing flower like presentation.
The desserts were astounding taste sensations, a bright red caramel apple which burst on the spoon to reveal apple ice-cream inside, a sourdough ice-cream studded with meringues no bigger than smarties with a tongue tingling fried lychee.
Tipped off by JP Mc Mahon, who had been there the week before, we asked could we see the kitchen. This was no problem at all to our charming waitress who brought us into the coal face itself where I shook hands with Joan, the chef brother.
I had a restaurant myself in Ireland for many years I told him, but never more than two chefs in the kitchen. He laughed, "Tonight I have 34!"
At the end of that true feast it was interesting to note that none of us were feeling the least bloated, Sile for all her protests managed to tuck into some of the Petits Fours.
As it was November, my month for abstinence, I left the wine tasting to the other three. The choice was a selection by Josep of a different wine with each course or a dip into their wine list. This was in fact a dictionary sized volume of the 60,000 wines stocked in the cellar. They chose the house selection and were charmed with the choice which included glasses from Germany and France as well as Spain and even a glass of Sake from Japan and a sweet cider from Normandy with the apple dessert.
There were two dinner menus on offer, the Tasting cost €155 per head, the Feast €195. The voluminous wine lists offered quite a few wines under €30 a bottle (and many more way more than that) but the tasting selection of 14 different wines offered with the Feast menu cost €90 a head and my dinner companions thought it well worth the cost and that the pairing was chosen with terrific skill.
I am already trying to think up an excuse to go back.
-------------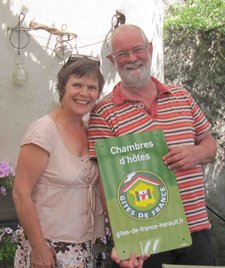 Martin Dwyer started cooking professionally over 40 years ago in the legendary "Snaffles Restaurant" in Dublin. After a time in a Relais Chateau in Anjou and in "The Wife of Bath" in Kent he opened his own much acclaimed restaurant, "Dwyers", in Waterford in 1989. In 2004 he sold this and moved south to France where he and his wife Síle bought and restored an old presbytery in a village in the Languedoc. They now run Le Presbytère as a French style Chambre d'Hôte. Martin however is far too passionate about food to give up cooking so they now enjoy serving dinner to their customers on the terrace of Le Presbytère on warm summer evenings. Martin runs occasional cookery courses in Le Presbytère and Síle's brother Colm does week long Nature Strolls discovering the Flora and Fauna of the Languedoc.

Le Presbytère can be seen at: www.lepresbytere.net;
email: martin@lepresbytere.net