Book Review - Blazing Salads 2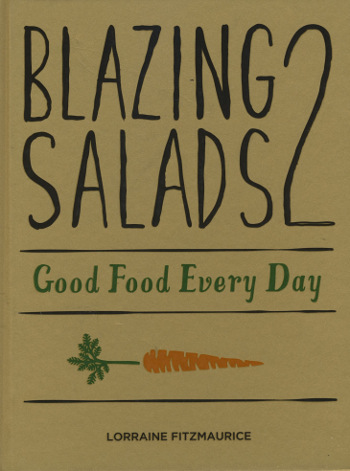 BLAZING SALADS 2 Good Food Every Day, by Lorraine Fitzmaurice (Gill & Macmillan, hardback €19.99).
It may seem a long time to some, but to me it seems as if Blazing Salads has always been there gracing Dubin with its wholesome presence, yet they only opened in 2000 and their first book came out in 2004. And it's great to see another one, a hardback this time and - with the wince-making exception of spreading the author's portrait over a double page spread and splitting her beautiful face - a much more attractive, and more extensive, book than the first, yet only €3 more in the price. It's funny how we have more hardbacks and higher production values all round now, in recession; bookshops are certainly offering fantastic value these days.
Anyone familiar with Blazing Salads and its down to earth philosophy of quality and simplicity should just head down to their local bookshop and snap up a copy, because it does what it says on the tin - it really is all about good food every day, there are no gimmicks just loads of great ideas in imaginative but very straightforward do-able dishes that won't take too much time - and you'll enjoy making them.
Lorraine Fitzmaurice and her siblings at Blazing Salads - including relocated brother Joe, who is baking in a wood-fired oven in Cloughjordan now, and delivers the breads up to them in Dublin at the crack of dawn every morning - have a happy knack of making, or giving you recipes for, delicious food that just happens to be very healthy and vegetarian.
You might not even notice there's no meat or fish - like Denis Cotter's Café Paradiso in Cork (only a lot simpler) it's just great food that happens to be vegetarian. And, as Lorraine points out in her introduction, a lot of the macrobiotic food they were brought up on, and that their schoolfriends thought weird in the 1970s (when they called her mother 'the witch'), is pretty much mainstream now. I can identify strongly with all of that, having had similarly forward-thinking parents myself...
Anyway, there's nothing weird about this book and, while - with everything from nibbles and soups, to excellent main courses and yummy desserts - it's far from being heavily loaded in favour of salads, they are as Lorraine says, 'not a garnish on the side of a plate of 'real' food. Our salads are real food.' A round of applause please.
I commend this book to anyone who's looking for simple, tasty and healthy ideas - and, especially, chefs who may find it a bit of a challenge coming up with interesting vegetarian options for their menus. No shortage of good dishes here.
RECIPE: WHITE CABBAGE SALAD WITH DULSE
This is a typically robust dish, perfect for this 'between season' time, when hard cabbage is especially valuable, and the inclusion of dulse - used in the same way as you might include a not too dominant herb such as parsley - gives it an unusual edge.
Lorraine suggests it as an accompaniment to the 'much maligned veggie burger' - great recipes for some of those are included too, the ideal way to ensure you're not getting any unwelcome additives in your burgers being to make them yourself.

"Like potato salad, coleslaw is usually a sad sight, drenched in mayonnaise. These crunchy, refreshing salads celebrate good produce with healthy dressings, and make a great addition to any meal.
To shred your cabbage, turn it on its side and hold the bottom end. Using a large, sharp knife, slice as thinly as you can from the top. When you get towards the middle, cut out the heart and the stem you were holding and discard, shredding the rest of the leaves as finely as you can and place in a large bowl.
Don't let the seaweed put you off this fresh, delicious salad!"
Serves 4 to 6
25 g dulse seaweed
280 g white cabbage, shredded
2 leaves cos lettuce, shredded
1 medium carrot, roughly grated
1 tsp fresh parsley, finely chopped
2 tbsp extra virgin olive oil
2 tsp red wine vinegar
A tsp dried oregano
Sea salt
Coarsely ground black pepper
1 Rinse the dulse well. Place in a small bowl and cover with 3 tbsp water. Set aside to soak for 20 minutes.
2 Finely slice the lettuce and add to your prepared cabbage. Coarsely grate the carrot and add to the bowl along with the parsley. Drain the seaweed and roughly chop and add to the salad.
3 Place the olive oil, red wine vinegar, dried oregano, a pinch of salt and pepper into a bowl and whisk. Pour over the salad and mix well.
4 Make the salad at least 30 minutes before serving to allow the flavours to develop. Check the seasoning and adjust accordingly using the red wine vinegar and sea salt.