Bramley Apples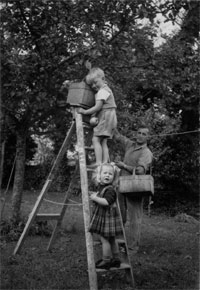 The Bramley's Seedling is one of Ireland's latest fruit crops, harvested at the end of October, and its special qualities have made it the most popular cooking apple in Britain and Ireland. From the grower's viewpoint, it is disease and pest tolerant, producing a good crop of large apples in most years.

The apples are hard, have good flavour and keep well so they can be sold over a long period. Cooks find the large size convenient for preparation and their natural sharpness is a great quality, balancing the sweetness of pastry and any added sugar, and the fruit acids help break down the apple during cooking so that it 'falls' to produce a unique fluffy purée.

A relatively modern apple dating from the 19th century, it is widely grown but is most strongly associated with Armagh, 'The Orchard County', which has a history of apple growing that goes back 'forever'; St Patrick, the early monasteries, William of Orange are among the many with historical references linking apples – and cider – to the area, and there are many folk customs associated with apples, especially at Hallowe'en.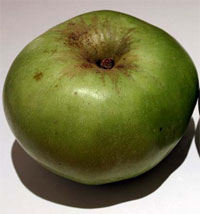 Nowadays most of the commercial crop is prepared for apple sauce and bakery, and the rest is retailed whole or juiced. Interestingly, however, although they are grown specifically for cooking and they are quite sharp, the Bramley's flavour is delicious and anyone without a very sweet tooth is likely to enjoy them raw too, especially after some time in storage when the natural sugars have developed and mellowed the flavour.

Armagh Bramley Apples are among a very small number of Irish products to have applied to the European Commission for PGI (Protected Geographical Indication) status.

The Loughgall Manor Estate and Country Park (Main Street, Loughgall, Armagh BT61 8HZ; +44(0)28 3889 2900; between Portadown and Armagh via the B77), is in the heart of the apple growing area. It has a walled garden containing a fascinating Heritage Orchard with a collection of 130 native Irish apple varieties established by The Armagh Orchard Trust (+44 (0)28 3889 2312); and the research centre, Agrifood & Biosciences Institute (AFBI) is also on the property (+44 (0)28 3889 2344; www.afbini.gov.uk).

Aside from their historical importance, old varieties are of interest because they flourished before chemical treatment for pests and diseases was the norm, so they tend to have natural resistance to diseases such as scab – and their flowering habits make them less vulnerable to late frosts, providing quality fruit over longer harvesting periods.

The original tree was planted over 200 years ago, and trees dating from around that time still stand in commercial orchards in Ireland today - so, next time you enjoy a juicy Bramley apple pie or a big baked Bramley apple, it may be interesting to reflect that the apple could have come from a tree over a century old.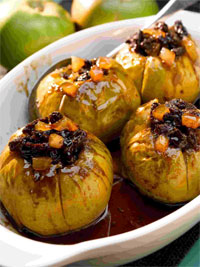 RECIPE: Ginger Baked Bramleys

A variation on one of the simplest and best apple puddings, this Bord Bia version of the classic baked apple can be on the table in half an hour (or less) and has a gentle ginger flavour. You can stuff them with any combination of dried fruits that takes your fancy, and it's a good way to use up any mincemeat left over after Christmas. Ideally, cook them at the same time as your main course or some other dish, to get best use of the oven heat.

Click for recipe