Cookery Feature - Eggs - Not Just for Breakfast!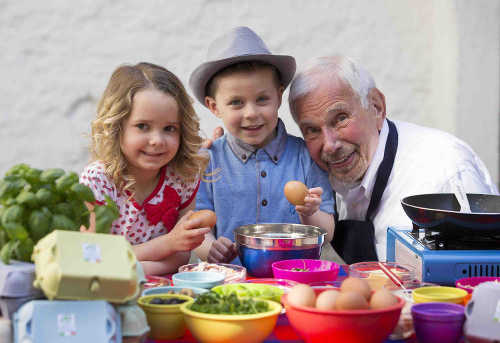 Time was, before the advent of year-round everything in the food world, that eggs were associated with spring - and especially Easter, of course. Maybe something of that instinctive seasonality remains, as it still seems an ideal time to think about eggs.
The folk at Bord Bia seem to agree anyway, as they have issued a timely reminder that eggs can be for lunch and dinner, and not just for breakfast. They even have the help of the 'Incredible Egg Man' himself, renowned New York chef Howard Helmer, who came to Dublin to support the campaign by promoting the versatility and nutritional benefits of eating eggs as part of a balanced diet.
New York chef Helmer is the world's fastest omelette maker, holding two Guinness World Records for his spellbinding high-speed cookery. A lover of all things egg related, Howard can cook up a whopping 427 omelettes in just 30 minutes!
In 2006, he became the world's fastest omelette flipper (the omelette staying intact throughout 32 flips in a minute), as well as making the fastest single omelette from eggshell to plate (49 seconds). Having spent years perfecting his speciality, Howard believes that by following his techniques a kitchen novice can make the perfect omelette in just 40-60 seconds.
According to a Bord Bia study carried out in October 2013, our consumption of eggs for main meals has increased significantly with, for example, 37% of 25-45 year olds now eating eggs for their main evening meal - an increase of 17% since 2011.
There's still plenty of room for improvement though. The study found that "85% of those questioned consume eggs at home at least once a week (up 5% since 2011); with 68% enjoying eggs at least 2-3 times per week" . That's a long way from the daily consumption of eggs that was once so familiar and summed up in the 'go to work on an egg' campaign.
Thanks to the fact that eggs were demonised as being unhealthy for years, we have lost the habit of treasuring this natural convenience food, the versatile power pack of nutrition that sits waiting patiently in the fridge until we decide to rustle up a delicious quick meal with it.
Speaking about his first trip to Ireland to promote eggs on behalf of Bord Bia, Howard commented, "Talk about culinary art...an omelette is a blank canvas that can be painted however you like: with all manner of vegetables, protein foods, sweets, savouries, everything nutritious. How versatile is that?"
Helmer has spent the last 45 years travelling the world educating the masses on the nutritional benefits of eggs and demonstrating how versatile they are. He has made appearances on Oprah and Good Morning America and in 2011 was invited to do a demonstration at the White House for a session called "play with your food". For his dedication to teaching his simple omelette cooking skills, in 2011 the International Egg Commission named him "Egg Person of the Year Worldwide."
Eggs form part of a healthy diet; they are versatile, don't take long to cook and are great value. With just a few eggs you have the makings of a feast of family favourites, from scrambled eggs to omelettes, quiches, tarts and frittatas; there is something to suit every palate.
Would you ever want to be without a dozen in your fridge?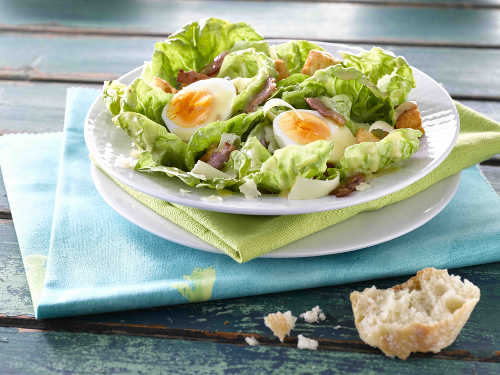 RECIPES: Caesar Salad with Soft Boiled Eggs and Bacon
Who doesn't love a good Caesar salad? One taste of this and you'll be wondering why you never had eggs in it before now! A great twist on a classic.

Serves 4
Time: 15 minutes
1 tablesp. olive oil
3 slices of white or brown bread, cut into cubes
4 smoked rashers, diced
4 Bord Bia Quality Assured eggs for boiling
2 baby gem lettuce, leaves washed and dried
Mature Cheddar Cheese for grating
Dressing
1 whole egg
2 anchovies, finely chopped
1 teasp. Dijon-style mustard
Juice of ½ a lime
1 clove of garlic, crushed
100mls olive oil
Salt and freshly ground black pepper

Heat the oil in a frying pan. Add the cubes of bread and fry until golden, set aside. In the same pan add the rashers and cook until crispy, set aside.
To cook the eggs: Put the eggs in a saucepan and cover with cold water. Bring to the boil and cook for 3-6 minutes depending on how you want your eggs cooked - soft boiled or hard boiled. Remove from the saucepan and put into a bowl of cold water, then when cold enough to handle peel and set aside.
For the dressing: Place the egg, chopped anchovies, mustard, lime juice and garlic in a food processor. Whiz to combine. You can do this by hand if you prefer. Slowly add the oil a few drops at a time, while continuing to whiz until the mixture thickens, taste and season. The dressing should have the consistency of unwhipped cream. If it is too thick, add a teaspoon of warm water.
Roughly tear the lettuce and place in a large mixing bowl. Add 4-5 tablespoons of the dressing and toss well to coat. Add the croutons and bacon and toss again. Cut the boiled eggs into quarters.
Divide the salad into four serving bowls and top with boiled egg quarters. Grate on some cheese and serve immediately.
Any leftover Caesar dressing should be stored in the fridge. It will keep for 1-2 days.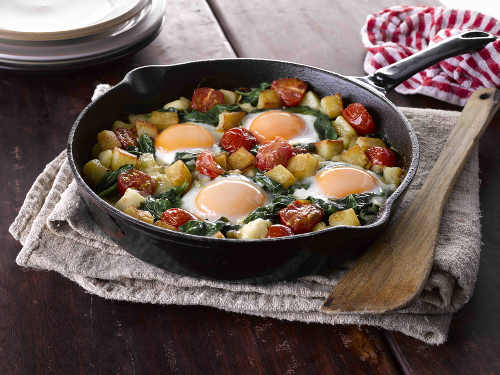 Diced Potatoes with Spinach and Eggs
This is a great main course. The potatoes make it good and hearty. Add whatever farmhouse cheese takes your fancy and you'll realise just how good eggs can be.

Serves: 4
Time: 45 minutes
4 large potatoes, peeled and cut into 3cm cubes
½ tablesp. oil
Knob of butter
1 onion, thinly sliced
Salt and freshly ground black pepper
250g spinach, washed, dried and chopped
12 cherry tomatoes, cut in half
4 large Bord Bia Quality Assured eggs
100-150g soft cheese
To serve: crusty bread

Place the potatoes in a saucepan with salted water and bring to the boil. Reduce to simmer and cook until tender. This will take about 6 minutes. Drain.
Meanwhile heat a large frying pan. Add the oil and butter. When the butter has melted add in the onion and fry until softened, about 8 minutes. Add the potatoes, season and cook until golden. Fold in the spinach and cook until wilted. Toss the tomatoes on top.
Remove from the heat and make 4 dips in the potato mixture. Crack an egg into each dip. Breakup the cheese and dot it around the eggs. Cover and return to a medium heat. Cook until the eggs are done to your liking, about 6 minutes.
Baked Frittata with Roasted Vegetables
This easy week day dinner is perfect. Include whatever combination of veg you like to make this your new favourite frittata recipe!
Serves: 4-6
Time: 1 hour
1 medium red pepper, cut into 3cm pieces
1 medium yellow pepper, cut into 3cm pieces
1 small aubergine, cut into 3cm pieces
1 medium onion, cut into wedges, roughly 6/8 from each onion
1 courgette, cut into 3cm pieces
1 medium potato, peeled and cut into 3cm cubes
2 garlic cloves, peeled and chopped
1 tablespoon rapeseed oil
Salt and freshly ground black pepper
8 Bord Bia Quality Assured eggs
100mls milk
50g good quality hard cheese, grated
Handful of fresh parsley, chopped
To serve: Green salad and crusty bread
Preheat oven to Gas Mark 6, 200°C (400?F).
Place the prepared peppers, aubergine, onion, courgette, potato and garlic in a bowl and mix with a tablespoon oil. Season with a little salt and black pepper and then spread in a single layer in a roasting tray and roast for 15-20 minutes.
Line an ovenproof baking dish (6cm deep, 20cm x 20cm), with baking parchment.
Transfer the vegetables to the prepared dish. Reduce oven to Gas Mark 4, 180°C (350?F). Whisk the eggs and milk together in a jug. Add ? of the cheese and the parsley. Season with a little salt and black pepper then pour the egg mixture over the vegetables. Shake the dish gently to allow the egg to spread to the base, sprinkle over the remaining cheese.
Bake the frittata for 20 minutes or until top is golden and the centre is set. Let it rest for a couple of minutes before cutting into squares and serving with some salad and crusty bread.