Cookery Feature - Free-From Food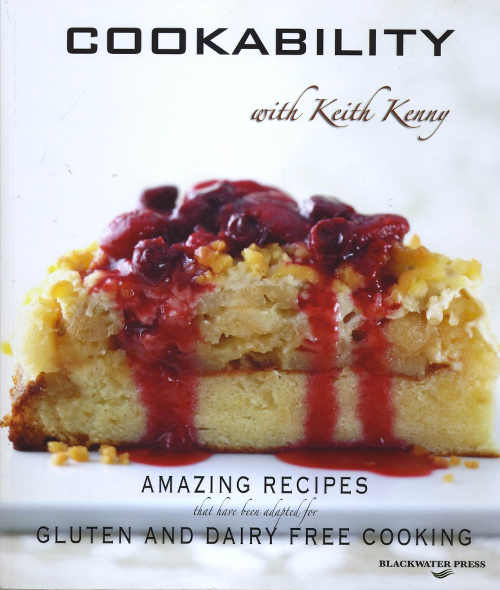 Georgina Campbell
'Free-from' foods have never been more in demand than now and the term covers everything from specific exclusion of additives such as the infamous E numbers or just keeping it simple, and cooking with fresh, natural ingredients (a wise policy) to the more complicated issue of dealing with particular health problems.
And, while New Year dietary resolutions for many of us may just involve eating more sensibly and hoping to lose a few pounds, for a growing number a more urgent issue is to find ways to deal with food intolerance.
Whether coeliac disease is becoming increasingly prevalent or it's just that diagnosis has improved, there's a growing demand for gluten free foods in particular.
We even have our first gluten free restaurant, The Gluten Free Kitchen Company in Tralee, which - like O'Connell's Restaurant in Donnybrook, (which was way ahead of the posse in catering to the needs of coeliacs), is popular with everyone, not just customers with gluten intolerance.
Similarly, responding to the fact that keeping salt levels low is a major issue for people like himself with heart problems, the 'No Salt Chef' Brian McDermott opened Ireland's first salt-free cookery school last summer, in Moville, Co Donegal, where he demonstrates that subtle use of herbs and spices can bring out the flavour in natural ingredients at least as effectively as adding salt.
Another chef, Keith Kenny of La Banca Restaurant in Lucan, discovered a whole new way of cooking because his wife, Melanie, is dairy and gluten intolerant - and this, plus the fact that he was constantly adapting popular dishes in the restaurant for special dietary requirements, led him to write a book, COOKABILITY with Keith Kenny, Amazing Recipes that have been adapted for Gluten and Dairy Free Cooking. Published by Blackwater Press it costs €20 and is available from bookshops and La Banca Restaurant, Lucan, with royalties going to the Irish Cancer Society.
Working with nutrition expert Erika Doolan, who also worked with Dylan McGrath on the raw food menu at his Rustic Stone restaurant, ensured that meals in Keith's book are not only gluten- and dairy-free, but also nutritionally balanced.
Aside from coeliacs, thousands of others - such as people with Crohn's Disease and Irritable Bowel Syndrome (IBS) - also need to avoid certain foods including wheat and dairy, so this down to earth book of healthy and appetising dishes will be a welcome find for many.
SEASONAL SAMPLE RECIPES: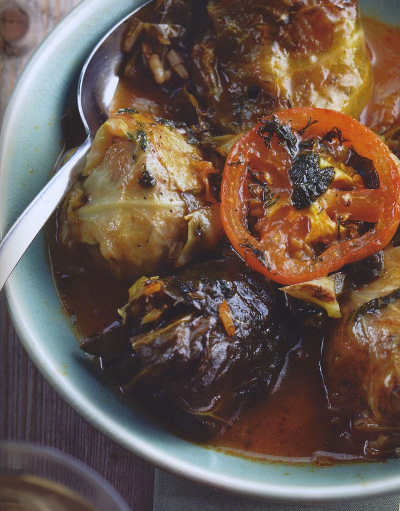 Stuffed Cabbage Leaves in a Tomato and Basil Sauce
(A tasty vegetarian main course that could be varied by using other herbs when fresh basil is out of season. GC.)
(Serves Four)
Ingredients:
1 head of Savoy cabbage, remove leaves and wash
2 tbsp. of vinegar
100g of long grain rice
2 carrots, peeled and diced
3 cloves of garlic, diced
2 mixed bell peppers, diced
2 sticks of celery, diced
3 tomatoes, sliced
100 ml of white wine (optional)
3 tbsp. of olive oil
1 leek, diced
2 red onions, diced
1 courgette, diced
Bunch of flat leaf parsley, roughly chopped
Bunch of basil, roughly chopped
1 bunch of fresh thyme
500 ml of vegetable stock
2 tins of chopped tomatoes
Salt and pepper
Method
Put a large pan on a high heat add 1.25 litres of water and the vinegar, bringing to the boil before adding the cabbage leaves. Blanch for 4-5 mins until soft, remove and cool under cold water and leave aside until later.
Put a deep pan or pot on a med to high heat and add the olive oil. When hot, add in 2 cloves of garlic, red onion, celery, courgette, carrots, leek, peppers and rice and sweat off for 4-5 mins.
Add in 3-4 sprigs of thyme and the wine, simmering for another 2-3 mins. Season with salt and pepper and pour in 300ml of vegetable stock. Cook for another 5 mins before removing from heat and leaving to cool.
Place 1 cabbage leaf on a plate and add 1-2 tbsp. of the mix onto the centre of the leaf. Roll into a cone shape and do this with all the leaves and the remaining mix.
When you have all the leaves stuffed put the chopped tomatoes in a large pot with mixed herbs, garlic and the rest of the vegetable stock.
Then place all the stuffed cabbage leaves in a circular pattern into the pot, coating each one with the sauce, add sliced tomatoes and cover the pot and place on a low heat for 35 mins.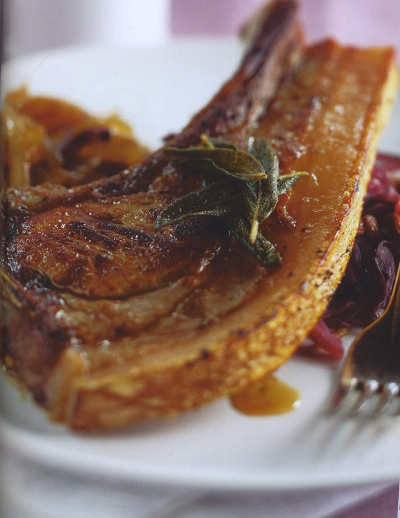 Crispy Pork Cutlet with Braised Sultana, Apple, Red Cabbage and Sweet Onion Cider Sauce
Pork is much tastier with the crispy skin on and you are more likely to find rind-on pork at your local butcher rather than a supermarket.
GC
(Serves Four)
Ingredients:
4 x 220g pork cutlets with rind on
3 tbsp. of rapeseed or sunflower oil
Salt and pepper
½ head red cabbage, thinly sliced or shredded
50g of sultanas
2 eating apples, cored and diced skin on
Juice of 1 lemon
2 tbsp. of brown sugar
2 tbsp. of white wine vinegar
3 medium sized onions, peeled and sliced
1 bunch of fresh sage
250ml of chicken/vegetable stock
1 x 330ml bottle of cider
Method:
Make sure the skin on the pork cutlets is dry and rub salt and pepper into it. Put a large pan on a medium heat, add the oil and place the cutlets on their edge skin side in the oil. Cook for 10-12 mins until the skin is brown and crispy, then cook on either side for 4-5 mins. Remove from the pan, place on a warm plate and leave to rest.
Turn up the pan to a high heat. Throw in 6-8 sage leaves and cook for 1-2 mins until crispy. Remove and place on kitchen paper. These are really tasty and make a great garnish.
Using the same pan, add in the onion and cider and season with salt and pepper. Cook until the cider has reduced and has made the onions wonderfully sweet.
While the pork is cooking, place a pot on a medium heat and add half the stock, sultanas, red cabbage, white wine vinegar and brown sugar. Leave to simmer and stir well until the liquid has reduced by half, then add the rest of the stock and cook until reduced.
When the cabbage is just at dente, mix in the apple and lemon juice and remove from the heat, covering with a lid until required.
To serve, place a good helping of the red cabbage on the centre of plate, place the cutlet on top and garnish with the crispy sage leaves and the sweet onion sauce on the side.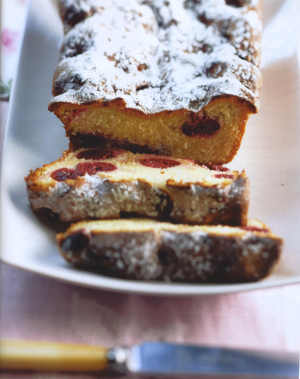 Cherry Vanilla Sponge
[Desserts and baking are often particularly challenging for anyone with gluten and dairy intolerance, so recipes like this are especially welcome. GC]

(Serves Four to Six)
Ingredients:
500ml tin of pitted cherries or 200g of fresh cherries deseeded
4 large eggs
4 tbsp. of vegetable oil
1 tbsp. of cold water
4 tbsp. of castor sugar
½ tsp. of gluten-free baking powder
4 heaped tbsp. of gluten-free flour
1 vanilla pod (cut the pod horizontally and with the tip of your knife scrape out the vanilla)
To make use of the pod, mix it with some sugar and store in an airtight jar.
Baking tin size 24 cm long 14 cm wide 7 cm deep
Method:
Preheat the oven to 180°C, Gas mark 4.
Separate the eggs and put the white of the egg into a clean mixing bowl and whisk for 3-4 mins until semi stiff. While still whisking, add 1 tbsp. of sugar at a time and stir briskly until stiff like meringue and place into another bowl until later.
Wash out your mixing bowl and add the egg yolks with the oil, cold water, flour, vanilla and baking powder, mixing on a medium to high speed for 4-5 mins until stiff.
Blend the two mixes together slowly in a large bowl using a wooden spoon or spatula until they reach a smooth creamy texture.
Brush the tin very lightly with oil and fill with the half the mixture, then add your cherries before topping with the rest of the mixture.
Place in the oven for 25-30 mins. To check if it is cooked, simply push a cocktail stick or skewer into the centre sponge and if it comes out dry it is cooked.
Remove from oven and let cool before dusting with icing sugar.