Cookery Feature - Wild & In Season Now
Georgina Campbell
It's a great time to look for wild fruit in the hedgerows and heathland - finding wild strawberries to pick and enjoy while you amble along quiet laneways in sunny areas is the stuff that summer holidays are made of, and it's also well worth seeking out some bilberries before the birds get them. Wherever heathers thrive, there's a chance you'll find bilberries too.
We think of fungi as an autumn crop, and so they are - but some varieties such as chanterelles start to come into season in late summer, so keep an eye open for these colourful and very tasty mushrooms when walking in woodlands.
As promised earlier in the year, we are featuring some more recipes based on wild foods in season, from Biddy White Lennon and Evan Doyle's book Wild Food – Nature's Harvest: How to Gather, Cook & Preserve. (Published by The O'Brien Press; from good bookshops nationwide, €16.99/£14.99.)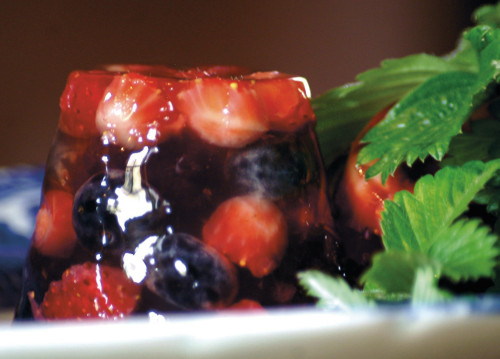 WILD STRAWBERRY, BILBERRY, BLACKBERRY AND ROSE WATER JELLY
Wild Strawberry in season from June-Late September
WHAT GOES IN
1 handful wild strawberries
2 handfuls wild bilberries
2 handfuls wild blackberries
750ml water
400g organic sugar
½ vanilla pod
5 leaves of gelatine
4–5 drops of rose water
250ml organic sparkling white wine
HOW IT GOES
Place the water and sugar into a saucepan with the half vanilla pod, split. Bring slowly to boil to dissolve the sugar. Soak the gelatine leaves in a bowl of cold of water. Add gelatine into hot liquid and stir until you are sure gelatine is fully dissolved through the liquid. Whisk rose water drops into the liquid and add the white wine.
Use a large mould, just as your grandmother did, for placing in the centre of the table. Or, use individual dariole moulds or coffee cups or whatever shape you like. Place a layer of the wild strawberries in the bottom of mould and just cover with the jelly liquid. Allow this layer to set in fridge. Keep the remainder of the liquid jelly warm. When set, add another layer of berries. This time using all three types of berries (wild strawberries, wild bilberries and wild blackberries). Repeat layering process until mould is full.
HOW TO FINISH
Allow to set in fridge. To turn out, dip jelly mould into hot water for a few seconds and turn out onto serving dish.
WHAT YOU GET
Is an adult jelly of summer fruits that will transport you back! This jelly pays homage to the illusive and hard to harvest wild strawberry. That's why it has pride of place for the first spoon at the top of the mould when it is inverted. We feel that the rose water adds to the deep perfume taste of this fabulous wild fruit.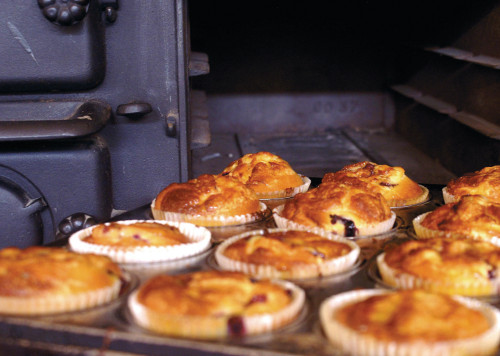 WILD BILBERRY CHEESECAKE MUFFINS
Wild Bilberry in season from late July-August
WHAT GOES IN
Muffin mix:
225ml organic milk
75g cold unsalted organic butter, cut into chunks
2 organic eggs
225g organic plain flour
125g organic sugar
2 tsp baking powder
Pinch of sea salt
100g fresh wild bilberries, washed
Cheesecake mix:
150g organic soft cream cheese
160g organic sugar
1 organic egg
Vanilla seeds and pulp from ½ vanilla pod
HOW IT GOES
Pop paper muffin cases into 12-cup muffin tin.
For the cheesecake mixture, combine the cheese, sugar, egg and vanilla pulp and set aside.
For the muffins, put the milk and butter in a small pot and heat slightly, stir until the butter is melted. Take off the heat and let cool down, then beat in the eggs. In a bowl, mix the flour, sugar, salt and baking powder together, pour in the milk-butter mix and work it until well combined. Gently fold the berries into the mixture.
Spoon the muffin mix into the prepared muffin cases and top this up with 2 tsp of the cheesecake mix. Then with a metal skewer or thin knife, swirl this mixture right to the base of the paper cases.
Bake the muffins for about 20 minutes between 180°C and 200°C. Allow them cool for 10 minutes in the tin before taking them out.
WHAT YOU GET
A lighter muffin with the cheesecake that really suits the fresh summer taste of wild bilberries. If you can resist them straight out of the oven, re-warm before serving with some good strong coffee, perfect.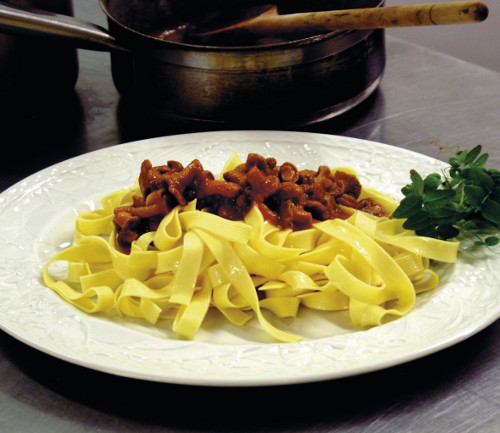 WILD CHANTERELLE GOULASH
Wild Chanterelle in season from July-November
WHAT GOES IN
1kg wild chanterelles
2 organic onions, finely diced
2 organic red peppers, diced
100g organic streaky bacon or pancetta, diced
1 organic garlic clove, finely chopped
2 tbsp organic tomato purée
1 rounded tbsp sweet paprika powder
300ml organic vegetable or chicken stock
A splash of organic white wine vinegar
50ml organic cream
½ bunch parsley, chopped
Organic crème fraiche
Sea salt and black pepper
Organic rapeseed oil for frying
HOW IT GOES
Brush or wash the chanterelles very quickly under running water, pat dry.
Heat some oil in a pan and fry the mushrooms quickly, put in a sieve set over a bowl and save the poured-off liquid.
Fry the diced onions over medium heat until golden, add the peppers, garlic and bacon and fry for another 5 minutes. Reduce the heat, put the tomato purée in and stir well, avoid burning the purée. Add the paprika powder and then deglaze it with the vinegar.
Pour the stock and the saved liquid from frying the chanterelles and cook it gently for 15−20 minutes. Add the cream, season with salt and pepper and blitz in a processor.
Strain through a sieve into a pot. Put the chanterelles back in the sauce and cook for a few more minutes.
HOW TO FINISH
Fold in the chopped parsley and season to taste. Garnish with, or fold in, a dollop of crème fraiche
WHAT YOU GET
Is a summer-special goulash with all the flavour of the chanterelle. Perfect served as its original decreed, with bread dumplings, or maybe with pasta or rice instead. As a supper with friends or even a TV snack. Just spoon over a slice of fresh grilled bread, and enjoy.