Grow it Yourself - August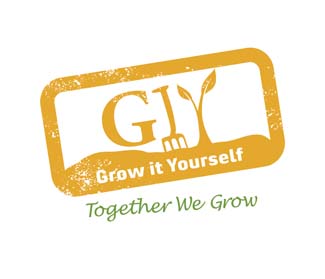 For me, August is the ultimate payback month, when all the hard work of the year really starts to pay off. Somehow, it never seems as busy as other months. August and September sees us poised between the hard work of the current growing year and the hard work of preparing for the next one. We could hardly be described as bone idle, but we can kick back a little and enjoy the fruits of our labour.
We're done with most of the toil of preparing and growing vegetables - preparing soil, sowing, potting on, planting out etc). The key harvesting jobs (lifting main crop carrots, potatoes, celeriac, turnips, beetroot etc) can wait until next month. And, the prep work for the 2014 growing season (clearing beds, getting them covered down with compost and manure etc) has yet to begin.
Even the weeds are, generally speaking, not such an issue by now, as the main growth of the year has already passed. So if you've been diligent about your weeding through spring and early summer, an occasional hoeing now should be enough to keep on top of things.
The only fly in the ointment potentially is a prolonged hot and dry spell, which necessitates long bouts of watering outside. We GIYers are even more demanding about the weather than the rest of the populace – so, yes please, give us a dry spell by day so we can take to the beach, but we need rain at night so we don't have to take out the hose each day.
Before we hang up our "sowing" boots for the year, it's worth bearing in mind that this is pretty much the last chance to get a good crop of winter greens going. If you can therefore, do a good sowing before the end of the month of lettuce, perpetual spinach, chard, lamb's lettuce, and oriental greens (such as mizuna, mibuna, mustard, tat soi).
Things to do in August

To Do
Green manures (mustard, buckwheat, radish, rye, alfalfa, clover and vetches) are plants which are grown specifically to improve soil fertility and useful at times when beds are empty (as is often the case in August). Grow directly in the bed and then cut down and dig in to the soil. Give pumpkins plenty of water and apply a high-potash liquid feed. Nip out the growing points to encourage the fruits to swell. Net brassicas to keep butterflies and the cabbage moth away (and check undersides of leaves regularly for caterpillars). Keep watering - mulch around plants to retain moisture.
Sow
Continue succession sowing. Sow spring cabbage, red cabbage, winter spinach, salad onions (in polytunnel for spring crop), autumn salad mix, endive, parsley, onion seed, Chinese vegetables.
Harvest
Pick Beetroot regularly as they reach the size you require - if left to grow too large they will loose their tenderness. Continue to harvest tomatoes, carrots, cabbage, cauliflower, peas, broad beans, french and runner beans, salad leaves, radish, turnip, potato, onions, peppers and chilli-peppers, aubergine, globe artichoke, courgettes, cucumber, gooseberries, raspberries and currants.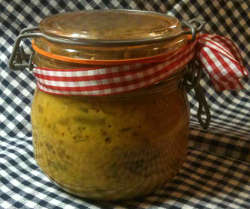 Recipe of the Month – Piccalilli
Cauliflower needs to be harvested as soon as it's ready (you can't leave it in the ground or the curds start to open) and it doesn't store particularly well once picked – so here's a good recipe for an exotic pickle called Piccalilli that will help you keep it for 6 months. It also uses up some of those other "glut" vegetables like beans and courgettes.
Ingredients
· 1 large cauliflower
· 2 large onions, peeled and quartered and sliced finely
· 900g mixed veg such as courgette, runner beans, carrots and green beans – cut in to bite sized chunks
· 60g salt
· 2tbsp plain flour
· 225g sugar
· 1 tbsp turmeric
· 60g English mustard powder
· 900ml pickling Vinegar
Put all the vegetables in a large bowl. Dissolve the salt in 1.2l of water and pour this over the veg. Put plate on top to keep them submerged and leave for 24 hrs.
Drain and rinse the next day. Bring a large pan of water to the boil – add the veg and blanch for 2 minutes. Drain and refresh in cold water.
Put flour, sugar, turmeric and mustard in a small bowl and mix in a little of the vinegar to make a paste. Put it in a large stainless steel saucepan along with remaining vinegar, bring to the boil and stir continuously so that no lumps appear.
Reduce heat and simmer for 15 mins. Add veg to the sauce and stir well so they are coated.
Ladle in to sterilised jars and use a non-metallic lid to seal. Allow to mature for one month before using.
This recipe will make 5lbs.
Be Inspired. Be Informed. The GIY Gathering 2013 – September 14/15
The 5th annual GIY Gathering takes place in Waterford on the 14th and 15th of September as part of the Waterford Harvest Festival. The event will bring together up to 400 people from every corner of Ireland for a two day festival of learning and to share tips, ideas and advice on growing your own food.
This year's Gathering brings together some of the world's leading food-growing experts and advocates from Ireland, UK, and US. Speakers include Charles Dowding, Wenonah Hauter (Foodopoly), Michael Kelly, Alys Fowler, Mark Diacono, Darina Allen, Joy Larkcom, Ella McSweeney, John McKenna, Kitty Scully and Bruce Darrell.
Tickets from www.giyireland.com.
Tip of the Month – Save Tomato Seeds
If you had a variety of tomato that was a particular success this year, why not try saving the seeds from the tomatoes to grow next year's plants? You should only save seed from open-pollinated varieties of tomatoes, and not hybrids. Pick a nice big, ripe tomato and cut it in half. Squeeze the contents (seeds, gel and juice - not flesh) in to a cup or container and label the cup with the variety. Half fill the cup with water. After a few days a mould will form on the water, which is a sign that the seed coating has dissolved.
Pour off the water and any floating seeds (these are duds that wont germinate). The good seeds should be on the bottom of the cup. Rinse the seeds under a cold tap in a very fine mesh strainer. Put the seeds in a single layer on a paper plate and leave for a few days to dry. Bag them up in a labelled envelope and store them somewhere cool (or refridgerate) until next spring.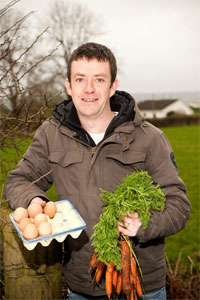 Get Involved
GIY aims to create a healthier, more sustainable world where people grow their own food. We bring people together in community groups and online to share tips and knowledge. We also run events and programmes to inspire and support people to grow their own.
GIY is a registered charity (CHY 18920) and proudly supported by Woodies DIY. Support our work by becoming a member of GIY for €25 and receive a member's pack with seed selection, member's card, GROW magazine, grower's guides and more. www.giyireland.com
Michael Kelly is a freelance journalist, author and founder of GIY Ireland.