Grow it Yourself - March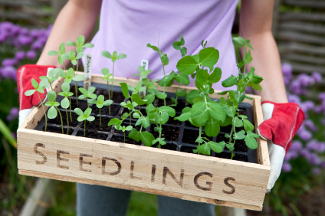 If you want to grow your own food and are starting with lawn, where do you begin? Let's take a look at three different options. First of all, if you're not in too much of a hurry to get started, you could try the following. Cover the area down with a thick layer of farmyard manure or compost and then with a sheet of black plastic. Leave for a year. The lack of light (due to the plastic) will kill of the grass and the worms will do the digging work for you (if you leave them alone for long enough).
This is clearly not the method to use if you are hoping to get started this spring, but if you are willing to leave the area be for 12 months (maybe put a small raised bed somewhere else so you can grow this year) this is the easiest and cheapest approach.
The second option to consider is raised beds – this is the quickest way to get going though not necessarily the cheapest. Use untreated timber and build a raised bed of no more than 1.2m wide so that you can always reach in to the centre of the bed (you should never walk on the soil in your veggie beds as it compacts it).
The bed can be as long as you want. Fill it with a mix of 70% soil and 30% compost. If you wish, before you put in the soil, put a good thick layer of cardboard and newspaper on the grass and then wet it - this will rot down and also kill off the grass. You will be able to sow in a raised bed almost immediately after filling it - leave it a few days to allow the soil to settle.
The third option is to get out your spade and dig, the old fashioned way! If you feel the soil is good in your garden, then there is probably no reason to go to the expense of a raised bed. With "single digging" you dig out trenches to a spades depth, known as a spit, and about 30cm (12in) wide. Place the soil from the first trench on the ground in front and work backwards along the plot, turning the soil from each subsequent trench into the one in front (so that the grass on each sod is facing down in to the trench).
When you have made the final trench, you turn the sods from the very first trench in to it. You will need to leave the bed be for about 4-6 weeks and then turn it over gently with a fork before planting in to it.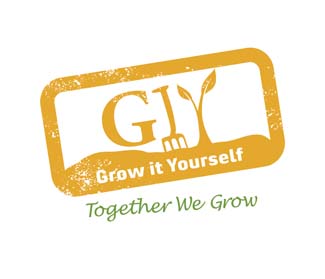 GIY Get Ireland Growing Campaigns
This year, we're all about getting Ireland growing! Check out our website (www.giyireland.com) for more information on the GIY Get Ireland Growing campaigns:
• The GIY Get Ireland Growing Fund in partnership with AIB. If you are a community group or school developing a growing initiative in Ireland you can apply for a grant between €500 and €5000. Check out our website for application forms and criteria.
• The innocent GIY Sow & Grow schools campaign aims to get 100,000 school children sowing seeds in the next three years. Your school can apply for a FREE Sow & Grow kit and start their GIY journey.
• Operation GIY Nation – we can get your family growing food! Sign up and get emailed monthly simple GIY projects that you can do with your family.
Things to do this Month - March
To Do
Continue to prepare ground – there is still time to prepare a plot to grow veg this year. Fork or rake over existing beds, breaking up large clods of earth. Cover new seedlings with fleece if a frost is due. Start your daily slug patrols and lay beer traps. Don't let new-season weeds take over – get on top of them with weekly hoeing.
Sow
Indoors: lettuce, aubergine, peppers, cucumbers, celery, celeriac, sweet corn, basil, leeks, summer cabbage, cauliflower, Brussels sprouts, parsley, courgette, French beans.
Sow outdoors or under cover: broad beans, red cabbage, carrots, cauliflower, spinach, kale, Brussels sprouts, onions, leeks, turnip, peas, radishes, early lettuce, asparagus. Plant your first early seed potatoes, as soon as weather conditions allow.
Harvest
This month you could be enjoying (from the ground and from storage) onions, leeks, parsnips, potatoes, some varieties of lettuce, mint, sprouting broccoli, kale, rhubarb, chard, the first of the spring cauliflowers and cabbage, and spinach (perpetual, spinach beet).
Recipe of the Week – Ham and Leek Pie
This is a delicious Jane Hornby recipe for a warming pie. You could use any cold meat in this really from cold ham to chicken or even turkey – so, it's a great Monday night dish to use up leftover meat from Sunday dinner. Using a pack of puff pastry makes it a sinch to make.
Serves 4-6.
Ingredients
• 2 tbsp butter
• 1 large onion, finely chopped
• 3 leeks, finely sliced
• 2 large potatoes, cut into small cubes
• 2 tbsp plain flour, plus extra for dusting
• 300ml chicken or ham stock
• 100ml pot crème fraîche
• 2 tsp wholegrain mustard
• 200g cooked ham, shredded
• 4 bay leaves, optional
• 375g pack puff pastry
• 1 egg, beaten, to glaze (or use
Directions:
Heat a large frying pan, melt the butter, then add the onion and leeks. Cover, then very gently cook for 15 minutes until soft. Add the potatoes after 5 minutes cooking.
Stir in the flour, turn up the heat, then add the stock, stirring until the mix thickens a little. Take off the heat, then stir in the crème fraîche, mustard and ham. Season to taste.
Spoon the mix into a large pie dish, adding a couple of bay leaves. Heat oven to 220C.
Roll out the pastry on a floured surface until it's the same size as the dish roughly. Lay it on top of the dish and tuck the sides in. Cut a few slits to let the steam escape, then brush all over the top with egg.
Bake for 30 minutes until golden brown.
Tip of the Month – Sow Onion Sets
Onions are typically grown from 'sets' (a fancy name for baby onions) rather than from seed. Sets are usually planted from mid March to mid April, depending on the weather and will take approx 5 months to mature so if you sow this month, you will probably be harvesting in mid August.
To plant your sets: firm the surface of the soil and plant the onion sets 4 inches apart in rows 9 inches apart. Push the set gently down in to the soil, leaving the tip just showing above the surface. If you have already bought your onion sets and are waiting for the weather to warm up a bit before planting, spread out the sets in a cool, well-lit place to prevent early sprouting.
Onions can also be grown from seed but take a bit longer (but it's also alot cheaper).

------------------------------------
Get Involved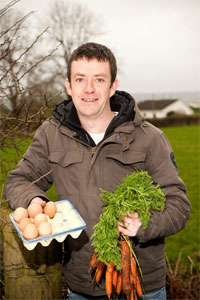 GIY aims to create a healthier, more sustainable world where people grow their own food. We bring people together in community groups and online to share tips and knowledge. We also run events and programmes to inspire and support people to grow their own. GIY is a registered charity (CHY 18920) and proudly supported by Woodies DIY. Support our work by becoming a member of GIY for €35 and receive a member's pack with seed selection, member's card, GROW magazine, grower's guides and more.

For more tips, information and support visit www.giyireland.com
Michael Kelly is a freelance journalist, author and founder of GIY Ireland.
© GIY Ireland 2012 – all rights reserved.