Grow it Yourself - November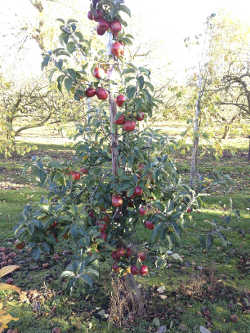 If, like me, you like your apples, you will almost certainly have noticed how badly served we are by the commercial food chain when it comes to this wonderful fruit. Though there are literally thousands of apple varieties available around the world, just a handful make up the vast majority of apples sold by supermarkets.
The famous southern hemisphere apples (Pink Lady, Royal Gala etc) have been chosen largely for their ability to withstand long journeys and even longer bouts on the storage shelf. So if you want to experiment with flavour and diversity, you really have to seek out dedicated Irish growers (like Con Traas at The Apple Farm in Tipperary) or grow them yourself.
It's a great time of the year to consider planting an apple tree (while the trees are dormant). It's important to give some thought to how much space you have – left to its own devices, an apple tree will eventually take over your entire garden, but modern breeders have been able to graft varieties on to different root stocks to keep them in check.
So you can get a tree size to suit your needs. Springfield Nursery in Dungarvan even developed a miniature apple tree – the coronet - that can be grown in a 25 litre pot and has two apple varieties on the one tree. Clever or what?
I planted 6 apple trees out in the front garden three years ago this winter – varieties Katy, Elstar and Jonagold. I had almost no apples from them in 2012, but this year they have sprung in to life in a big way. The star performer was the early variety Katy (known in its native Sweden as Katya) which had over a hundred apples on it (yes, in a state of excited anticipation, I counted them).
The apples were a little on the small side (perhaps because it's a relatively young tree?), but they tasted very pleasant indeed – very juicy, with a mild apple flavour that has a hint of strawberry. The apples can be eaten fresh (I grabbed two each morning before I got in to the car to go to work – the ultimate convenience food), but the acidity means that they also worked well in crumbles and tarts.
Katy is an incredibly easy apple to grow and it's very productive, so a great variety to buy if you're just starting out. The apples will ripen even in the worst of summers, as it was bred for the cold northern climate of Sweden.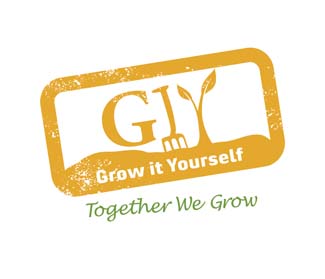 Things to do this month - November

To Do
Do not leave beds bare for the winter – sow a green manure, or cover with a thick layer of manure/compost and then black plastic or straw. This will return nutrients to the soil, keep the worst of the weather off it, suppress weeds and prevent leaching of nutrients. 'Earth up' or tie up vegetables such as cabbage, cauliflower and Brussels sprouts. Divide up your rhubarb if you want to propagate, and cover it with a thick mulch of manure. Prune apple trees. Mulch fruit bushes. Take cuttings of currant bushes from current season's wood.
Sow
Sow broad beans outside now for an early crop next spring. To avoid rotting before germination, make small newspaper cups and germinate them indoors first. Next summer's garlic does best if it's planted before Christmas – plant outdoors in well prepared soil in a sunny spot. Though I have to admit I never bother with them, some varieties of onion can over-winter and will be ready to harvest in early summer.
Harvest
Continue to harvest perpetual spinach, cabbage, cauliflower, potatoes, swede, parsnips, apples, pears. Start harvesting leeks, winter cabbage, kale, artichokes, Brussels sprouts. Time to lift carrots and turnips or at least cover them with a good layer of straw to protect them from frost damage.

Recipe of the Month – Spiced Carrot and Lentil Soup

This recipe from Jane Hornby is packed full of iron. You can use a can of coconut milk instead of milk if you want to keep it dairy free. For a warming and nutritious supper, add some cooked strips of chicken at the end of cooking. Serves 4.

Ingredients
· 2 tsp cumin seeds
· pinch chilli flakes
· 2 tbsp olive oil
· 600g carrots , washed and coarsely grated (no need to peel)
· 140g split red lentils
· 1l hot vegetable stock
· 125ml milk
· plain yogurt and naan bread, to serve

Directions:

Heat a large saucepan and dry-fry the cumin seeds and chilli flakes for 1 min, or until they start to jump around the pan and release their aromas. Scoop out about half of the seeds with a spoon and set aside. Add the oil, carrot, lentils, stock and milk to the pan and bring to the boil.
Simmer for 15 mins until the lentils have swollen and softened. Whizz the soup with a stick blender or in a food processor until smooth (or leave it chunky if you prefer). Season to taste and finish with a dollop of yogurt and a sprinkling of the reserved toasted spices. Serve with warmed naan breads.

Tip of the Week – Keep on Harvesting

Given the short days, inclement weather and the fact that we are already seeing the first C*****mas ads on the telly, its easy to forget that the season of harvest is still upon us. Many GIYers will still have tomatoes, peppers, chilipeppers, salad leaves and herbs in their polytunnels/greenhouses and of course outside we are in the full bloom of fabulous hardy crops like carrots, parsnips, celeriac, celery, leeks, beetroot, turnips, spinach, cabbage, kale, artichokes, brussels sprouts, swede, apples and pears. So for another few weeks let's stay focussed on the veg patch bounty.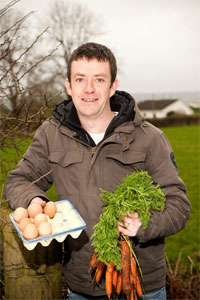 About GIY

GIY is a not-for-profit organisation that aims to create a healthier, more sustainable world where people grow their own food. We inspire and support people to grow food more successfully by bringing them together to share advice, tips and ideas. There are approximately 50,000 people involved in the GIY movement in Ireland.
For more information check out www.giyireland.com

Michael Kelly is a freelance journalist, author and founder of GIY Ireland.
© GIY Ireland 2013 – all rights reserved.