Grow it Yourself - September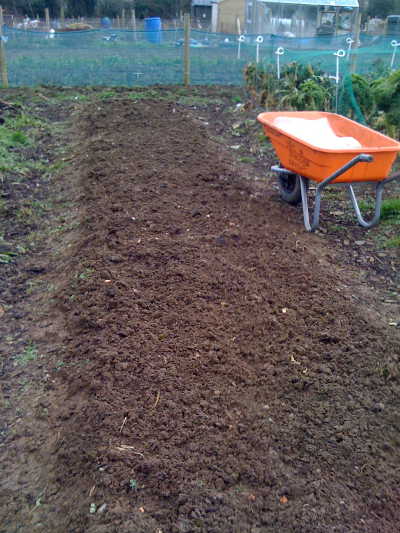 Stop treating your soil like dirt
Soil. Well, it's just dirt really, isn't it? It's something to be cleaned off our boots and scrubbed off our hands, right? When I started growing my own food, I didn't have much respect for the soil that the veg was growing in. My focus was on the seed, the plants, the vegetables. The soil was actually a source of annoyance to me - it had to be dug, raked, hoed, rotavated, coaxed and cajoled.
If we brought in a big digger and scraped the thin little layer (about 6 to 8 inches) of rich topsoil off the surface of our planet, all life as we know it would cease to exist. Plant matter would not grow, and without plant matter there would be no animals (including humans).
Given its importance to our survival, it's strange that we treat it with such contempt. Centuries of commercial agriculture has assumed that we can continue to rob the soil of it's nutrients by growing intensively from it and that all we need to do is replace the three core nutrients of nitrogen, phosphorus and potassium (the key ingredients of commercial NPK fertiliser).
In fact, what soil needs to support life is far more complex than that. Composts and manures (which are the organic alternative to chemical fertilisers) also return dozens of trace minerals and other nutrients to the soil – the vegetables that grow in this soil have more nutrients in them as a result and healthier veg leads to healthier people.
Then, having served their purpose in the kitchen, the vegetable trimmings and waste are returned to the compost, releasing the nutrients that are left back to the compost heap and then eventually back to the soil. Even a cursory understanding of this never-ending cycle of growth-maturity-decay leads you to one conclusion: growing your own food is actually ALL ABOUT THE SOIL.
From that perspective, my most significant achievement as a GIYer has been to learn how to make proper compost. Each winter I put wheelbarrow loads of the crumbly stuff on my vegetable beds. And each year my soil starts to look less like a potter's clay, and becomes a little darker, a little more crumbly and a lot more lovable. In a nutshell - I've stopped treating my soil like dirt...
The GIY Gathering 2013
400 food growers and food lovers will descend on Waterford for the 5th annual GIY Gathering which takes place on September 14th and 15th. The event brings together some of the world's leading food growing advocates, experts and writers for two days of inspiring and practical debate, discussion, talks and workshops.
Speakers include Foodopoly author Wenonah Hauter, 'no-dig' guru Charles Dowding, Guardian food writer Tom Maggoch, BBC presenter Alys Fowler, author Joy Larkcom, and River Cottagers Mark Diacono and Steve Lamb. A two-day pass costs just €30.
Tickets from www.giyinternational.org.
Things to do this month
Lift crops which have finished growing and dress bare soil with manure, compost (or plant green manures). Wasps can be problematic as fruit ripens so make traps from jars of sugary water. Remove surplus leaves from tomato plants which allows air to circulate and sunshine to fall on the fruit. Go blackberry picking!
Sow
Last month for sowing perpetual spinach, chard and oriental salads – it will be worth it in the New Year when there's almost nothing else to eat, so get sowing! In the polytunnel/greenhouse sow lettuce, mustard, cress, basil, coriander, parsley, radish, dwarf early pea, broadbean, cauliflower seed, rocket, onion seed and garlic. Outside sow white turnip seeds and autumn onion sets, e.g. 'centurion' and 'sturon'. Plant out strawberry runners. Pot up some parsley for winter use.
Harvest
Lift onions and leave to dry out in sun or in the polytunnel/greenhouse for two weeks. Apples, plums, pears are now in season. Continue to harvest salad leaves, tomatoes, radish, potatoes, carrots, turnips, beetroots, cauliflower, cucumbers, peppers, beans, courgettes, spinach, leeks, red cabbage, summer cabbage, aubergine, sweet corn.
Recipe of the Month – Punjabi Style Pickle
Here's a Madhur Jaffrey recipe for an early autumn veg pickle that can be eaten immediately.
Ingredients
· 3 tbsp jaggery (cane sugar) or palm sugar or light brown sugar
· 175ml/6fl oz cider vinegar
· 120ml/4fl oz extra virgin olive oil (you can use mustard oil, peanut oil or vegetable oil)
· 1-2 garlic cloves, peeled and crushed
· 1 tsp finely grated fresh ginger
· 400g/14oz small cauliflower florets
· 5 medium carrots, peeled and cut into 5cm/2½in pieces
· 225g/9oz baby turnips, peeled and halved
· 2 tsp whole brown mustard seeds, ground in a clean coffee grinder
· 2 tsp salt
· a mixture of 1 tsp chilli powder and 1½ tsp bright red paprika
· ½ tsp garam masala

Directions:
Combine the sugar and vinegar in a small pan set over a low heat, stirring occasionally. Heat until the sugar has dissolved, then turn off the heat. Pour the oil into a large pan set over a medium heat. When the oil is hot, add the garlic and ginger and stir for 30 seconds. Add the cauliflower, carrots and turnips to the pan.
Stir and cook for about a minute or until the vegetables are coated with oil and still fairly crisp. Reduce the heat to low and add the ground mustard, salt, chilli powder and paprika mixture and garam masala. Stir and mix for a minute or two until the vegetables are coated in the spices.
Pour in the palm sugar-vinegar mixture and stir. Take off the heat and allow the pickle to cool.
Spoon the finished pickle into one or two clean jars, with its juices, then refrigerate.
The pickle may be eaten immediately but will keep in the fridge for 3-4 weeks.

Tip of the Month – Pumpkin/Squash Care
You can leave pumpkins and squashes on the plant until October however you need to keep an eye on the fruit to make sure it doesn't rot. Mildew is the main disease problem, manifesting as a white powdery mould on the leaves - remove badly infected leaves and spray remaining leaves with a milk spray (9 parts water to one part milk in a spray bottle).
Raise the fruit up off the ground on to a piece of slate or in a pot so that it is not touching wet soil. Remove leaves near the fruit to allow the sun in on them, which will help with ripening. They will continue to develop colour after being removed from the plant if left somewhere warm and sunny - a greenhouse, warm windowsill or polytunnel would be ideal (but do not allow to get wet). Remove fruit with about 3 inches of stem left on. Stored fruit once properly "cured" (i.e. skin has firmed up) will last many months.
Handle carefully so as not to bruise them.
Get Involved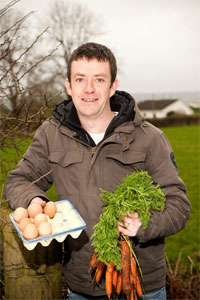 GIY aims to create a healthier, more sustainable world where people grow their own food. We bring people together in community groups and online to share tips and knowledge. We also run events and programmes to inspire and support people to grow their own.
GIY is a registered charity (CHY 18920) and proudly supported by Woodies DIY. Support our work by becoming a member of GIY for €25 and receive a member's pack with seed selection, member's card, GROW magazine, grower's guides and more. www.giyireland.com
Michael Kelly is a freelance journalist, author and founder of GIY Ireland.