Janets Country Fayre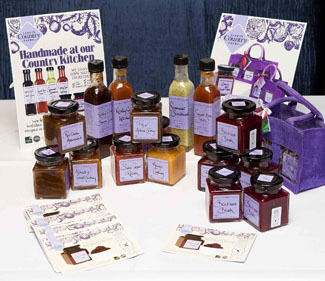 Janet's Country Fayre range of handmade chutneys, relishes and sauces was among the many impressive Co Wicklow speciality foods showcased at the Taste Council Summer School at The BrookLodge Hotel, Macreddin in August 2011.

Made in both the traditional and contemporary style, these products are distinguished by their deliciously fresh homemade flavours and the stylish packaging that makes them stand out on tightly packed shelves – and they made excellent accompaniments to local charcuterie selection served at the Producers' Dinner.

Janet Drew has won many an accolade for her products, including an Irish Food Writers' Award for her Beetroot Blush. Although the Guild was familiar with Janet's full range of interesting products, they chose this one particular product because they "were intrigued that such a rich coloured, delicate flavoured, sweet-sour relish could be made from the humble Irish-grown beetroot and Irish apples." Beetroot Blush is versatile and has proved a bestseller everywhere it goes on sale and is in great demand for Christmas hampers.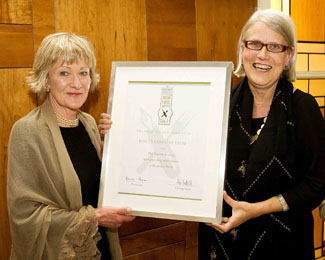 Janet's journey from art historian in the National Gallery of Ireland to artisan producer is along and interesting one and, along the way, she acquired many skills that were to prove useful in her current career: in being creative on no budget, in public relations, marketing, packaging, and distribution. However, her ability to make and sell food goes back to her student days when she baked and sold cookies to earn enough to keep her first car on the road.

Redundancy led to her making petit fours and fudge, to Poppies coffee shop in Enniskerry and, in 2005, to a commitment to develop Janet's Country Fayre. She bought a unit in Rathcoole, Co. Wicklow, which is large enough to provide space for production, in-house design and label printing, and storage'; along with little help from other artisan food producers, she largely handles everything herself, including distribution.

From selling first at farmer's markets, her extensive range is now widely available in selected SuperValus, speciality food shops, health food shops, and through a number of market stall holders. She also takes pride in supplying her top of the market (yet fairly priced) range as "own label product" to gourmet shops and restaurants.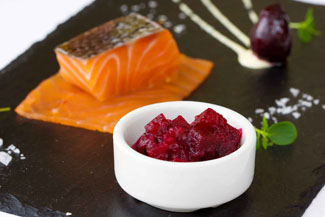 RECIPE: Whiskey cured smoked salmon with Janets Country Fayre Beetroot Blush and citrus mayonnaise

[Recipe courtesy of Derry Clarke, proprietor-chef L'Ecrivain Restaurant, Dublin.]

Serves 4

Click for recipe