Rachel Gaffney's Letter from Texas - Locally Grown Olives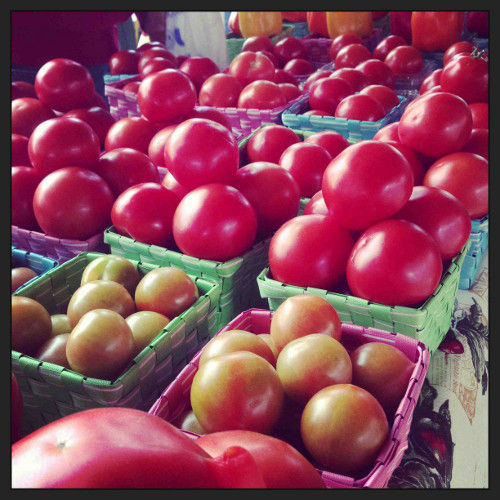 Just recently I attended the grand opening of 'Collin County Farmers Market' located in Plano, Texas. I planned on being there for the opening time of 8am. While I brewed a fresh pot of coffee, I sat outside by my pool and breathed in the morning air fragranced with honeysuckle and jasmine. I cherish these mornings as it will not be long before the Texas summer heat assaults you as early as 5am. I poured my coffee into my travel mug and set about for the morning ahead with no expectations but to forage and enjoy.
I pulled up outside the red barns and immediately these images sparked a childhood memory. I vividly remember the anthology of 'Childcraft Encyclopedias' in our home and one in particular was clearly leafed through on a regular basis and it was a book of poetry. One such poem was illustrated with a red barn that I never saw in Ireland as it was an American book. Now here before my eyes, almost forty years later, this very barn stood before me.
I noticed a family lugging baskets of red and yellow tomatoes from the back of their truck onto their stall and walked in their direction to get a closer look. As soon as I got there, Mr Espinoza looked at me with a large smile and said 'Buenos Dias' (good morning).
His smile was captivating and as I have never known a stranger so friendly, began to speak with him. He and his family owned their farm in Nevada, Texas. Originally from Mexico, he and his family brought with them their love of the land and their work ethic. His 17 year old son was now lifting crates of okra and dividing them into individual baskets for sale. Okra is a very popular vegetable in the 'Deep South'. It is used to make gumbo and can be deep fried or boiled.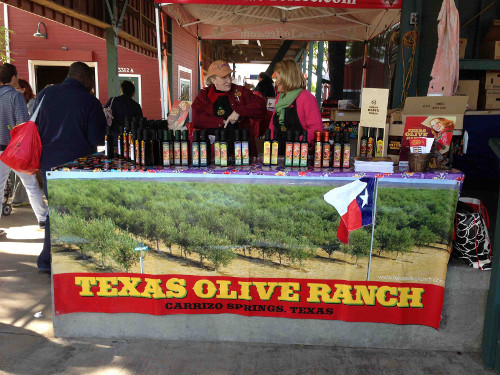 Turning the corner, a table with an array of brightly coloured bottles beckoned me to stop. It was lined with balsamic vinegars and olive oils, all made here in Texas. Fortunately for me, as it was the grand opening, I chatted with Jim Henry, the founder of 'Texas Olive Ranch'. Jim founded their olive ranch in 2005 in Carrizo Springs, Texas which is located south of San Antonio.
Jim had been convinced for years that olives could indeed be grown in Texas and not only could they grow but they could indeed thrive. He now has 40,000 olive trees and plans are ahead for a further 300,000 trees in Victoria, Texas. "Olives need good soil, heat and plenty of water," he explained, "but they do not tolerate the cold. For this reason, you will not find olive trees growing much further north than Carrizo Springs."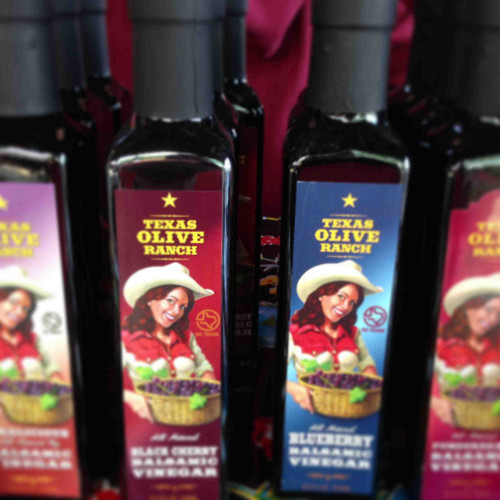 Jim is passionate about what he does. I do not use the word passion loosely. In fact I believe that this word is thrown about carelessly and should be used cautiously. Passion to me is a belief. A belief in what you do, as when times are tough, when you wonder where the next pay cheque is coming from you still continue on as you believe so strongly in what you do. When the nay sayers offer their opinions as freely as they do, it is this passion that will carry you and help you when you have the courage of your convictions.
As Jim continued to talk, I soaked up every word he had to say. At one point, he stopped and apologised, saying he can get carried away and to stop him at any point. I told him to continue as I could not hear or learn enough. Curiosity is a wonderful thing. Jim has been a pioneer here in Texas and now has the largest commercial olive orchard.
Extra Virgin olive oil has appeared in many articles over the last few years as many olive growers claim the public are being misled by inaccurate labeling. Claims have been made that many of the oils imported to the USA are in fact blends of oils including vegetable oil and food colouring. Author Tom Mueller highlights this in his book 'Extra Virgin' the sublime scandalous world of olive oil.
I purchased a bottle of cold pressed and unfiltered extra virgin olive oil and a very special bottle of 'Muy Bueno' (very good) a blend of their extra virgin olive oils that is not available in stores and can only occasionally be purchased at a farmers market. The latter is best served with slices of cucumber, or drizzled over freshly sliced Texas tomatoes, torn basil and fresh mozzarella cheese.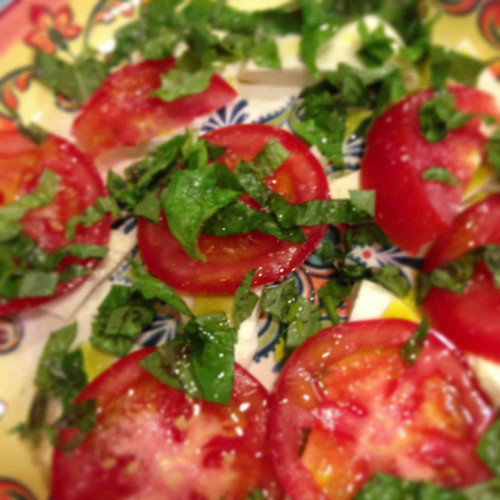 I had hardly noticed the time drift by. I glanced at my watch and although we had talked for 30 minutes or so, I now knew enough about Texas olive oil to be dangerous, which is not a good thing. As the old saying goes 'A little knowledge is a dangerous thing'. I had not nearly enough information. I needed to know more. The public needs to learn more. I asked Jim if he would bring his knowledge and passion back to Dallas over the coming months and he agreed instantly.
As a member of Les Dames d'Escoffier and a member of the GCI committee, (Global Culinary Initiative), our mission is to embrace our global communities through culinary connections that will provide educational programming, training programs and cultural exchange. I asked Jim Henry to be our guest for our next series of GCI classes.
Until then, I remain humbled by what I do not know. Socrates put it best when he said "The only true wisdom is in knowing you know nothing"

-------------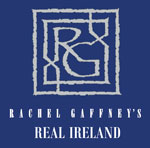 http://rachelgaffneysrealireland.com

Facebook: Rachel Gaffneys Real Ireland
Twitter: @Rachelgaffney

Watch 'The Irish Kitchen' now on HULU
http://www.hulu.com/the-irish-kitchen-with-rachel-gaffney