The Seafood Interview supported by BIM - Eithna's by the Sea, Co Sligo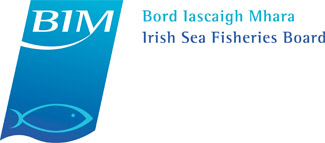 This month Marilyn Bright talks to Eithna O'Sullivan, proprietor-chef of Eithna's by the Sea, Mullaghmore, Co Sligo. our Seafood Restaurant of the Year 2014, sponsored by BIM
If unspoilt seashore and views of the mountains beyond Donegal Bay weren't enough, the happiness quotient around Mullaghmore harbour shot up even more this summer with the re-opening of Eithna's by the Sea.
This harbourside mecca for seafood lovers had closed eight years earlier when proprietor Eithna O'Sullivan took a sabbatical, and leased the property out while she furthered her interest in all things oceanic.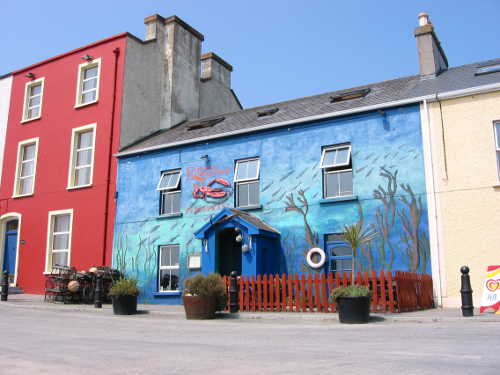 But now, with a fresh coat of bright blue paint, this seaside favourite has once again become a hub for happy diners with daily changing menus of everything fresh from the sea - from mackerel and hake to squid, clams, mussels and the local lobster - that features in Eithna's most popular signature dishes. Seaweed and sea vegetables are used to enhance dishes - not surprisingly perhaps, as Eithna's break from the restaurant was used partly to complete an honours degree in Culinary Arts, with a thesis on Seaweed as an Artisan Food Product.
Organic salmon and hake fillets may come with a crust of aduka, seaweed, pumpkin and sesame seeds while fresh char-grilled mackerel is sparked with beetroot pickle and seaweed relish. Hake is wrapped in mild flavoured wakame and served with lime sauce, and a versatile homemade seaweed pesto may enhance an open sandwich of mixed seafood on homemade brown bread. Combined with organically grown seasonal herbs, the seaweed pesto is sold in jars as a popular restaurant take-away.
Eithna started working in hotels at the age of 14 and went on to train in hotel management in Galway, with work experience in Germany and Ashford Castle. She recalls being attracted to the local seafood offered at the time by Paddy Burkes of Clarinbridge and Austie's at Rosses Point (a pub that's since changed hands many times since); they were ahead of their time, offering simply served seafood chowder, garlic mussels and open sandwiches of crab, prawns or salmon.
Focusing on food, Eithna completed a course at Alix Gardner's Cookery School in Dublin and went on to secure a place in the cutting- edge kitchens of White's on the Green, a restaurant that was setting the pace for fine dining in the 1980's. Ready to strike out on her own, Eithna recalls hearing that a property in Mullaghmore had become available and a return to the west was decided on.
Months of hands-on refurbishment followed, with new wiring and plumbing, fresh paint and canny recycling. "We went for the stripped pine look which was popular then," Eithna says, "and we have it still."
From the opening in June 1990, emphasis was on offering flavourful seasonal food that made the most of local produce, working with the area's farmers, growers and fishermen. The ethos is the same today, with longstanding suppliers like The Tattie Hoaker organic farm currently delivering autumnal kale, beetroot, salad leaves and herbs, while cottage flowers from The Secret Gardens of Sligo bloom in recycled painted tins dotted about the tables.
Happily located beside one of the west coast's main centres for lobsters Fisheries Exports, Eithna's daily supplies come through Mullaghmore Sea Farm and local landings. With lobsters "on my doorstep" it's no surprise that the restaurant has become known for specialities featuring the majestic crustacean.
Summertime is the peak season for lobster and price fluctuates according to availability, ranging this year from around €17 kg to a low of €12.50 kg, due to the softening of the export market. Top prices are to be expected at Christmas time, with live lobsters caught earlier in the season and held in the sea farm.
"Lobster Thermidor is the most popular," Eithna says, "with good uptake also for lobster Americaine which I do with Mexican spices and spaghetti. I also do my own take on Rick Stein's Goan lobster curry with tomatoes, shallots and freshly ground spices. I'm an admirer of his seafood recipes and I also like Hugh Fearnley-Whittingstall's books for ideas."
With her specialist degree work, and research and development projects with seaweed expert Pranny Rhatigan, it is no wonder that seaweeds and sea vegetables feature throughout the restaurant menus. The neglected, old favourite dillisk, or dulse, with its distinctive flavour is roasted in the oven for crisps, flaked into salads, mixed into homemade mayonnaise for the seafood platter or whizzed into sauces and Eithna's unique seaweed pesto.
Hijiki, like fine strands of black pasta, is highly prized in Japan but rarely used here. Eithna uses it in a dish of land and sea spaghetti with lobster, clams and mussels dressed with roast lobster stock, herbs and rapeseed oil. It's tasty sweetish flavours are brought to the fore mixed with berries in a dessert served with chocolate and nori (laver) meringues.
Carrigeen moss is an old favourite revived iIn Eithna's pudding, flavoured with lemon and lemon balm, served in a shot glass with seasonal fruits like autumn blackberries and apple,.
Seaweeds are seasonal, Eithna points out, like the other produce used in the restaurant, and the mineral content varies too. Despite her expertise and seaside location, she doesn't gather seaweed herself, but buys it from local harvesters who must have foreshore licensing. "It's necessary to source seaweed that has been tested and correctly dried - which may include ultra-violet treatment, " Eithna says.
A seaweed tasting plate is being developed for next season, joining a menu that celebrates all that is good from the sea, and ensuring that this family business with its ocean blue frontage continues to shine on the shores of Donegal Bay.