The Seafood Interview supported by BIM - George Stephens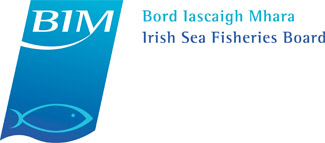 We begin the new year with a brand new series in which we find out what makes the best of our young fishmongers stand out from the crowd. This month, Marilyn Bright talks to George Stephens of The Fish Market in Mullingar, Co Westmeath, and discovers a number of very good reasons for his success.
Smart phones flashing in The Fish Market in downtown Mullingar aren't lighting up for selfies. Switched on customers are recording fish recipes printed on the walls as they decide what seafood treats they'll take home from fishmonger George Stephens's attractive display counters.
George, one of the five finalists in BIM's recent Young Fishmonger of the Year competition, reckons that only one in ten people eat fresh fish on a regular basis and he aims to change that by showing that seafood is delicious, nutritious and easy to cook too. "The market for fish is growing significantly as people see fish being featured by television chefs and in the media, " George observes, "and they're realising what fantastic produce we have on our shores - sometimes appreciated more in other countries than here at home."
As a chef for ten years before opening the shop in 2008, George had a particular interest in fish, working in the famed Red Bank Restaurant with Terry McCoy, who passed on his enthusiasm for seafood from the seldom seen razor clams gently poached with garlic and parsley to the luxurious heights of lobster and turbot.
Later with Derry Clarke at L'Ecrivain, "I learned a huge amount - we did all the filleting, boning and shelling there. Stocks and sauces were made with bones and trimmings. Off-cuts from portioning prime fish went into delicious fish cakes, bisques and chowders. Nothing was wasted - even lobster and langoustine shells were roasted with herbs and pounded to make flavoured oils for seasoning."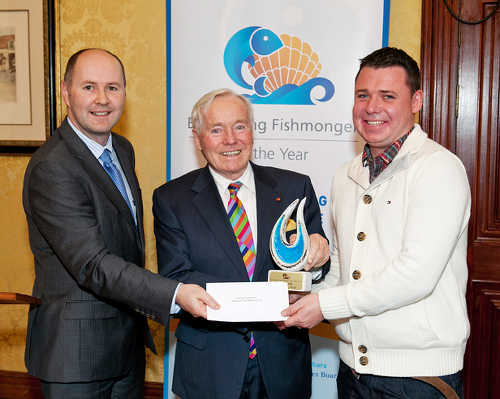 Passing on this cookery know-how is an important cornerstone of the original Fish Market in Mullingar and a second shop opened now in Maynooth. In addition to the recipes on the walls and in countertop leaflets, two of the six employees are chefs. Training staff is important in giving the best customer service, George asserts "' All our staff have different assets, and if they have a food background they're already 70% there."
There was no fishmonger in his hometown of Mullingar when George opened five years ago. He spent six months researching and making contacts, getting great assistance from Martin McLoughlin of Nicky's Plaice on Howth pier and TV chef and fish expert Martin Shanahan who mentored him as he set up the new business. The Fish Market opened in September 2008, "A scary time," George recalls, "just before the bank guarantee."
Fortunately, local response to the shop was instantly very good, with customers welcoming an alternative to supermarket fish. "Customers want information, from what fish to choose to simple cooking instructions and recipe ideas. All our counter staff are able to interact with customers and once they've tried something successfully at home, they'll be back, and we'll encourage them to try something else."
The spanking fresh display that lures passersby in comes by dint of George's 5 a.m. trips to the fish market on Tuesdays, Thursdays and Fridays. He keeps the selection as varied as possible and counter staff are up to speed with information and serving suggestions, especially when it comes to less familiar seafood. George has found that people are willing to try something different if they're given confidence with simple cooking guidance. "We try to make it as easy as possible - everything is pin-boned and ready for the pan, filleted and portioned as the customer likes it."
Even easier options are the convenience products prepared freshly by the chefs in each of the premises - ready-to-heat chowder, seafood pies and fish cakes. Fish stock comes chilled or frozen in 500ml containers and a selection of sauces ranges from roast tomato and fresh herbs, coriander and lime or teriyaki to wholegrain mustard, honey and lemon. Any of the sauces can be selected to be sealed in a cook-in bag with the customer's choice of fish, ready for oven or microwave.
Gluten-free options are included in the prepared dishes and recipe development is ongoing, with recipes ready to be e-mailed to customers looking for inspiration. People are eating a greater variety of fish now and George credits recent initiatives such as the Bord Bia supported promotion of hake. "In the past a lot of Irish-caught hake was exported, but you wouldn't have seen much on the home market. Recipe leaflets and advertising turned that around and now hake is flying off the counters."
George sees the BIM Young Fishmonger of the Year competition as a great boost to Ireland's seafood industry and its potential in terms of business and career opportunities. With two shops trading successfully, George isn't sitting on his laurels as plans for shop number three are well on the way - to be announced soon.