The Seafood Interview supported by BIM - James Kirwan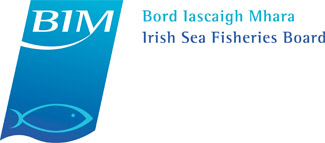 What makes the best of our young fishmongers stand out from the crowd? Marilyn Bright concludes her current series of interviews with some of Ireland's best by talking to the winner of the inaugural Young Fishmonger of the Year, James Kirwan of East Coast Seafood in Naas, Co Kildare.
Black scabbard, orange roughy and cardinals - not fish you'd see on a fishmongers' slab these days, but instantly recognisable to James Kirwan of East Coast Seafood in Naas. Recently named BIM's Young Fishmonger of the Year, James spent 14 years fishing from deep sea trawlers out of Dingle and Donegal, ranging as far as the Azores and the Bay of Biscay, with summer stints off Clogherhead for Dublin Bay prawns.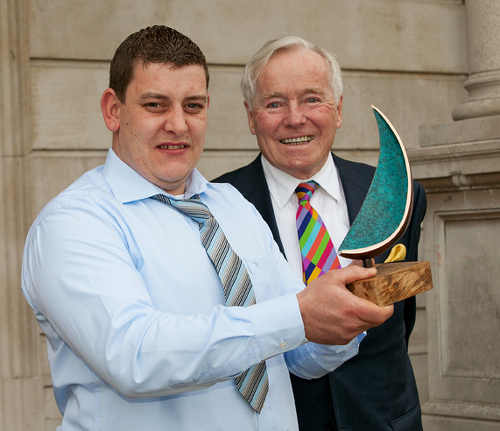 These days he's firmly land-based, bringing the best the sea has to offer to town dwellers who are showing an increasing appetite for seafood. Although he enjoyed the seafaring life and had earned his ship's engineers ticket, James recalls that rising costs and prospects of a better family life tipped him towards a job ashore. After two years in the courier business with his dad, he decided to return to what he knew best and asked his fishmonger uncle to train him in the skills he'd need behind the counter.
James opened East Coast Seafood in a business park in Naas in 2009, choosing an area that had no existing fish shop. By the end of the first year, business had expanded to take in an adjacent unit, and this year will see the addition of a third unit, a production kitchen financed by James' Young Fishmonger prize winnings.
"With our own kitchen, we'll be able to offer value-added products like chowder, fish pies and fish cakes as well as ready-made stock bases and sauces," James says, "Well also have ingredients for crusts and toppings and expand the range of Irish products we already sell in the shop — Derrycamma rapeseed oil, Atlantic Sea Salt, dillisk and carrigeen moss all sell well."
James has no doubt that his time at sea and knowing the boats helps him pick top class fish for the shop. With no suppliers delivering to Naas, everything is collected from Dublin market and Clogherhead, nearly all bought as whole fish.
"We do 95% of the filleting ourselves and we'll peel the prawns for customers if that's what they want. Part of my BIM prize was a trip to France and I noticed that customers there buy whole fish, while the Irish prefer fillets with no bone or skin. You have to provide good service, but you get a return from customers and that's what keeps you in business, and enjoying it as well."
East Coast Seafood celebrates its fifth birthday this year and clearly has tapped into growing consumer demand for fresh fish. "The business has grown steadily since day one," James observes, "with people buying fish through the week, not just on Fridays. Holy week is still a peak time though, and Good Friday is totally manic, with queues out the door from about 11 o'clock in the morning."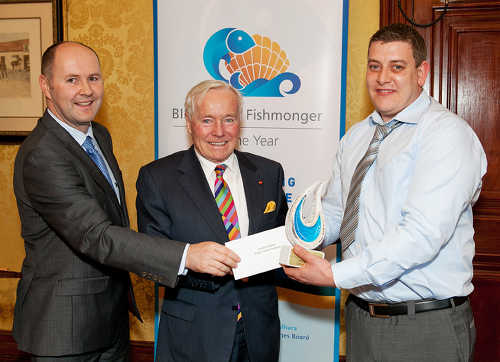 Main sellers from the beginning have been cod, salmon and plaice and James has been working hard to introduce customers to a wider range of seafood. " We've been offering hake from Dingle at a good price and the ad promotion with Daithe O'Se was very helpful. Haddock is coming on too and recipe cards with serving suggestions in the shop help us to move customers on to try something new."
James admits that introducing less familiar fish requires sustained effort and can he expensive. "We tried dabs and witches which didn't go, but lemon sole did, and they're all part of the turbot and brill family. We get in the odd redfish - also known as Norwegian haddock or ocean perch - and that is very popular with our Filipino customers."
Groundwork for the new seafood kitchen has been underway for several months, with input from BIM's Eileen Sorahan in regard to hygiene and quality control systems, "It has to be 100% right," James emphasises "We're working with a chef and a food scientist in regard to food preparation, and we'll designate a member of staff to work in the kitchen with the chef as we develop dishes."
James is one of his own best customers, eating fish three or four times a week. Brill with a pinenut crust from Clodagh McKenna's cookbook is a favourite, but he also loves mackerel, just grilled with lemon and salt. "And you can't beat cod or haddock pan-fried in a little butter. People don't realise how quick and easy it is to cook fish."
Having started as a two-man operation with just James and his partner Renée, East Coast Seafood now employs two full time staff and one part-timer. With a steadily growing customer base and the kitchen expansion, James is looking forward to Renée's return to the business after time out for two babies. "A woman in the shop is a definite asset," he says, "Customers like to see a friendly face and women are good with customers. When Renée is here, she's the boss," he adds.