The Seafood Interview supported by BIM - Oscar's Seafood Bistro, Galway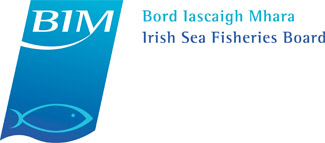 This month Marilyn Bright talks to Michael O'Meara, chef-proprietor of Oscar's Seafood Bistro, Galway
Michael O'Meara is a chef who literally immerses himself in his work and in the process has been named BIM's Seafood Chef of the Year. Swapping chef's whites for a wet suit, Michael explores Galway Bay's rich sea life and gathers research for a book featuring the award winning fish and sea vegetable dishes he serves up in Oscar's Seafood Bistro.
Anything from six to 10 species of fish feature daily on the small blackboard menus on each table, offering unusual choices ranging from forkbeard, rockling or megrim to the more familiar cod and hake. Michael is a vocal campaigner for the less usual fish that are often discarded and laments the amount of prime fish being exported. "I estimate that only about 10% of fish landed here reaches Irish tables," he claims.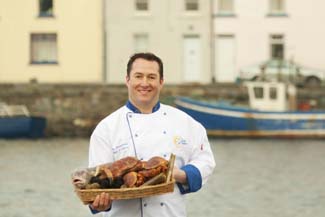 When it comes to cooking, "old fashioned classical training" in Galway tech is how Michael describes his roots, built on later with work in Dromoland Castle and the Mediterranean south of France. Returning to Ireland to run a popular bar and restaurant in Westport, Michael determined to open a place of his own, looking for a city location with year round rather than seasonal trade.
"People laughed at me," he recalls, when he opened Oscar's in quiet Dominick Street in 2000, just off Galway's bustling main beat, correctly gambling that this would be an up and corning area. "The first Saturday night we did three covers, but that built little by little and by the end of the year we were full at weekends. We just made sure we didn't lose any customers once we'd got them through the door."
Seafood speciality was something that evolved as Michael appreciated the superb local produce that Galway provides. "Buying local is just a better way of doing things. It's nothing new but people are more aware now because of work by people like Myrtle Allen and the late Gerry Galvin."
Menus are kept flexible because they're dependent on what is available on the day. A reliable supply chain is vital to Oscar's and Michael uses Stephane Griesbach's highly regarded Gannet Fishmongers who source much of their fish from the Galway and Aran Fisherman's Co-op in Rossaveal.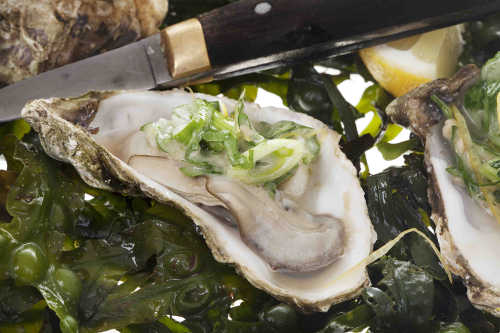 Less usual fish like the three-bearded rockling may be paired in a dish with a more familiar fish like John Dory but in general Michael finds that customers like to try different things. "Although a lot of seafood menus seem obsessed with monkfish and scallops, we find that everything sells well here, with no particular favourites."
With fish bought in every day, a lot of kitchen time goes into preparation and getting the basics right. "Michael favours just scaling most fish and leaving skin on for cooking. Bones, especially from flat fish like turbot, go into the vast quantities of rich stock used in the sauces that are made to order during service. Stock is made in large batches, enriched with vegetables and wine and blast frozen in 500ml containers for use as needed.
Bouillabaisse is a house speciality, made with crab and turbot stock and a variety of fish, given sunny south of France flavourings of saffron, tomato and Ricard. Other dishes show Asian influences with fish gently cooked in bamboo steamers lined with seaweed or banana leaves.
Michael considers the Japanese masters of fish cookery and often uses seasonings such as sweet mirin rice wine, sake and soy. For spicy dishes he prefers wasabi and horseradish, finding it complements seafood better than chilli. Any variety of fish may turn up in Michael's version of perennial favourite fish and chips, but he uses gram flour made from dried chickpeas to make a spicy batter - "it crisps well and doesn't hold oil like wheat flour."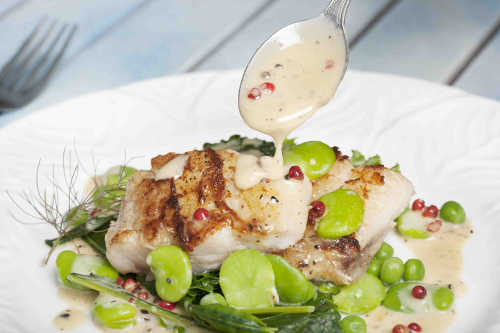 Wild Atlantic seaweeds are another of Michael's passions and they turn up in flavourful butters to finish off grilled fish or sauces such as a colourful beurre blanc flecked with purpley-red seaweed and bright green parsley to go with potted crab. Dillisk goes into the yeast bread baked daily and hard-to-get large leaves of sea lettuce may be used to wrap fish and impart a savoury flavouring.
As a flavour enhancer, fresh (or fresh frozen ) seaweed is better than dried, Michael says, and his supplies are collected professionally on the Aran Islands. "You have to be aware of restrictions like foreshore licensing," he points out. "I do sometimes cut a bit under water when I'm diving, which is allowed if you do it without assisted breathing*"
The waters of Galway Bay are also providing material for Michael's magnum opus - a book that aims to combine his cookery and photography skills with aquatic knowledge.
"I want to include all fish found in Irish waters, with two or three recipes for each. The photos need to be good and taken on the spot so that it can be a reference book as well. With fish being seasonal, this is a long term project, so I expect it will keep me busy for some time."