Belfast Hotels
Belfast Hotels - find the best here:
Belfast is undergoing a healthy revival in its' fortunes of late and there is no city so deserving. This revival in popularity is especially apparent when we consider the burgeoning hotel sector. There was a time when it was difficult to attract tourists to Belfast and this in turn led to very little investment in the hotel industry as a whole. Now some of the world's leading hotel chains have staked a claim in one of Ireland's fastest growing tourist markets.
Belfast has become attractive to the overseas visitor as a tourist destination and the lucrative international conference market is selecting Belfast as one of its' foremost venues time and again. As a result there has never been more hotel rooms available in Belfast Hotels. We find hotels across all budgets and tastes and there are some particularly attractive options for the discerning traveller to stay in.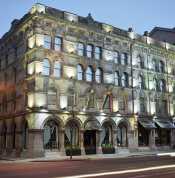 We have selected what in our opinion are the best hotels in Belfast across all categories below. Please click through the links to read a full description and where possible you can make your booking online safely and securely when you have made your selection.
* For other accommodations such as
B&Bs
or
guesthouses
and for the best
restaurants
in town please use the
search engine
on our home page.
Belfast Hotels that we recommend:
The Crescent Townhouse
€€
This is an elegant building on the corner of Botanic Avenue, just a short stroll from the city centre.
Hastings Europa Hotel
€€€€€
This landmark 1970s city centre building is the largest hotel in Northern Ireland and particularly striking when illuminated at night. The location is exceptionally convenient, both to the business and commercial districts and the city's entertainment and shopping areas.
Hastings Stormont Hotel
€€€€€
A few miles east of the city centre, the hotel is directly opposite the imposing gates leading to Stormont Castle and Parliament Buildings and suits the business guest well.
Holiday Inn Belfast
€€€
Conveniently located less than half a mile from most of the main city centre attractions, this contemporary hotel offers luxurious modern accommodation, with excellent business and health and leisure facilities.
Jurys Inn Belfast
€€
Located in the heart of the city, close to the Grand Opera House and City Hall and just a couple of minutes walk from the major shopping areas of Donegall Place and the Castlecourt Centre.
Ramada Hotel Belfast
€€
This modern hotel near Shaws Bridge enjoys a beautiful setting in the Lagan Valley Regional Park, overlooking the River Lagan.
Ten Square Hotel
€€€€
This delightful boutique hotel has established a special niche for discerning visitors to Belfast: it is situated in a particularly attractive listed Victorian building and the location - just opposite the City Hall, and within walking distance of the whole city centre area - is superb.
The Wellington Park Hotel
€€€
Located in the fashionable Malone Road area close to the University, just five minutes from the city centre, this friendly, family-owned and managed hotel is quite a Belfast institution.
Benedict's Hotel Belfast
€
Very conveniently located - a wide range of attractions including the Botanic Gardens, Queen's University, Queen's Film Theatre and Ulster Museum are within a few minutes walk.
Hilton Belfast
€€€
Occupying a prominent position on a rise beside the Waterfront Hall, the interior of this landmark hotel is impressive.
Malmaison Hotel
€€€€
Previously the McCausland Hotel, this beautiful building (especially striking when lit up at night) was recently taken over by the stylish UK group Malmaison who have introduced a wow factor.
The Merchant Hotel
€€€€
Situated in a former Ulster Bank building on Waring Street and is part of the self dubbed "Cathedral Quarter," this is a beautiful and luxurious hotel.
Radisson Blu Hotel, Belfast
€€€€
You are in for a very pleasant surprise on entering this brand new hotel, which is uncompromisingly modern - and absolutely stunning.
Malone Lodge Hotel
€€
This reasonably priced townhouse hotel near Queen's University is very pleasantly located if you like to be in a quiet area, yet convenient to the city centre.
The Fitzwilliam Hotel Belfast
€€€€
Anyone who has visited the Fitzwilliam Hotel on St Stephen's Green in Dublin will feel at home right away at this new five star hotel beside the Grand Opera House in Belfast city centre.