ACTIVITY BREAKS - 10 OF THE BEST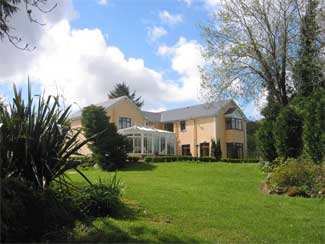 If you're not the type to find relaxation in lying on a beach or loafing around, there's great satisfaction to be found in an activity holiday. Whether to spend time doing something you always enjoy, or learning a new skill, this is one of the best ways to take a break in Ireland.
PAINTING - Hanora's Cottage
Nire Valley, Ballymacarbry, Co Waterford

Tucked into the foothills of the Comeragh Mountains in unspoilt West Waterford, the Wall family's gloriously remote country guesthouse is a very special place. Equally appealing to foot-weary walkers or desk-weary city folk in need of some clear country air and real comfort, the genuine hospitality of the Walls is well-matched by the spacious accommodation and good food they provide. The area is best known for walking, but there is plenty else to do, including fishing and creative holidays inspired by the natural beauty of the surroundings, such as painting and photography. Each season has its own beauty, with spring and autumn particular favourites with those who attend the 3-day midweek residential painting courses held in May and October. Bring your own art materials, easel, folding stool, flask and outdoor clothing, then everything else is provided including tuition, the legendary Hanora's breakfast, packed lunch and dinner in the restaurant, cooked by Ballymaloe-trained husband and wife team Eoin and Judith Wall.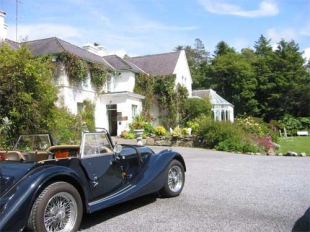 GARDENING - Cashel House Hotel
Cashel, Co Galway

The McEvilly family's lovely old waterside property in Connemara was one of the first Irish country houses to open for guests, in 1968. General de Gaulle visited the following year and the seat overlooking Cashel Bay where the great man loved to linger is still just as it was, a discreet point of interest in this wonderfully varied and understated country garden. An overall winner of the National Garden Award, this large and gentle garden has always had a special place in the heart of Kay McEvilly, and the wishes of her late husband Dermot were granted when Kay introduced their residential gardening courses. Courses are led by some of the luminaries of Irish gardening including garden writer, lecturer and plant enthusiast Ciaran Burke, who runs the Garden School in the west of Ireland, which is accredited to the Royal Horticultural Society. Other possible guest tutors include Lorna McMahon, owner of the magnificent Ardcarrig Gardens on the outskirts of Galway City; John O'Driscoll, General Manager of Strokestown House & Museum, who specialises in garden restoration; and Brian Cross, knowledgeable owner of the magical Lakemount Garden in County Cork.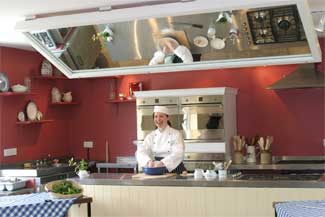 COOKING - Ballyknocken House
Ashford, Co Wicklow

Guests have been welcomed to the Byrne family farm for over thirty years - Catherine Fulvio took over from her late mother in 1999, and has since refurbished the house throughout in old country style. Today, this charming Victorian farmhouse provides comfort, cosiness, home-cooked food and hospitality: just what visitors to this scenic area want. Perfect for walking holidays in the Wicklow Hills or golfing, it's also ideal for a break at Ballyknocken Cookery School, which is in a renovated milking parlour. Catherine – who may be a TV chef and successful cookbook author but has her feet firmly on her beloved Wicklow ground - prepares four course dinners for residents, based on local produce, including vegetables and herbs from the Ballyknocken farm. The cooking style is mainly modern Irish, and the dishes enjoyed by guests are among the most popular on the wide-ranging courses offered. There are dozens of cookery schools to choose from in Ireland – this one is friendly, down to earth, only a short journey from Dublin, and a charming place to stay.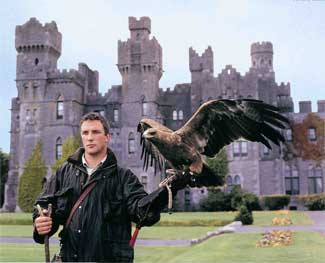 FALCONRY - Ashford Castle
Cong, Co Mayo

Renowned for luxury, atmosphere and superb food and wine, Ashford Castle is also perhaps Ireland's best destination for activity breaks - they even have a little black book dedicated to on-site activities (pre-dating the current vogue for 'little black books' by many a decade). There's a highly regarded equestrian centre, archery and clay pigeon shooting, fishing - and Ireland's School of Falconry, which is in the grounds of the Castle. Having seen the 30 or so birds of prey kept at the school, you are introduced to 'your' Harris hawk within minutes, and set off with a falconer to the surrounding woodlands to fly the hawk free. "No-one ever forgets the moment when their hawk first swoops down from the tree to land back on their gloved fist," says director Deborah Knight. No previous experience is necessary, Hawk Walks are suitable for all ages, and are not weather-dependent - Ashford Castle even offer a Family Falconry package.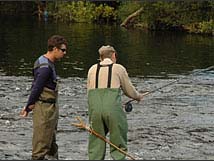 FLY FISHING - Ballyvolane House
Castlelyons, Fermoy, Co Cork

Lovely Ballyvolane, this gracious place in beautiful gardens and woodland sets the benchmark for the genuine rural Irish experience. Run by experienced hotelier Justin Green and his wife Jenny - with Dad, Jeremy Green, still very much in control of his favourite areas, the gardens and arboretum - Ballyvolane is a dream for guests seeking a restful chill-out. But it also offers a range of special courses, notably a Fly Fishing School where, with the experienced and talented fishing guide, Norman Gillett, you can learn the craft of fly fishing for salmon on the renowned river Blackwater. From May to August courses are offered for up to 4 participants, with an emphasis on practical fishing, all techniques covered, and tackle provided. Other courses offered include a Gardening Seminar with expert Brian Cross (includes stunning garden visits) and a Wellness Weekend, with yoga and meditation. Simply magic.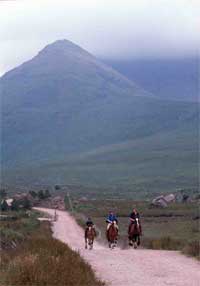 EQUESTRIAN - Lough Inagh Lodge
Recess, Co Galway

The sheer scale of the Connemara landscape dwarfs Maire O'Connor's former sporting lodge on the shores of Lough Inagh, but this delightful hotel has large, well-proportioned rooms – and, with welcoming log fires and all the modern comforts, there's an intimate country house atmosphere. It's famous for fishing (Lough Inagh and Derryclare Fishery) but it's a perfect destination for many activities, notably walking. The views are even better seen from horseback and, uniquely, Connemara pony trekking offers mountain, beach and bogland in one stunning trail. Cleggan Riding School and the Point Trekking Centre at Ballyconneely, each a highly scenic 40-45 minute drive away, have traditional Connemara ponies and both can cater for beginners (adults and children) with all riding gear provided; individual riding lessons are available at Cleggan Riding School. Two-night breaks including a 2 hour trek are available at very reasonable cost and, as well as equestrian breaks, fishing, painting, and walking tutorial weekends and mid-week breaks can be arranged.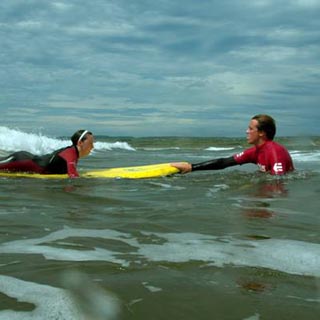 SURFING - Moy House
Lahinch, Co Clare

Mention surfing and hostels or camper vans may spring to mind – but, as a surfing break at this stunning country house just outside Lahinch will prove, it doesn't have to be that way. Gorgeous and luxurious in an understated way, Moy House is the perfect place for discerning surfers to return to after a day on the waves – there's an open fire and honesty bar in the large drawing room, and wonderful bedrooms all have sea views and lovely bathrooms with underfloor heating; one extra-luxurious suite has a private conservatory overlooking the Atlantic… Surfing breaks are offered with former national champion (and current member of the Irish Surf Team) John McCarthy, who runs the Lahinch Surf School. The package includes two nights accommodation with candlelit dinner in the ocean view conservatory restaurant on one evening, a 2-hour lesson for two with all equipment supplied, and 90 minutes in the water (price varies according to room type).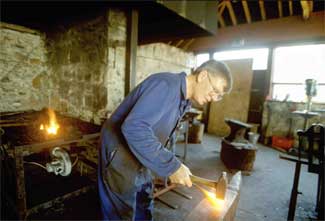 BLACKSMITHING - Enniscoe House
Ballina, Co Mayo

A very special for anglers and anyone with a natural empathy for the untamed wildness of north Mayo, Susan Kellett's hospitable Georgian house on the shores of Lough Conn has great charm – and, far from just a pretty place to stay, it is a one-woman Heritage Centre, with restored walled gardens (complete with tea rooms and an unusual gift shop), a working bog train, and converted outbuildings housing a genealogy centre, conference facilities and a small agricultural museum with a forge, where donated machinery and tools are repaired for display by blacksmith Colin Highfield. Colin, whose experience and passionate enthusiasm for this disappearing art make him an eminently suitable instructor, runs two-week and weekend blacksmithing courses, with dates arranged to match demand – a hobby break with a difference, you can take home the implements you make. Other activities include fishing (brown trout), walking, cycling, horse-riding, shooting and golf.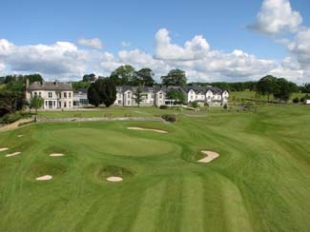 GOLF - Glasson Hotel & Golf Club
Glasson, Co Westmeath

Beautifully situated in an elevated position overlooking Lough Ree, the Reid family's impressive modern hotel has been developed around their fine old family home and it's a lovely place to stay. The scenically located golf club has earned an international reputation as one of Ireland's premier parkland courses; designed by Christy O'Connor Jnr, it's uniquely suited to golfers with varying degrees of skill, designed to please equally the keenly competitive golfer and those wanting simply to relax and enjoy the stunning views over Lough Ree. Glasson works closely with two fully qualified PGA Professionals and Golf Tuition Breaks are available Sunday-Thursday, offering two nights B&B and one dinner, and two 1-hour golf lessons. On site there's a Three Hole Golf Academy (one Par 3 and two Par 4s), with unlimited complimentary use for hotel residents, two practice putting greens and a practice bunker. Extra options include a cruise from the hotel's private jetty.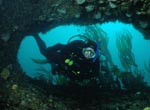 SCUBA DIVING - Harbour House Guesthouse
near Castlegregory, Co Kerry

North of Castlegregory, on the Dingle Peninsula, the Maharees Peninsula is famous for its long sandy beaches and clean water – perfect for many activities, especially diving. A group of islands off the peninsula is known simply as "The Maharees", here playful dolphins often swim with divers and, on the nearby Illaunnabarnagh islets, a friendly seal colony has no problem with the arrival of human visitors. Waterworld Dive Centre is located at Pat and Ronnie Fitzgibbon's guesthouse at Scraggane Pier; catering for divers from beginner to the most experienced, they run courses all year (facilities include a swimming pool) with comfortable accommodation, a bar and restaurant (open to non-residents). The Centre's boats travel daily to the best dive sites - Maharees, Brandon and the Blasket Islands offer some of the best diving in Ireland, from scenic dives to wreck dives. Other activities in the area include golf, horseriding, cycling, fishing and windsurfing (to book contact Castlegregory Visitor Centre, 066 713 9422).

Best places to Stay for...