FAMILY HOLIDAYS & ADVENTURE CAMPS - TEN OF THE BEST
Derrynane Hotel
Caherdaniel, Co. Kerry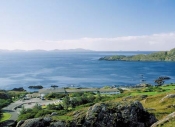 Where better for a family holiday than The Ring of Kerry? It's a magical destination and this well-managed and exceptionally family-friendly 1960s-style hotel offers beautiful Blue Flag beaches at the end of the garden and loads for families to do, including a GAA Kids Clubs, sea sports, horse rising and trails. All weathers are catered for, with a playroom, heated outdoor swimming pool, tennis, pool table, and excellent fishing with a local fisherman – and great places to visit nearby include Daniel O'Connell's serenely atmospheric house at Derrynane, the amazing Ballinskelligs chocolate factory, and events like the Sneem Family Festival and Killarney Summerfest. Activity holidays are a big draw to the area and they have their own in-house walking brochure - and the opportunity for golfing parents to withdraw to Waterville Golf Course occasionally, with special rates offered at certain times. Modest but comfortable accommodation includes family rooms (under 4s free in parents' room, cots available without charge), and babysitting can be arranged. The beautifully located restaurant offers wholesome fare based on quality ingredients, local where possible (a list of suppliers is given) and a proper, very reasonably priced children's menu is offered separately. Self-catering accommodation also offered – a good option for families, who can also have use of the hotel facilities.


Ballyknocken House & Cookery School
Ashford, Co Wicklow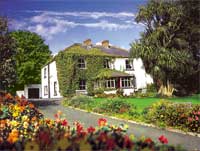 A former winner of our Farmhouse of the Year Award, Catherine Fulvio's charming Victorian farmhouse provides comfort, home-cooked food and hospitality – and, just an hour's drive from south Dublin, it is perfectly placed for walking holidays in the Wicklow Hills, playing golf, or simply for exploring the area. Or you could give yourself a little family cookery break – an extensive choice of classes is offered at Catherine's cookery school, including some for children – and, a very nice idea, she does occasional Head Chef, Junior Chef classes for adults and children, so you can enjoy honing your cooking skills as a family activity. Upcoming dates for Head Chef, Junior Chef are Sunday 13th June & Sunday 8th August (adults €55, children €35); recipes at these hands-on classes include classic lemonade, chicken tortillas, sweet potato, chicken & coconut curry and a chocolate fondue – and there's a tasting plate for participants. It could be a great way to round off a weekend staying at Ballyknocken, and enjoying the Wicklow Hills – and Catherine Fulvio's good cooking. Catherine has earned a lot of great publicity recently with her delightful Catherine Fulvio's Italian Kitchen TV cookery series, which will no doubt make a stay and/or a class here even more interesting – and there's a new series in the making too. Thinking forward to Hallowe'en, it's a lovely place for an autumn break and Catherine has a special children's cookery class for all the spooky stuff on Sunday 31st October – and there are regular group slots for children's cookery (eg birthday parties), usually on Monday afternoons.


Killary Adventure Centre
Leenane, Co Galway.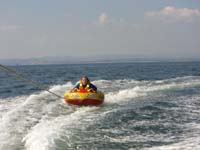 Jamie & Mary Young established Little Killary Adventure Centre in 1981; it now consists of the Killary Adventure Co and K2, a new centre on the Leenane/Clifden road. Nestled into the hills, with a spectacular view out over Killary Harbour to Inishturk Island, K2 is home from home for participants attending the wide variety of residential and non-residential activities offered. Courses include summer camps for kids and teenagers between the ages of 8 to 18 years of age 'who want to get involved in something a little different', and are guaranteed to keep kids entertained during the summer holidays no matter what the weather! If it sounds a bit much for an eight year old, they love it - but anyone under the age of 10 should go with a pal or an older sibling. Accommodation is in dorms, with 24 hour supervision and evening games as well as daytime activities. Residential cost from around €300 for 5 days (Sun-Fri).


Hodson Bay Hotel
Athlone, Co Westmeath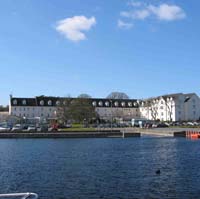 With lots of places to visit nearby, including Clonmacnoise, Athlone Castle and Glendeer Pet Farm , where children can see and feed lots of unusual animals, including Vietnamese pot-bellied pigs, Athlone is a great choice for a family holiday. This (very) large hotel is blessed with a stunning location on the western shores of Lough Ree and, with two championship golf courses, a luxurious spa and lots to do on site, it makes an ideal base. There's a supervised children's activity programme Penguin Kids Activity Camp, for 4-12 year olds, with indoor and outdoor games and , beside the hotel, Bay Sports (www.baysports.ie) is a new facility that makes the most of the lakeside location; it offers adventure activity programmes for all ages, such as dinghy sailing, kayaking and other waterpsorts, and hotel residents receive a 10% discount. Very reasonable 2 and 5-night family packages are offered, including a family boat trip on Lough Ree or a pampering treatment voucher.


Coolclogher House
Mill Road Killarney Co Kerry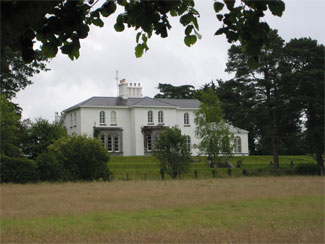 A Hidden Ireland house is not what you'd expect to find in Killarney yet, tucked away on the edge of the town on its 68-acre walled estate, is this oasis of peace and tranquillity. Mary and Maurice Harnett's beautiful early Victorian house is available for B&B or rental and, with spacious accommodation for 10-12 guests, it would make a wonderful base (staffed if required) for a family get together, or for two or three couples to share a family holiday and enjoy the many activities available in Ireland's most holiday-focused area. Impressive yet relaxed, the house has been extensively restored and its many interesting features include an original conservatory built around a 170 year-old specimen camellia - mistakenly thought to be tender plants at the time. The fine, well-proportioned reception rooms are stylishly furnished and comfortable, with newspapers, books, fresh flowers - and open fires in inclement weather - while the bedrooms have scenic views over gardens, parkland and mountains.


The Hunting Lodge at Castle Leslie
Glaslough Co Monaghan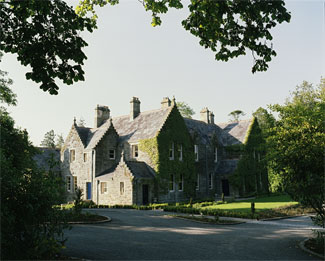 During the three centuries that this extraordinary place has been in the Leslie family it had changed remarkably little until recently - and its fascinating history has continually intrigued and beguiled both Irish and international guests. Following a short period as a private club, the castle is open to guests again – as before, it is quite exclusive, with an adults-only policy, but The Hunting Lodge is a modern 4* hotel just inside the castle gates and it is family friendly. Built around an atmospheric stable courtyard, this pleasing hotel features all manner of horsey memorabilia, and bedrooms are designed to appeal especially to horse lovers. Castle Leslie's impressive Equestrian Centre offers miles of trekking, cross-country rides and jumps on the 1000-acre estate, with equestrian holidays for riding enthusiasts of all levels – there is even a 'virtual horse' for beginners and, at the other end of the spectrum, guests riding their own horse get reduced fees. Self catering houses also available.


Family Holidays on Ireland's Inland Waterways
Cruise Ireland family holidays with Carrick Craft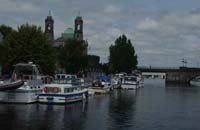 "When the children are happy, everyone's happy...", wise words from Carrickcraft cruisers, who have bases at Carrick-on-Shannon, Co Leitrim; Banagher, Co Offaly; and Tully Bay, on Lower Lough Erne in Northern Ireland. They offer a wide range of boats – the biggest, Roscommon Class (5x 2- berth cabins + 2 in saloon), would be ideal for two families holidaying together, while the smaller Mayo is well laid out for a family of 4-6. Anyone who's ever spent time on the river will vouch for its family-friendliness and relaxation, regardless of the weather. Kids love the life on board (even driving the boat themselves, under adult supervision) and, with adventure playgrounds, castles, forest parks etc along the way, there are plenty of opportunities to let off steam ashore. Emerald Star – now part of Le Boat Holidays on Waterways - have bases in Carrick-on-Shannon;Portumna, Co Galway; and Belturbet, Co Cavan; offering a similar range of boats. [*A Taste of the Waterways, published annually by GCGuides (www.ireland-guide.com) & Waterways Ireland (www.waterwaysireland.org), takes the guesswork out of dining out along the waterways.]


Westport Adventure Centre
Westport Woods Hotel, Westport, Co Mayo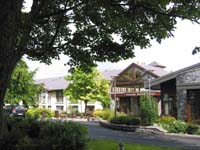 Conveniently situated between the town and the quay, where the entrance to Wesport House is within walking distance, and there are shops as well as several pubs and restaurants, the Westport Woods Hotel has a well-earned reputation for friendly and helpful staff, excellent environmental policies and special interest breaks, including family-focused holidays. The hotel has its own stables and horse-trekking and it's also the base for one of the three Horizon camps (the others are at Rockwell College, Co Tipperary and Wilson's College near Multyfarnham in Co Westmeath), offering a wide range of kids' activity holidays suitable for 8-10, 10-13 and 13-17 age groups. Camps run from Saturday to Saturday and include, for example, Multi-Activity Holidays with daytime activities like surfing, watersports and horseriding; there's an Activity Zone on site, with high ropes, climbing tower, and archery, varied entertainment in the evening. Students are accommodated in single, double and multi-bedded rooms, at a cost of €525 per week.


Glenans Sailing School
Baltimore, Co. Cork.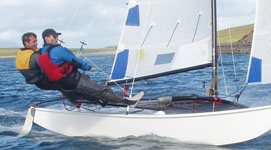 Glenans Irish Sailing Club is a non-profit sailing school affiliated to, but now independent of, the larger French Les Glénans sailing school. They've taught sailing in Ireland since 1969 and, at both the original base in Baltimore and Collanmore Island in Clew Bay, Co Mayo, they offer courses in cruisers, catamarans, dinghies and windsurfing; Young Sailors courses are suitable for beginners who've never been in a boat, to more experienced sailors. The Baltimore base is a converted railway station, where Young Sailors (who bring their own sleeping bag and pillow case) sleep in hostel-style houses - boys in one house, girls in another. There is a gloriously French emphasis on good food - using the French system of Service, trainees take turns in the galley, working under the supervision of the Maitresse to help prepare meals for their course-mates. Sailing courses operate from May to October, plus some off-season weekend courses. Price €450-€600 pw, with 10% off a second week.


Annaharvey Farm
Tullamore Co Offaly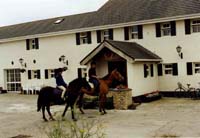 The Deverell family – Henry, Lynda, Sam, Aisling, Rory –and several longterm staff, run this farm business extraordinaire, while the much-lauded Annaharvey Farm Foods is Rachael Deverell's baby. As they say, "The main reasons people come to Annaharvey are to horse ride, relax, and enjoy being looked after." But, although equestrian holidays for all ages and abilities are the main business, people also stay for cycling, golfing, fishing or good old-fashioned site-seeing holidays, and there are cookery courses too. It's an attractive choice for a family with mixed interests – some could have an equestrian holiday, while others go off and do their thing. Dinner is served early (6.30-7) in the dining room, "when all sit around and chat about the day's happenings." "Evenings usually end early, as everyone is tired and ready for a good night's sleep, in preparation for another challenging day tomorrow!" It's all very relaxed – and Tullamore just a few minutes' drive for shopping, or an evening out.
Best places to Stay for...