GREAT GARDEN STAYS - TEN OF THE BEST
Many of Ireland's most interesting gardens are open throughout the summer and, as there is no greater treat than waking up to a beautiful garden, those offering accommodation are particularly special – perhaps some of these lovely places will inspire you to take a few days away.?


Cashel House Hotel & Gardens
Cashel Connemara Co Galway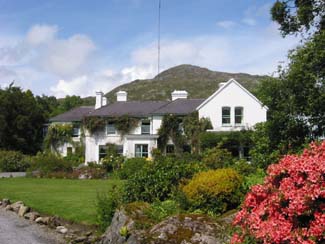 Kay and the late Dermot McEvilly opened this gracious property at the head of Cashel Bay as an hotel in1968. The building is covered in a soft cloak of climbing plants and the gardens, which are informal and quietly secluded, are open to the public by appointment for most of the year - and also part of the Connemara Garden Trail (095 21148; Email: brendan@unison.ie). The gardens are over 200 years old and, with their paths and small walks covered in 'mind your own business' (soleirolia soleirollii) and edged with moss covered rocks, they are a delight. A fine Beech Walk leads up to the herb and vegetable gardens, and the old walled garden, now known as The Secret Garden, is planted with rare trees and shrubs from all over the world - The Irish Tree Society has listed all the rare trees in the gardens. As well as pleasing the eye, these beautiful gardens supply seasonal kitchen produce and fresh flowers for the house. Two- and three-day gardening courses suitable for both novice and more experienced gardeners are run by the owner, Kay McEvilly (who is also happy to show visitors around the gardens) and well known garden expert Ciaran Burke (The Garden School, Claregalway; www.thegardenschool.ie; RHS accredited); courses mainly take place in the gardens but "In the event of inclement weather, workshops and practical activities will take place indoors in the classroom. No need to get wet!" What a great getaway at this magical place, and offering real value too.?
Angler's Return
Toombeola, Roundstone, Co Galway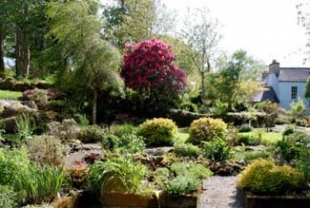 Also a member of the Connemara Garden Trail, Lynn Hill's charming and unusual house at the foot of Derradda Hill overlooks the Ballynahinch River, near Roundstone, and was built as a sporting lodge in the eighteenth century. Fishing remains a major attraction and, even if you are not a fisherperson, it's a place to be outdoors - there are maps and information for walkers, riding and boat trips can be arranged for guests, and there is golf nearby too. But you don't even have to leave this lovely property to enjoy time out of doors as the house is set in three acres of gardens, established in a natural style in the 19th century and inviting guests to wander over rocky outcrops and through old trees. Although perhaps best in late spring and early summer, when the air is scented with blossom (azaleas, apple blossom, bulbs blooming in a bluebell wood), the garden is lovely throughout summer and this tranquil spot makes a good base for the Connemara Garden Trail - and, of course, for painting holidays in this stunningly scenic area.


Bruckless House
Bruckless Co Donegal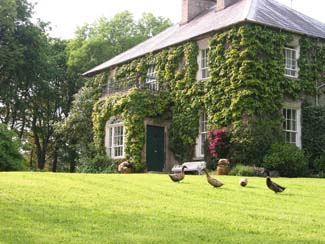 18 acres of woodland and gardens surround Joan and the late Clive Evans's lovely 18th-century house and Connemara pony stud farm overlooking Bruckless Bay. It is a quiet and relaxing place to stay and the two acre gardens are open to the public at certain times, as part of the Donegal Garden Trail (www.donegalgardentrail.com). Reaching down to the foreshore and with some beautiful mature beech trees that were planted when the house was built, the gardens are not too formal but thoughtfully designed, constantly developing and well-maintained - Joan is a Founder Member of the Donegal Garden Society (www.donegalgardensociety.net). The Donegal Garden Trail lists 23 gardens, organised by area – Bruckless is among seven in the Donegal Town-Glencolmcille area (including Elizabeth Temple's walled Salthill Garden at Mountcharles) and the site also details garden centres and nurseries in Donegal, many specialising in seaside and wind resistant plants, and lists half a dozen accommodation partners around the county.???


Marlfield House
Gorey Co Wexford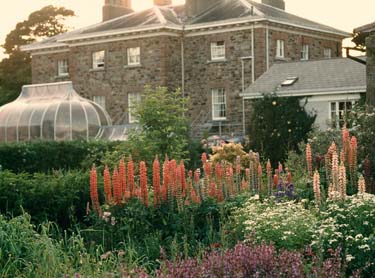 The Bowe family's beautiful regency period house on the Courtown Road (R742), is renowned as one of Ireland's most luxurious small hotels. Currently run by sisters Margaret and Laura Bowe, it is surrounded by 36 acres of beautiful gardens and grounds - including an immaculate kitchen garden of herbs, vegetables and fruits that is within sight of the restaurant and nothing less than a work of art. The Wexford Garden Trail (www.wexfordgardentrail.com) offers a user friendly brochure as well as online information, including a map of the county with the location, details and photos of all the gardens and nurseries featured (available in tourist offices and hotels in the area). Describing Marlfield, it says "Woodlands form the back drop to meandering paths through an extensive kitchen garden of. Long borders of shrubs and herbaceous perennials flank a yew hedge and lead to the lawns and formal gardens. The lake and wildfowl reserve form a completely separate garden to the front of the hotel and the island, reached by a wooden bridge, has beautiful specimen shrubs and trees." The garden entrance fee (€12) includes morning coffee or afternoon tea, and garden-themed breaks are sometimes offered.??


Hunters Hotel
Newrath Bridge Rathnew Co Wicklow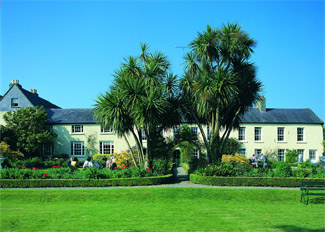 Now running for a quarter of a century and including lovely places in both the Garden County and adjoining counties, the former Wicklow Garden Festival is now known as Wicklow Gardens (www.wicklowgardens.com). The wide choice of member gardens ranges from famous places like Mount Usher, Powerscourt, Russborough and the National Garden Exhibition Centre to smaller but equally interesting private gardens like Hunting Brook and June Blake's Garden (bothin the Blessington area. A visit to this rambling old coaching inn set in lovely gardens alongside the River Vartry would be a highlight for any gardener and a lovely place to be based when visiting gardens in the area. One of Ireland's oldest coaching inns, it was built around 1720 and has been in the same family now for five generations brothers. Brothers Richard and Tom Gelletlie take pride in running the place on traditional lines, as many guests will remember their late mother, the legendary Maureen Gelletlie, doing for many years. People come here for old-fashioned comfort and food based on local and home-grown produce; the emphasis is very much on 'old fashioned', which is where its charm and character lie. Their famous afternoon tea is served in the riverside garden in summer, and it's a special treat when the herbaceous borders put on their spectacular display of oriental poppies. "Many other interesting perennials are featured in box-edged borders," states the Wicklow Gardens guide, "Trees and shrubs include magnolias, rhododendron, specimens, lirodendron, nothofagus, eucryphias, podocarpus, abutilon, fremontedendron, ginkgo, paulownia etc. The large kitchen garden provides fruit and vegetables for the hotel." Open all year from 10am-dusk; voluntary contributions to the Irish Cancer Society are encouraged.???


Carrig House Country House & Restaurant
Caragh Lake, Killorglin Co Kerry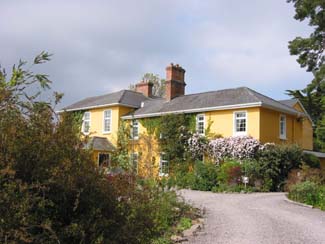 Should excuses be needed to visit Kerry, garden lovers will find they are spoilt for choice. With its dramatic beauty and a climate tempered by the gulf stream, the county - and particularly the Ring of Kerry - is renowned for its wonderful gardens, and semi tropical plants thrive here. Famous examples include Glanleam Gardens on Valentia Island, Derreen Garden near Kenmare, and Kells Bay Garden near Glenbeigh. A perfect base for exploring them would be Frank and Mary Slattery's charming and hospitable Victorian house on Caragh Lake, which is itself handsomely set in fine gardens with the lake and mountains providing a theatrical backdrop. The extensive gardens are of great interest, both for the way they interact with their magnificent setting and for plantings of rare and unusual plants from all over the world, including various species of acer, magnolia, cornus, acacia and eucryphia, which provide an ever-changing spectacle throughout the year. A laminated map is available, naming the various areas - Waterfall Garden, Rock Walk etc - and personalised tours can be arranged. Any garden lover visiting Kerry will find this a lovely place to stay - and you will eat very well here too, in a lovely lakeside restaurant, which is open to non-residents.


Kilmokea Country Manor & Gardens
Great Island Campile Co Wexford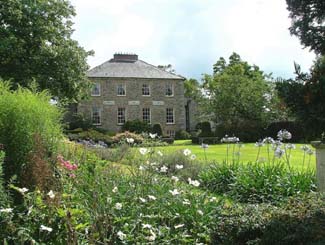 Mark and Emma Hewlett's peaceful Georgian country house is set in seven acres of Heritage Gardens, where the rivers Barrow and Nore meet. The 'lower garden', dating from 1947, is now home to over 130 species of rare and tender trees and shrubs. Nearer the house, peacocks strut and formal walled gardens are designed as a series of compartments, with topiary and statuary marking the entrance to each new room: the Italian Loggia garden features a pool and stone pillars; the 'quarter garden' hosts a fine display of irises and roses; whilst the 'hot' herbaceous border is home to old-fashioned plants including the red Maltese cross lychnis. And work continues on a large organic vegetable garden too, attractively planted in the traditional potager design. They are members of the Wexford Garden Trail and The Pink Teacup Café offers daytime refreshment. Guests staying in the elegantly furnished house or newer rooms and self-catering suites in an adjoining coach house may also have dinner in the main dining room by reservation. ???


Ballymaloe House & Cookery School
Shanagarry Co Cork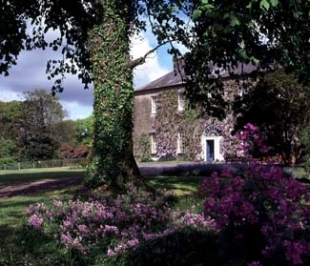 Having achieved a worldwide reputation for its teaching excellence, it's easy to forget that there is much more to Ballymaloe Cookery School than cookery classes. Yet, with a hundred acre organic farm as its foundation, the cookery school is just the tip of the iceberg and another very special aspect of this multi-talented team's success story is the wonderful gardens, which are also managed organically - "all the plants receive a generous dose of good farm yard manure early in the spring to set them up for the season". Restoration began in 1983, shortly after the school was established, and a glance at the current list of 'sections' gives a sense of the importance of the gardens, with the Fruit Garden; the Potager; and the Herb Garden of particular interest to food lovers. They're on the East Cork Heritage and Garden Trail (www.eastcorktourism.com) and you can stay nearby at Ballymaloe House, of course – where there are more lovely gardens to enjoy.


Sherwood Park House
Kilbride Ballon Co Carlow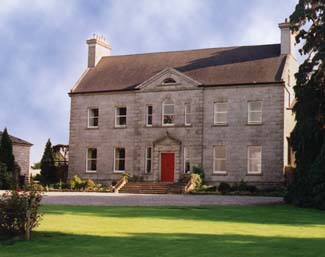 Patrick and Maureen Owens, who have welcomed guests here since 1991, accurately describe their home as "an accessible country retreat for anyone who enjoys candlelit dinners, brass and canopy beds, and the relaxing experience of eating out while staying in". That alone sounds good enough reason to visit, but there is more, especially for anyone with an interest in history or gardens. Built around 1700 by a Mr Arthur Baillie, this delightful Georgian farmhouse is listed by the great architectural historian Maurice Craig, and it is beautifully located, with sweeping views over the countryside. Garden lovers will be in heaven here, both for the lovely garden on site and because the famous Altamont Gardens are only a five minute walk. Dinner is available by arrangement: Maureen takes pride in offering guests real home cooking based on the best of local produce, including "best locally produced Carlow beef and lamb, from Ballon Meats" and fish from Kilmore Quay (bring your own wine).


Ballykine House
Clonbur Co Galway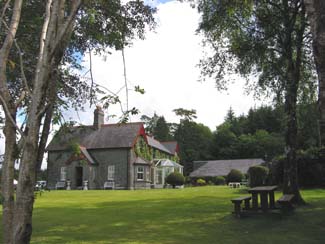 Comfortable accommodation and Ann Lambe's warm hospitality make this friendly farmhouse an appealing base for a peaceful holiday. Surrounded by mature woodland, with views through clearings over water and towards distant countryside to the west, the house has the feeling of a sporting lodge and is set in well-maintained gardens. It's a sociable house, with plenty of places indoors and out for lounging and chatting, and activities abound, with guided forest walks from the house, bikes for hire locally, angling on Lough Corrib, and an equestrian centre at nearby Ashford Castle – where the glorious gardens have recently undergone major restoration and are worth a special visit. Well placed for touring Connemara and exploring Co Mayo, the charming nearby village of Clonbur is perhaps less known than it deserves – its characterful pubs and restaurants are within walking distance of Ballykine, and so is Ashford Castle. On fine evenings guests often like to walk to the pub or restaurant of their choice and get a lift back later. ??


Coursetown Country House
Stradbally Road Athy Co Kildare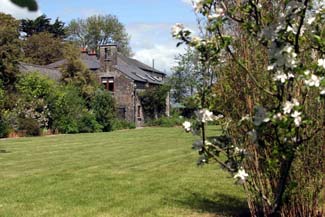 There can be few experiences more agreeable than visiting a lovely house which is attached to a busy working farm and also set in gorgeous gardens. It's a rare enough experience though, as farming folk are often far too busy with the day job to pay much attention to ornamental gardens. But Jim and Iris Fox's fine 200-year old house outside Athy is just such a place: attached to a large arable farm, the house is welcoming and very comfortable – and it has extensive, well-tended gardens stocked with many interesting plants, including rare herbaceous plants, and old roses and apple trees. Both house and garden are immaculately maintained - and a special feature is a ground floor room situated near the front door and with easy access to the garden, which has been specially designed for wheelchair users, with everything completed to the same high standard as the rest of the house. Outstanding breakfasts complete the idyllic picture, setting you up well for visits to other lovely gardens in the area, including the recently opened Burtown House (burtownhouse.ie).
Best places to Stay for...