THE VERY BEST - TEN OF THE BEST
Ten of the very best hospitality establishments to eat & stay in Ireland. We are blessed with some outstanding places to eat and stay in Ireland and these are unquestionably some of the very best – and they're all beautifully located too.
Ballymaloe House
Shanagarry, Midleton, Co Cork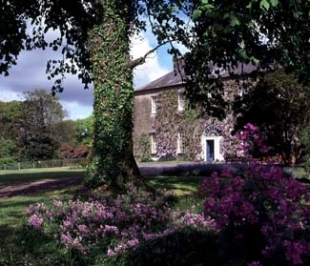 First time visitors to Ballymaloe are invariably charmed by the approach, through lush green fields with sheep grazing all around - the Allen family home may be Ireland's most famous country house, but they have always described it as 'a large family farmhouse'. And - although, with over thirty bedrooms, it is very large indeed - Ballymaloe remains true to that description over three decades after Myrtle and her husband, the late Ivan Allen, first welcomed guests to their home in 1964. The dining room - named The Yeats Room after their collection of Jack Yeats paintings - opened first, followed by rooms for accommodation in 1967, and family enterprises connected with Ballymaloe House now include not only the farmlands and gardens that supply the kitchen, but also a shop selling crafts, kitchenware and handcrafted furniture, the Crawford Gallery Café in Cork city and Darina Allen's internationally acclaimed cookery school nearby. Yet Ballymaloe is still most remarkable for its unspoilt charm: although now rightly receiving international recognition for a lifetime's work "recapturing forgotten flavours, and preserving those that may soon die", Myrtle continues to take an active part in the running of the house, ably assisted by her children and their families - and their successful teamwork is one of the great achievements in Irish hospitality.
Gregans Castle Hotel
Ballyvaughan, County Clare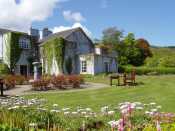 Many country houses have overdone the upgrading in recent years – losing their essential character and becoming, in some cases, too much like hotels. Not so this quietly luxurious place which, although it is actually categorised as an hotel, retains its essential country house character and a uniquely serene atmosphere. Run by second generation owners, Simon and Freddie Haden, this oasis of warmth, comfort and hospitality can be seen from miles around, set in solitary splendour in the lunar landscape of the Burren, and surrounded by trees and gardens. Spacious rooms, luxuriously furnished with understated contemporary style by Freddie, have lovely countryside views - and are deliberately left without the worldly interference of television. It may surprise some guests to find that this quiet retreat is a serious fine dining destination - gifted head chef, Mickael Viljanen, revels in the commitment to using local and organic produce which has always been a key feature of Gregans Castle, but he cooks in a modern European style, and offers exciting menus, which include a daily changing nine course Tasting Menu in addition to a tempting à la carte. A joy to visit.

Cliff House Hotel
Ardmore Co Waterford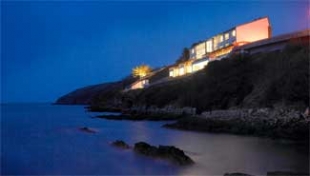 With its fresh contemporary style, ambitious cooking and emphasis on professional and genuinely caring service this once-traditional hotel, clinging to steep cliffs on the edge of Ardmore village, brings a new focus to an area of outstanding hospitality and unspoilt natural beauty that had somehow remained a well kept secret. Having built on its early promise, the striking five star property now has a well-earned a reputation as one of Ireland's finest hotels – and fans travel great distances to sample Head Chef Martijn Kajuiter's exciting food, which is proudly based on home grown and immaculately sourced local produce. It's on the edge of a particularly pretty heritage village (which has much to recommend it, including a round tower, good restaurants, a lovely sandy beach, excellent walking and a local pottery), and, despite the hotel's dramatic design, it is the beautiful setting – and, specifically, the sea that remains the star. Good old-fashioned hands-on management from General Manager Adriaan Bartels adds greatly to the natural charm of the location, and this is a place that has made a lot of friends – for both the hotel and the area.

Rathmullan House
Rathmullan Co Donegal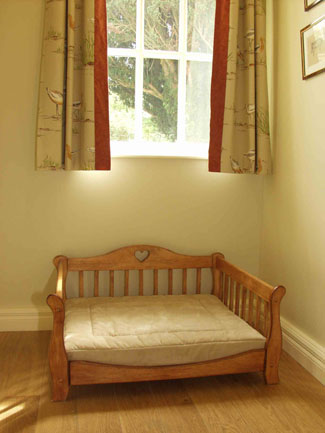 Donegal has an other-worldliness that is increasingly hard to capture in the traditional family holiday areas and, although it has grown considerably recently, the laid-back charm of Rathmullan House - albeit given invisible backbone by the professionalism of the Wheeler family, who have run Rathmullan House since 1961 - somehow symbolises that special sense of place. The gracious early nineteenth century house and its lovely garden setting on the shores of Lough Swilly seem to have something to offer everyone - just as the luxury of the garden suites is balanced by the unpretentious old-fashioned comforts of the family rooms at the top of the house, so all kinds of different visitors have a special warmth for Rathmullan which brings them back time and again. Good food plays a central role in the life of this house, which has a traditional walled garden supplying fresh organic produce for the kitchen and a declared commitment to supporting the fine local ingredients which are used creatively in imaginative meals served in the unusual Weeping Elm restaurant, and the informal Cellar Bar. On site facilities include an indoor heated swimming pool and tennis courts, and there's lots to do nearby – walking the long sandy beach (almost deserted off season), pony trekking, Glenveagh National Park to visit - before returning to enjoy the comfort and genuine hospitality of this lovely place.

Ballyvolane House
Fermoy, Co Cork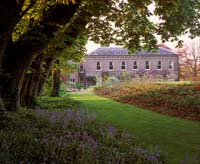 Lovely Ballyvolane, this gracious place in beautiful gardens and woodland offers a genuine rural Irish experience, with an agreeable element of luxury thrown in. Now run by experienced hotelier Justin Green and his wife Jenny - with Dad, Jeremy Green, still very much in control of his favourite areas, the gardens and arboretum - Ballyvolane is a dream for guests seeking a restful chill-out. But it also offers a range of special courses, notably a Fly Fishing School where, with the experienced and talented fishing guide, Norman Gillett, you can learn the craft of fly fishing for salmon on the famed river Blackwater. (From May to August courses are offered for up to 4 participants, with an emphasis on practical fishing, all techniques covered, and tackle provided.) Other courses offered include a Gardening Seminar with expert Brian Cross (includes stunning garden visits) and a Wellness Weekend, with yoga and meditation. More surprisingly, perhaps, it is a very family friendly place, offering a magical 'big house' experience, with gardens and woodland to explore farm animals to meet and lots for all ages to do – and Justin and Jenny offer special 'Little People' breaks throughout the year for a few days of family fun…Simply magic.

Echo Lodge
Ballingarry Co Limerick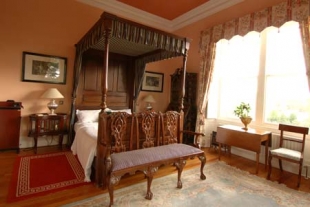 What can be said about this wonderful place that has not been said before? Echo Lodge – actually an hotel but with a real country house feeling – is a place that envelops guests in its hospitable mantle, inducing a feeling of total relaxation in even the most frazzled traveller, and then charms and delights them through a magnificent dinner in its famous restaurant, The Mustard Seed. The proprietor, Dan Mullane, opened the restaurant in Adare in 1985, then later moved just ten minutes drive away to Echo Lodge, this spacious Victorian country residence which is set on seven acres of lovely gardens - and offers sumptuous accommodation. Food and hospitality are at the heart of Echo Lodge and, while many ingredients are carefully sourced from organic farms and artisan food producers in the area, their own organic kitchen gardens supply the kitchen with much of the fresh seasonal produce for the restaurant – allow time to see them before dinner and, perhaps, hazard a guess as to what will be on the menu. Everything is absolutely delicious – and the hospitality you will find here is truly exceptional.

Kelly's Resort Hotel
Rosslare Strand, Co Wexford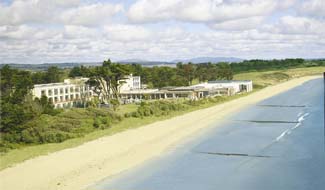 Known, with good reason, as 'the hotelier's hotel', Bill and Isabelle Kelly's icon of the sunny South-East is a beachside haven offering a special brand of relaxed professionalism that is particularly appreciated by others in the hospitality industry when taking their well-earned breaks. And, if it is so highly regarded by those who would potentially be its harshest critics, it's no wonder Kelly's (GCGuides Hotel of the Year for 2011) also has a huge and dedicated fan base amongst the wider public. Three centuries of practice undoubtedly helps in this hands-on family business, and the offering has been finely tuned over the years, to please all ages and varying tastes. Many would visit simply to admire the renowned art collection, for example, while others especially enjoy the outstanding leisure facilities or the sandy beach – and everyone enjoys the contrasting dining experiences offered in Beaches (fine dining) and La Marine (bistro), and the music that rounds out the evening after dinner. And the hotel's celebrated wine list is not only a wonderful partner to the good food offered, but also provides the starting point for some of the many (and varied) special interest breaks that are a highlight of the off-season. A great all-rounder – and environmentally responsible too.
The Quay House
Beach Road, Clifden, Co Galway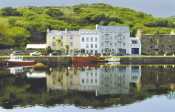 Many would cite Connemara as one of their favourite places to visit – and Clifden's oldest house, The Quay House, as their favourite place to stay. It is right on the harbour, with pretty water views when the tide is in, is superbly comfortable and run with exceptional warmth and generosity by Paddy and Julia Foyle, who are renowned for their sheer style...airy, wittily decorated and sumptuously furnished rooms include not only two wheelchair-friendly rooms, but also seven newer studio rooms, with little kitchens, and balconies overlooking the harbour. Is it any wonder that The Quay House keeps cropping up on our awards shortlists, and has won several, including Guesthouse of the Year. Consistently excellent service is a also feature of this fine house, and their renowned breakfasts - which include a tempting buffet as well as a delectable range of hot dishes and home bakes straight from the Aga - are served in a charming conservatory, decorated with a collection of silver domes and trailing Virginia creeper criss-crossing the room on string – no surprise, therefore, that The Quay House has also been a National Winner of our Irish Breakfast Awards.


Wineport Lodge
Glasson, Co Westmeath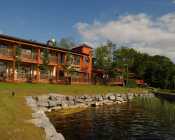 Ray and Jane Byrne's gorgeous lakeside lodge, near Athlone, styles itself 'Ireland's first wine hotel' and the accommodation - which offers thirty beautiful rooms, a hot tub and treatment rooms - is nothing less than stunning. A covered lakeside boardwalk leads to the front door: you enter your guest key card and step into a different world. A lofty residents' lounge with a stove and its own bar simply oozes style and comfort, a hint of the high pamper quota waiting above in spacious suites and guest rooms, all with private balconies overlooking the lake. Superbly comfortable beds with goose down duvets and extra large pillows face the view, and have seriously luxurious bathrooms. But Wineport Lodge began life as a restaurant (and is now known nationwide as the setting for the RTE television series 'The Restaurant'), and faithful fans continue to beat a path to the door at the slightest excuse, to be treated to a fine meal; head chef Cathal Moran's strongly seasonal menus are served with warmth and professionalism in this lovely contemporary restaurant - and what a setting!

Marlfield House
Gorey Co Wexford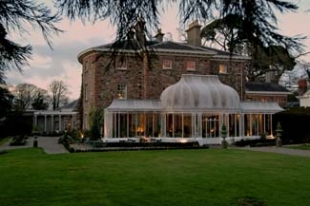 Marlfield House is a beautiful, small country house hotel that has never been in any doubt about its position in the luxury niche, with an emphasis on impeccable service, exquisite traditional style, superlative comfort and delicious food – much of it coming from their own immaculately maintained kitchen gardens. Now run by Margaret and Laura Bowe, the daughters of the original owners (who have retired nearby), this jewel of a country house has a less formal atmosphere of late, but its position as a cultured destination is unchanged - in-house offerings include their very special lunchtime recitals, held on occasional Sundays throughout the year, and they are closely associated with major events such as the Wexford Opera Festival. Apart from the slightly more relaxed style, the only obvious concessions to economic downturn are the offering of some more pocket-friendly menus, including a light supper. Marlfield House is one of those special places that have established their reputations on exceptionally high standards; they are offering something unique and the necessary cost involved constitutes good value for money.


Best places to Stay for...