Just Ask Restaurant of the Month for April - The Cellar Restaurant at The Step House Hotel
The "Just Ask!" Restaurant of the Month winner for April is The Cellar Restaurant at The Step House Hotel, Borris, Co Carlow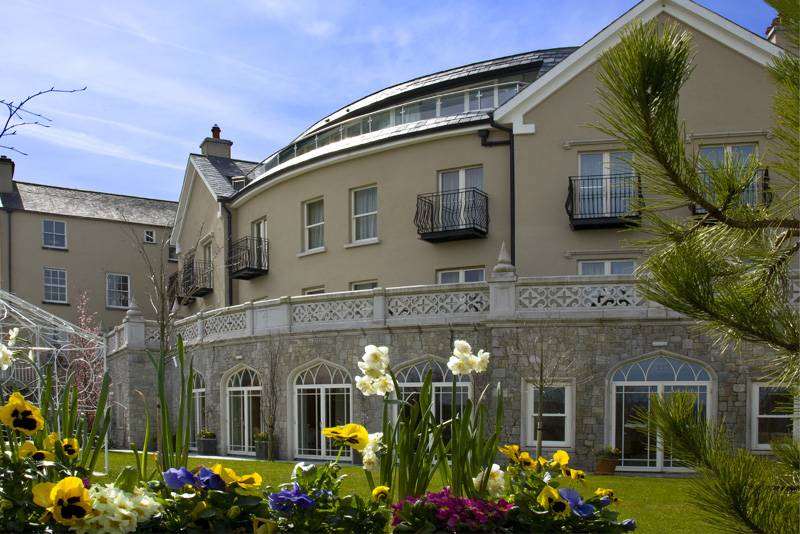 Although it is, as they say themselves down there, 'easy to reach but hard to leave', Carlow somehow remains Ireland's undiscovered county - which is, of course, the secret of its charm, so perhaps things are better left that way. But not if James and Cait Coady have anything to do with it, as their stylish boutique hotel, The Step House, has made the pretty heritage village of Borris a popular destination for short breaks and weddings.
The hotel, which they developed a few years ago, has two lovely properties at its heart - the former dower house of the Macmurrough Kavanaghs (of Borris House, across the road and), which was previously The Step House B&B, and the pub next door which had been in the Coady family for 5 generations.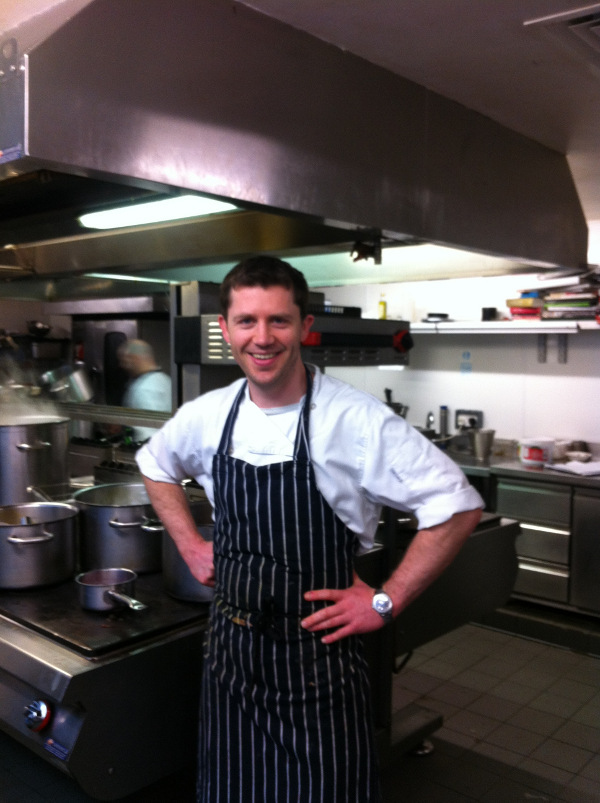 Now that it has mellowed a bit and the gardens have matured, the hotel is very attractive - and, with Alan Foley (formerly at Dublin's Chapter One restaurant, among other top kitchens) as Head Chef, there's always been a philosophy of using the best local ingredients, organic where possible.
Alan's cooking style is upbeat classic, offering menus that are short but full of interesting dishes and, like The Step House Hotel itself, rooted in the local community. This is equally true of the bar, which serves excellent casual food, and The Cellar Restaurant. This wonderfully atmospheric restaurant is in the kitchens of the old house and, spread through small interconnected rooms with archways and vaulted ceilings, it has great character and a sense of intimacy.
Top quality seasonal and local ingredients are the foundation of everything that's cooked here. Beef is 100% Hereford, sourced from AIBP Nenagh and supplied by Pallas Foods; free range pork is sourced from Thomas Salter and free range chickens from Bertram Salter of Carlow Foods.
Whole spring lambs are supplied by John Kavanagh in Borris. Duck is supplied by Skeaghanore Duck, Ballydehob, West Cork. Fish suppliers include John Hoyne of The Fishman's Market, Thomastown and The Duncannon Fish Company. Mags & Gerard Kirwan of Goatsbridge Trout supply fresh and smoked trout.
Fruit, vegetables and herbs are supplied by various different local growers 'in the Borris hinterland' including David Ward for organic produce and Fergus Murphy, local forager.
SAMPLE MENUS
Rubens Menu
The Step House base their menus around seasonal produce and buy locally as much as possible, whether it's Mary Gittons Free Range Eggs for an anglaise or Tom Salter Free Range Pigs. As such, the A La Carte Menu below is subject to availability.
Starters
Soup of the Day, Selection of Breads €6.00
Chicken Liver Parfait, Beetroot Chutney, Farmhouse Jelly, Brioche €8
Ballontine of Salmon, Beetroot Sorbet, Mustard Cream €9
Kilmore Cod, Chorizo Crust, Basil Aioli, Baby Watercress €9
Ham Hock & Foie Gras Terrine, Piccalilli, Granny Smith Puree €10
Confit of Duck Leg, Savoy Cabbage, Roast Peach, Orange Reduction €11
Pan Seared Kilmore Scallops, Handmade Taglini, Confit Tomato, Squid Ink €12.50
. . . .
Main Courses
Tasting of Free Range Saddle Back Pork, Haricot Bean, Roast Pear, Roasting Juices €27 (Supplied by Thomas Salter)
Ravioli of Red Pepper, Girolles & Capers, Spinach, Garlic Emulsion €18
Wild Salmon, Citrus Nage, Courgette and Leek Rouille €26
Breast of Free Range Chicken, Foie Gras and Confit Leg, Celeriac Puree, Tarragon Jus €24 (Supplied by Bertram Salter)
Fillet of Hereford Beef, Tongue Salad, Ox Cheek Croquette, Red Wine and Garlic Puree €29.00
Wild Halibut, Apple and Grape Salad, Herb Puree, Lemon Beurre Blanc €28
Wild Red Deer, Braised Shank, Fig, Chocolate, Jerusalem Artichoke €28
. . .
Suppliers
John Hyne – Daily Fish
Fred Salter of Ballon Meats – Pork
Bertram Salter of Ballon - Free Range Chickens
John Kavanagh – Lamb
Thomas Salter of Ballon - Free Range Pigs
Jane Murphy – Ardsallagh Goats Cheese
Pat Purcell – Seasonal Fruits
Farrell Foods – Organic Vegetables
Thank you to all our neighbours in the Borris hinterland growing their fruit and vegetables
…
Desserts
Fresh Summer Raspberry, Pistachio Bavarois, Arlette Biscuit, Raspberry Sorbet €7
70 % Chocolate Pavé, Roast Banana, Peanut Butter Ice-cream, Kahlua Syrup €7
White Peach, French Toast, Caramel Sauce, Crème Fraiche Ice-cream €7
Raspberry & Chocolate Cake, White Chocolate Sauce, Vanilla Ice-cream €7
Black Forest Gâteaux Hazelnut Ice-cream €7
Strawberries & Cream, Liqueur Jelly, Jam Doghnut €7
Selection of Irish Cheeses, Apple Relish & Biscuits €9
(Cashel Blue, Durrus, Mileens, Ardrahan, Cratloe,)
Fonseca Bin 27 Ruby Port €5.50
Dessert Wines and Port
Araldica Moscato Passito, Italy 2005 375ml €6 €23
Deep golden colour intensely aromatic flavours with apricot & acacia honey notes.
Tea and Coffee
Tea, Cafe Latte, Cappuccino, Espresso Macchiato €2.90
Irish coffee (Jameson Whiskey) €6.20
Calypso coffee (Tia Maria) €6.40
French coffee (Hennessey Cognac) €6.40
Italian Classico (Amaretto) €6.50
Baileys Coffee (Baileys Irish Cream) €6.40
A Selection of Herbal Teas €2.90
Green tea, Moroccan mint
Lemon & Ginger Spice Infusion
Ceylon black tea with Caramel or Vanilla or Mint
Pure Camomile Flowers
Sencha Green Tea
Cinnamon Spiced
Lemon and Lime
Earl Grey
Sunday Lunch Menu
Starters
White Onion Soup, Selection of Homemade Breads
Ham Hock & Foie Gras Terrine, Piccalilli, Apple Puree
Chicken Liver Parfait, Beetroot Relish, Garlic Croutes
Warm Ardsallagh Goats Cheese, Spiced Peach Relish, Tapenade
Ballontine of Salmon, Mustard Cream, Beetroot Sorbet
Main Courses
Roast Sirloin of Fred Salter Beef, Roast Shallot, Aubergine Puree - €2 Supplement
Fillet of Salmon, Celeriac Puree, Citrus Nage
Roast Carlow Free Range Chicken, Tomato & White Bean Stew, Garlic & Chorizo
Roast Leg of Free Range Pork & Braised Shoulder, Onion Puree, Apple, Tarragon Jus
Seasame Crusted Cod, Crushed Peas, Sauce Gribiche
Desserts
Step House Apple Crumble, Double Vanilla Ice Cream
Classic Crème Brûlée, Raspberry Sorbet
70% Chocolate Pave Roast Banana, Peatnut Butter Ice Cream
Hot Chocolate Fondant, Milk Chocolate Ice Cream
Mandarin Mousse, Orange Salad, Chocolate Puree, Crème Fraiche Ice Cream
Selection of Irish Cheeses, Apple Relish & Biscuits
(Cashel Blue, Durrus, Mileens, Aydrahan, Cratloe) – Supplement of €2.00
Main Course Only: €13/ 2 Courses: €20 / 3 Courses: €25
Our Suppliers
The Step House supports small & local food producers and buys the best food ingredients available in season.
The following are some of our current suppliers.
Herbs and leafs – Christine Jordan, Leighlinbridge Co. Carlow
Whole Spring Lambs – John Kavanagh, Borris, Co. Carlow
Goatsbridge Trout - Margaret & Gerard Kirwan
Beef – Fred Salter of Ballon
Free Range Chickens – Bertram Salter, Carlow Foods
Free Range Black Spotted Pigs – Thomas Salter of Ballon
Wild Red Deer – Glen of Imall, Co. Wicklow
Free Range Eggs – Mary Gittens Ballon Free Range Eggs
Fish - John Hynes, Thomastown Co. Kilkenny
Fish - Duncannon Fish Company
Breakfast Cereals – O'Granola, Paddy O'Connell, Cullahill, Co. Laois


----------

VIEW ALL JUST ASK RESTAURANT OF THE MONTH WINNERS
---

"Just Ask!" is a public awareness campaign that aims to encourage consumers when eating out to look for information on where the food (particularly meat) on their plate comes from, and encourages chefs to provide this information on their menus. The programme supports both large and smaller artisan suppliers, encouraging both Irish diners and visitors from abroad to support restaurants that are in turn supporting their suppliers.

Here at Georgina Campbell Guides we have always been avid supporters of the 'eat local' concept, and we always enjoy reading menus that have a real sense of place. The dining experience is greatly enriched by knowing that the food on your plate is inspired by the produce and traditions of the area, and sourced nearby – and we would love to see more chefs sharing that precious information with their guests.

If you are a visitor to the area, learning a little about local food and the people who produce it adds a special extra dimension to the visit – and, for residents, it reinforces a natural pride in the good things of their locality and makes a meal all the more enjoyable.

So, we are delighted by the high standard of menus that continue to be submitted for our ' "Just Ask!" Restaurant of the Month Competition', menus that really speak of the best of Irish foods – and the dedication of both the people who make them, and the chefs who select them to create wonderful dishes with real Irish flavour for our enjoyment.