Just Ask Restaurant of the Month for August - Caifé na Caolóige at Louis Mulcahy Pottery
The "Just Ask!" Restaurant of the Month winner for August is Caifé na Caolóige at Louis Mulcahy Pottery, Ballyferriter Co Kerry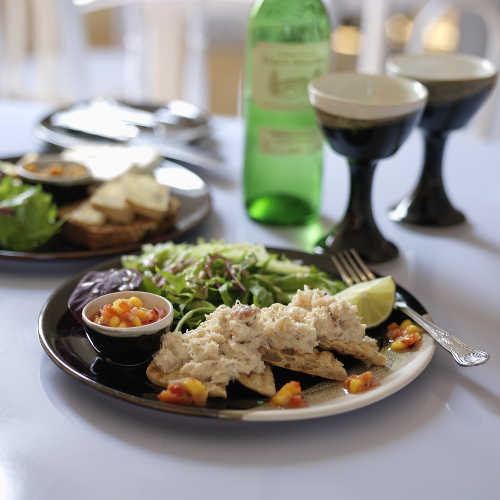 Sixteen kilometres west of Dingle, on the gorgeous Slea Head Drive, there is a special treat in store for hungry visitors. Just off the road you'll spot some of the trademark Louis Mulcahy ceramics in the garden of a low-key house that looks as if it may once have been residential, and here you'll find the famous Louis Mulcahy pottery, shop - and café.
You might plan a stop for the children to have a go at the pottery and then feel like a coffee – but what you'll find here is certain to exceed all expectations, and well worth a special visit.
The pottery is beautifully displayed over two floors and it merges into the café, which is in a lovely light-filled first-floor room. Simple glass-topped tables each have a small Mulcahy vase of wild flowers and paper napkins, and there's a counter where a limited, but very appealing, range of food is displayed.
Everything is homemade and delicious and the Mulcahys' support for their area, and for artisan producers and suppliers throughout Ireland, is clear to see on the bi-lingual menu, where you are invited to 'savour a Taste of West Kerry', and the provenance of all food is listed.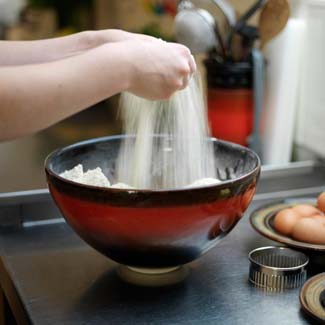 Smoked salmon and crab is from Iasc De Brún in Dingle; herbs, salad leaves and tomatoes come from local gardens; Maher's of Cork supply tea and coffee (there are also organic loose leaf teas from Solaris Botanicals in Galway); then there's also Dingle Peninsula cheese - and the real old-fashioned flavour of the baking is down to the quality ingredients used, including Lispole eggs and Kerry milk and butter.
For something savoury, you might choose between a home made soup (listed, along with other very seasonal dishes, among the daily blackboard specials), smoked salmon with pesto mayonnaise, and a cheese platter of Dingle Peninsula Cheese (along with several others from nearby areas), served prettily with brown bread and a lightly dressed leaf salad with nasturtium flowers.
But many aficionados travel here especially for the delicious home baking - a freshly baked sponge or gooey chocolate cake, perhaps, or a generous square of crumbly and buttery homemade broken biscuit cake, coated with a lovely rich chocolate on top...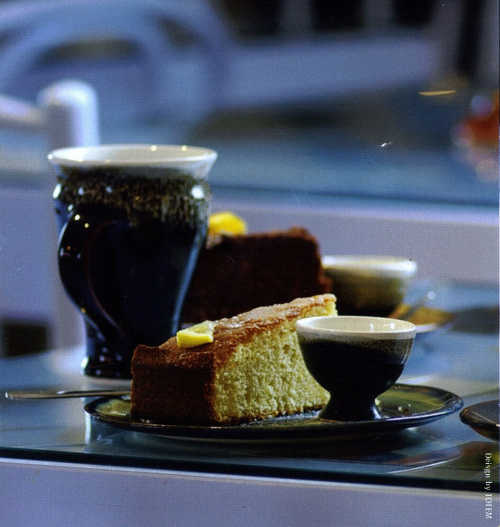 The staff are delightful and everything is served on Louis Mulcahy pottery, of course – the coffees come in lovely big pottery mugs and cakes come with freshly whipped cream in cute little ceramic urns.
Everything they do here is well done. A small selection of artisan products is on sale at the counter too, including a few from neighbouring counties - Folláin extra fruit jams and Mella's Fudge from Co Cork, for example - with quality always the main feature. It's a real tonic.
And don't leave without a signed copy of Louis Mulcahy's latest volume of poetry, The Clogher Quartet, Book One (€12, available in English and Irish) as well as one or two of his beautiful pots.
SAMPLE MENU
Please check the boards for daily specials
Open Sandwiches - on home-made brown bread or ciabatta, served with seasonal side-saladCheese platter: Dingle Peninsula cheese, Gubbeen, and a mild sheep's cheese served with home-made relish L €9.90 or
Dingle smoked salmon, with pesto mayonnaise L €10.90
Salads, with mixed leaves and homemade brown bread
Grilled goat's cheese, with balsamic dressing L €8.50
Cashel Blue, with apple and caramelised walnuts €8.50
Pannini served with seasonal side salad L €6.70
Smoked ham and cheddar cheese
Dingle Smoked salmon and cream cheese L €6.70
Sweet things
Home-made cakes L€3.80
Chocolate Biscuit cake. Flapjack L€2.80
Scone with jam and cream L€2.15
Soup of the day with brown bread L€4.70
Drinks
Pot of Tea For one €2.60 For two €2.80
Solaris Herbal Tea €2.80
Americano, Espresso €2.15
Cappuccino, Latte, Mocha Cup €2.25 Mug €2.80
Hot Chocolate€3.50
Lemonade€2.80
Kerry Spring Water L €2.00
Take away Coffee €2.80
Take away Tea €2.00
Wine, by the glass €4.90
Take away sandwiches €4.90
See overleaf for our range of Solaris loose leaf organic teas.
Gluten free options also available.
L = Local Dingle Peninsula Produce / Bia Aitiuil
Solaris Botanicals is a family run business based in Galway, specialising in the blending and preparation of Award winning whole leaf Organic Teas. Choose from:
• Organic Assam
• Organic Earl Grey
• Jasmine Green Tea
• Green Tea Chai
• Rooibos Chocolate Chai
• Dionysus Digestive Tea
Whole leaf teas contain 95 per cent more anti-oxidants than normal tea-bags. The teas are prepared using traditional processing methods, and are packaged in 100 per cent biodegradable packaging.
All Solaris Organic Teas are certified to European Standard.
All our scones, brown bread, and cakes are baked here in the cafe using Lispole free range eggs, Kerry milk, and Kerry butter.
The Dingle Peninsula Cheese we serve is made here in West Kerry, our crab is supplied by lasc Dc Brun, Dingle, and our salmon is also smoked and supplied by lasc De Brun.
Our coffee and tea is supplied by Maher's, Cork. We also stock a range of loose leaf organic teas from Solaris, Galway.
When in season, we use as much locally grown produce as possible in our soups and salads.
Ta na cisti, aran donn, & bunnoga bacalta anseo sa Chaife go laethuil, ag usaid uibhe saor-raoin Lios Foil, baione, uachtar agus im aituil. Ta Cais Chorea Dhuibhnc tareis duaiseanna a bhuachaint go naisiunta agus go h-idimaisiunta. Ti an bradan deataithe sa Daingean. Tagann ar tae & caife 6 Mahers I gCorcaigh, tagann ar reimse taenna luibhe Solaris sa Ghaillimh.
See our blackboards for daily Specials
You can find us on Facebook and Trip Advisor

----------

VIEW ALL JUST ASK RESTAURANT OF THE MONTH WINNERS
---

"Just Ask!" is a public awareness campaign that aims to encourage consumers when eating out to look for information on where the food (particularly meat) on their plate comes from, and encourages chefs to provide this information on their menus. The programme supports both large and smaller artisan suppliers, encouraging both Irish diners and visitors from abroad to support restaurants that are in turn supporting their suppliers.

Here at Georgina Campbell Guides we have always been avid supporters of the 'eat local' concept, and we always enjoy reading menus that have a real sense of place. The dining experience is greatly enriched by knowing that the food on your plate is inspired by the produce and traditions of the area, and sourced nearby – and we would love to see more chefs sharing that precious information with their guests.

If you are a visitor to the area, learning a little about local food and the people who produce it adds a special extra dimension to the visit – and, for residents, it reinforces a natural pride in the good things of their locality and makes a meal all the more enjoyable.

So, we are delighted by the high standard of menus that continue to be submitted for our ' "Just Ask!" Restaurant of the Month Competition', menus that really speak of the best of Irish foods – and the dedication of both the people who make them, and the chefs who select them to create wonderful dishes with real Irish flavour for our enjoyment.