Just Ask Restaurant of the Month for August - The River Restaurant at Limerick Strand Hotel
The "Just Ask!" Restaurant of the Month winner for August is The River Restaurant at Limerick Strand Hotel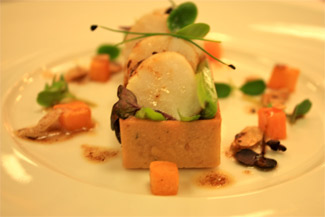 The River Restaurant at Limerick Strand Hotel, Co. Limerick has been awarded Bord Bia's Just Ask! Restaurant of the Month for August. In receiving the award the restaurant which is open to guests of the hotel and general public, is being acknowledged for its commitment to sourcing ingredients locally.
Since taking the helm, executive Chef Tom Flavin has worked hard to make food provenance and seasonality a point of difference throughout the hotel and especially in The River Restaurant. Commenting on the win Tom Flavin said, "Our menu reflects a passion for high quality locally grown produce. We partner with local farms and dairies wherever possible to source the finest fresh ingredients. All of our fresh meat and poultry is 100% Irish and traceable. We proudly display this on our menu along with the names of all our other suppliers".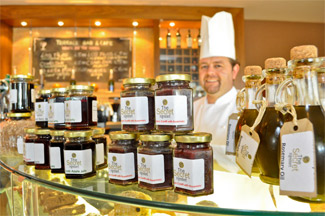 The team at The River Restaurant have also introduced a new and inspiring homemade pantry range called The Secret Ingredient, allowing diners to bring home a taste of Limerick. Products in the range include Classic Caesar Dressing, Chicken Liver parfait, and homemade jams.
Fresh beef, lamb, pork and chicken are supplied by Limerick butchers Enda Ahearne and Frankie Glynns. Free range pork is also supplied by Caroline Rigney in Curraghchase, West Limerick. Seafood is supplied by Rene Cusack Fish Mongers in Limerick. Seasonal herbs and vegetables are sourced from Springfield Walled Garden, Broadford, Co. Limerick and Adare Farm Products supply artisan ice-cream.
Georgina Campbell said, "There are many hotels around the country where chef and management have worked together to create a point of difference that attracts diners, but this is especially hard to achieve for large hotels in cities where the choice is so wide and for this reason, we take our hats off to Tom Flavin."
----------

VIEW ALL JUST ASK RESTAURANT OF THE MONTH WINNERS


---
"
Just Ask
!" is a public awareness campaign that aims to encourage consumers when eating out to look for information on where the food (particularly meat) on their plate comes from, and encourages chefs to provide this information on their menus. The programme supports both large and smaller artisan suppliers, encouraging both Irish diners and visitors from abroad to support restaurants that are in turn supporting their suppliers.
Here at Georgina Campbell Guides we have always been avid supporters of the 'eat local' concept, and we always enjoy reading menus that have a real sense of place. The dining experience is greatly enriched by knowing that the food on your plate is inspired by the produce and traditions of the area, and sourced nearby – and we would love to see more chefs sharing that precious information with their guests.
If you are a visitor to the area, learning a little about local food and the people who produce it adds a special extra dimension to the visit – and, for residents, it reinforces a natural pride in the good things of their locality and makes a meal all the more enjoyable.
So, we are delighted by the high standard of menus that continue to be submitted for our ' "
Just Ask
!" Restaurant of the Month Competition', menus that really speak of the best of Irish foods – and the dedication of both the people who make them, and the chefs who select them to create wonderful dishes with real Irish flavour for our enjoyment.