Just Ask Restaurant of the Month for June - Restaurant Lahinch, Co Clare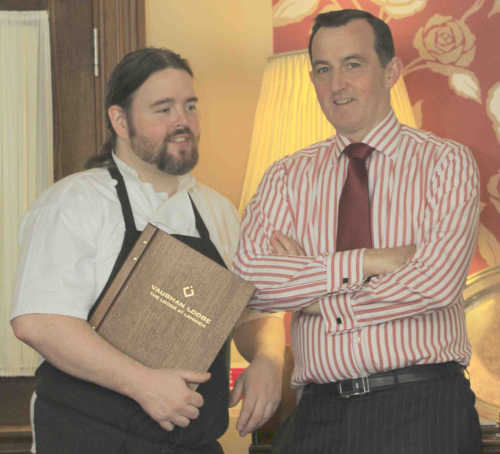 One of a great Lahinch dynasty - his late father owned the town's premier hotel, the much lamented Aberdeen Arms, and his uncle ran the legendary restaurant Mr Eamonn's for many years - Michael Vaughan has hospitality in his blood.
So it came as no surprise that a stand-alone fine dining restaurant was an important part of the plan when he and his wife Maria opened their own high-spec boutique hotel, Vaughan Lodge, in 2005 - and it has been one of the best dining destinations in the area ever since.
It's a spacious restaurant, smartly and comfortably set up to be equally well suited to a special occasion or an informal get together for a group of friends - the 'fine dining' label reflects the standard of cooking and engagingly professional service, but the ambience is warm and relaxed. Michael sometimes refers to the style as 'elegant dining at a fair price', which is nearer the mark than fine dining, and customer friendly menus offer a number of dishes in a choice of portion size.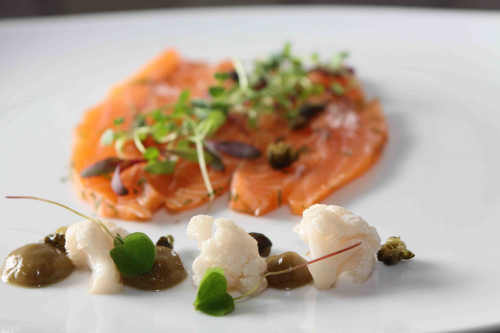 Seafood is the declared speciality and fresh local seafood accounts for over half of the à la carte menu in summer, with the selection offered typically including Burren Smokehouse organic salmon, Liscannor crab, oysters (from Gerry Sweeney of Finnavara) and line-caught mackerel as well as, seabass, hake, monkfish, mussels and scallops, mainly supplied locally by C&S Fish Doonbeg, and also by Star Seafoods of Kenmare.
But, delicious as it is, there's much more to head chef Daniel O'Brien's refreshingly straightforward menus than seafood. Delicious Burren lamb (supplied in season through Bernard Roughan, Ennistymon) and the excellent Skeaghanore duck from West Cork are regulars, for example, and this is one of the few restaurants where discerning diners might make a beeline for the chicken, as the menu introduction makes a point of mentioning that it comes from the renowned free range poultry producer, Bertram Salter of Carlow Foods - and the somewhat enigmatically named main course, 'Chicken, Shallots, Parma Crumb' is indeed well worth ordering.
The Supplier list is prominently displayed opposite the menu, and you know you are in caring hands from the start when you see specialities like Glenilen butter, from West Cork and Colm Fahy's microherbs and salads from Celtic Salads at Bell Harbour credited alongside big local names such as St Tola Goat Cheese.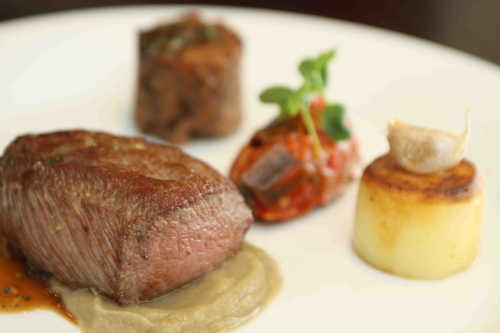 Dan O'Brien is a fine chef and, while certainly no slave to fashion, keeps his repertoire fresh with, for example, some pretty dishes using micro salads and vegetables (from Colm Fahy and O Brien's Farm at Tarbert).
Nearby beaches have a plentiful supply of seaweeds and foreshore sea vegetables to offer too of course, and these are foraged for the restaurant by Maree Vaughan of Lahinch, to appear on the plate in many ways including details like seaweed salt seasoning.
It's a lovely, vibrant style of cooking and the delicious food is made even more enjoyable by Michael Vaughan (an attentive and charming host) and terrific staff, who really enjoy what they do.
A must-visit when in Clare.
SAMPLE MENU (CHANGES DAILY)
The restaurant is open 5 nights a week, normally Tuesday through to Saturday nights. Please contact the hotel for exact details at time of booking

Here at Vaughan Lodge we endeavour to provide the best produce possible. In many cases this is incredibly local but some of the time we must source outside our immediate area, like for example our chicken, wholly owned, free range, top class birds from the farm of Bertram Salter, Co. Carlow.
Do enquire how the dishes come together and please let us know of any dietary or special requirements you may have.
Enjoy!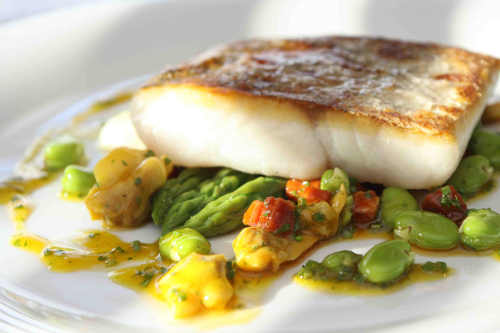 Suppliers
Fish/Shellfish/Sea Vegetables: C&S Fish Doonbeg, Star Seafoods Kenmare
Smoked Salmon from the Burren Smoke House Lisdoonvarna
Oysters from Gerry Sweeney Finnavara
Beef/Lamb: John Stone in Longford
Burren Lamb supplied in season by Bernard Roughan, Ennistymon
Chicken/Duck: Bertram Salter/Skeaghanore Ducks
Redmond Fine Foods
St Tola Goats Cheese
Glenilen Butter
Richardsons of Limerick. fresh fruit and vegetables
Fresh micro herbs and salads from Colm Fahy – Celtic salads Bell Harbour
Wild Garlic, micro vegetables from O Brien's farm Tarbert
Samphire, Carrigeen and seaweeds for the seaweed salt seasoning foraged by Maree Vaughan, Lahinch
DINNER
Prices are in euro
STARTERS

Vegetable
Polenta, Tomato, Mushroom 8/16
Seafood
Scallops, Carrot, Octopus 10/20
Lobster, Risotto, Bisque 12
Crab Claws, Spinach, Light Chilli Butter 10/20
Land-food
Hen's Egg, Fennel, Chorizo 8
Terrine, Walnuts, Foie Gras 10
Rabbit, Prunes, Almonds 10
Salad/Soup
Ardrahan Cheese, Plums, Pickled Vegetables 8
Baby Turnip Soup, Spring Onion 6
SIDES 3.50
Triple Cooked Chips, Polenta Coated, Roasted Garlic Mayonnaise
Oven Roast Root Vegetables, Honey and Rosemary
Blanched Seasonal Greens, Seaweed and Herb Butter
Organic Tossed Leaves, Aged Balsamic, Parmesan Shavings
MAINS
Fish
Monkfish, Parsley, Mussels 22
Hake, Lentils, Smoked Pancetta 19
Dover Sole, Caponata, Lemon 28
Meat
Fillet of Beef, Spinach, Marrow 26
Lamb, Aubergine, Leek 22
Rib Eye of Beef, Onion, Flat Cap Mushroom 24
Fowl
Chicken, Shallots, Parma Crumb 18
Duck, Red Cabbage, Chestnuts 22
Sweets
Irish Cheeses, Chutney, Bread Crackers 10
Salted Caramel Mousse, Peanut, Banana 6
Coconut Panna-Cotta, Fruit Soup. Cherry 6
Truffle Cake, Chocolate Shot, Vanilla Ice Cream7
Apple Crumble, Cardamom, Rum Raisin Ice Cream 6

----------

VIEW ALL JUST ASK RESTAURANT OF THE MONTH WINNERS
---

"Just Ask!" is a public awareness campaign that aims to encourage consumers when eating out to look for information on where the food (particularly meat) on their plate comes from, and encourages chefs to provide this information on their menus. The programme supports both large and smaller artisan suppliers, encouraging both Irish diners and visitors from abroad to support restaurants that are in turn supporting their suppliers.

Here at Georgina Campbell Guides we have always been avid supporters of the 'eat local' concept, and we always enjoy reading menus that have a real sense of place. The dining experience is greatly enriched by knowing that the food on your plate is inspired by the produce and traditions of the area, and sourced nearby – and we would love to see more chefs sharing that precious information with their guests.

If you are a visitor to the area, learning a little about local food and the people who produce it adds a special extra dimension to the visit – and, for residents, it reinforces a natural pride in the good things of their locality and makes a meal all the more enjoyable.

So, we are delighted by the high standard of menus that continue to be submitted for our ' "Just Ask!" Restaurant of the Month Competition', menus that really speak of the best of Irish foods – and the dedication of both the people who make them, and the chefs who select them to create wonderful dishes with real Irish flavour for our enjoyment.