The Seafood Interview supported by BIM - Aidan McGrath of The Wild Honey Inn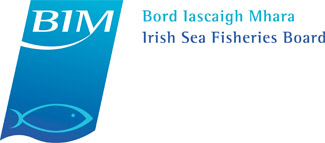 This month Marilyn Bright talks to Aidan McGrath, whose guests at The Wild Honey Inn in Lisdoonvarna, Co Clare are delighted by the wonderful seafood dishes he serves at accessible prices - no shortcuts in this kitchen!
Surrounded by the big skies and spectacular sunsets of the wild Atlantic coast, and flower carpeted hills of the Burren, The Wild Honey Inn is marked out in more than one guide book as a romantic hideaway and good food destination. This once quiet comer of Clare is attracting good reviews and a stream of visitors as they explore the corkscrew hills and fuchsia lined roads buzzing with dozy bees.
Five years ago the touristic scene was decidedly different. Aidan McGrath and his wife Kate took on what was then a dilapidated country hostel just outside the spa town of Lisdoonvarna. The old inn had a good pedigree, built in 1860 to cater for Victorian guests drawn to the mineral waters. When the McGraths arrived in 2009, the derelict building had been boarded up for several years, but the remains of old monogrammed crockery was found inside, "We started up in the worst year possible, in the depths of economic depression," Aldan recalls.
Aidan had already earned his spurs as an award-winning chef at the distinguished Sheen Falls Hotel and then at his own restaurant at Bunratty Castle. With a family venture in mind, he felt that the time was right to get away from fine dining. The old inn met his requirements for a pub with guestrooms and living accommodation for the family.
As they set about refurbishment, Aidan recounts how the arrival of the Brennan brothers and their television series "At Your Service" was a spectacular stroke of luck. "In addition to their expert advice, it gave us tremendous publicity and got our name out there. With repeats and screenings on channels abroad, we're still getting publicity and comments from guests booking rooms and dropping in for meals."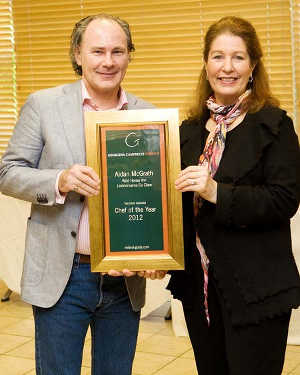 The relaxed atmosphere and welcoming fire are the setting for a menu which is uncomplicated yet showcases the bounty of Clare produce, and earned Aidan the title of Georgina Campbell Guides Chef of the Year 2012. With the Atlantic coast a few miles away, seafood is a speciality, and it's become a destination for seafood lovers who are keen to sample everything Aidan cooks up from a lunchtime open sandwich of Liscannor crab with pickled cucumber and organic leaves on homemade brown bread or a fish pie with creamy velouté and a herb crust, to an elegant presentation of turbot and scallops on the dinner menu.
In addition to a changing catch of the day board, there are occasional all-seafood nights, often featuring the local turbot and black sole which some restaurants avoid as it can be prohibitively expensive in some areas. "We're lucky to be able to get good supplies of these prime fish and work with our supplier to be able to offer them at reasonable prices, selling sole at less than €30 and turbot at around the €26-27 mark. Our fish comes from the Cahills who have their own boat out of Doolin harbour and supply from other ports on the west coast as well.
The list of landed catch is texted to Aidan every morning as he makes up the days specials, which might range from gurnard fillets pan-fried with buttered samphire and charred orange segments to pickled mackerel with beetroot salad and horseradish mayo. Hard-to-get winkles, always cooked in seawater, go into creamy risotto richly greened with flat leaf parsley to go alongside crispy skinned cod or brill.
Aidan avoids trawlered shellfish and prefers to use pot-caught langoustines from day boats out of Galway and Castletownbere which arrive in top condition. The prawn tails are used in a number of dishes, while the heads and shells are bagged and frozen to be flamed in brandy later and used to make stock for bisques and sauces, "We do all our filleting and boning in-house, Aidan says, and all the trimmings go into a stock reduction base for sauces. We don't use flour and just a small amount of cream for some dishes."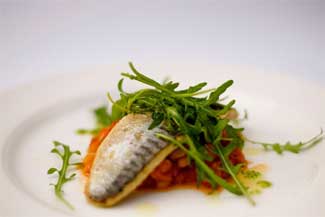 The move away from heavy sauces and a preference for lighter dishes is just one of the trends Aidan has noticed in the five years they've been open. "In the beginning, fish and chips and Burren beef burgers ware popular lunchtime choices and we did them very well with our own pickles and accompaniments. As time went on, customers were ordering a wider range of dishes, things that were different to what was available in other places, so we were happy to drop the fish and chips and burgers."
Aidan has also noticed a shift toward healthier eating habits, with snacking and casual eating being replaced by a good breakfast and one proper three course meal taken during the day, either at lunch or dinnertime.
Customers are also interested in food provenance and like to see that the crab claws are from Liscannor and the award winning smoked salmon comes from the Burren Smokehouse just a stroll down the road. St. Tola organic goats cheese from Inagh appears in the Wild Honey take on tartiflette, layered with potatoes, melting onion and bacon. For desserts, poached rhubarb and honeycomb parfait go alongside hazelnut cake bathed in Bunratty mead syrup and molten chocolate fondant is topped with a sweet foam of O'Hara's stout.
Small local growers supply salad leaves and herbs and, when he has time, Aidan likes to forage for things like wild garlic and elusive Burren land cress, "There's so much here to use," he says, "from hazelnuts to wild herbs and sea vegetables. I'd love to find a forager - there's a job for someone out there."