Wild Food Comes In From The Cold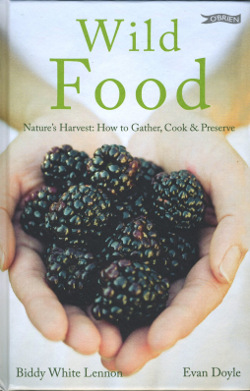 Georgina Campbell
In last month's review of Biddy White Lennon and Evan Doyle's book Wild Food Natures Harvest: How to Gather, Cook and Preserve (O'Brien Press), I promised to give some of the recipes in April when (it seemed reasonable to suppose) the countryside would have lost its bleak late winter look and be in the full spring mode that tempts us all to venture out and explore.
Which all goes to show how wrong you can be. Nature has played another of her tricks, reminding us yet again that we would do well to heed her warnings. But, even though it's so far been such a severely cold spring, the longer daylight hours mean there is a surprising amount of growth and plenty of things out there for the picking - and not only in the wild, as many edible plants are growing under our noses and generally considered a nuisance, as 'weeds' in the garden.
Take the nettle, for example. This perennial herb is, as Biddy says, 'a weed in the wrong place, a versatile and tasty food in the right place' and nettles were enjoyed and used as a spring tonic in Ireland from ancient times. She explains (in images and words) what the plant looks like, how to pick them - and only to pick the good bits, ie the tender young leaves - how to prepare them, the traditional uses, and even how to preserve them, which includes drying them to use as a herbal tea and making them into beer and wine.
Each wild food gets a similarly comprehensive run down, and the range of season is given too - in this case February to August. Some of the traditional uses for nettles are the same as for spinach or spinach beet, as in this spring soup.
As the recipes given below come from Ireland's only certified organic restaurant, The Strawberry Tree, organic ingredients are specified.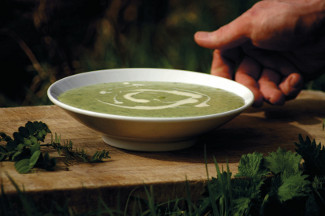 WILD NETTLE AND POTATO SOUP
Season: February-August
WHAT YOU GET Is a perfect transition from the heavy winter-warmer style soups to the lighter style of summer! Flavoured with the last of the winter leeks, thickened with fabulous floury old spuds and combined with the first taste of spring with the baby wild nettles and the hint of wild garlic, this is a perfect early spring soup
WHAT GOES IN
100g wild nettle leaves, picked carefully!
10g wild garlic leaves
350g old organic potatoes, roughly chopped
1 large organic onion sliced
1 stick of organic celery, chopped roughly
1 organic leek, sliced
2 bay leaves
1 litre organic vegetable stock
50ml organic cream
Organic olive oil, sea salt, black pepper and ground nutmeg
A little wild garlic pesto or cream, and a little nutmeg
HOW IT GOES
In a large pot, heat oil and simmer onions, celery and bay leaves together until soft. Add the leeks and cook for a few minutes, season lightly with the sea salt, black pepper and the ground nutmeg and then add in the potatoes. Stir everything together and in the vegetable stock.
Bring to the boil, then simmer until the potatoes are soft. When the potatoes are cooked, add in the wild nettles and wild garlic, cook for a few minutes, remove from the heat and blitz in processor until smooth.
HOW TO FINISH
Pour soup purée back into the pot; add cream to a pleasing consistency, reheat and season with sea salt and black pepper as desired. Serve with a swirl of wild garlic pesto or cream topped with ground nutmeg.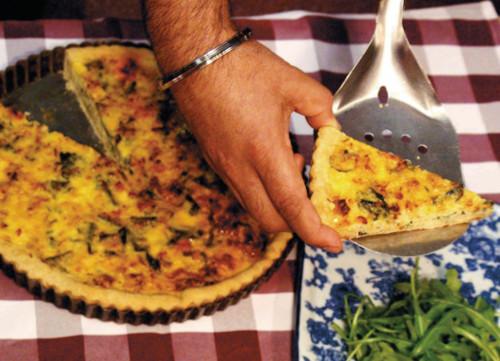 WILD SEA BEET AND WILD CRAB TART
Season: March-November
WHAT YOU GET Is a quiche-style seafood pie that oozes the sea and that can be served cold, warm or hot, all the way through the summer. We like to serve it warm, with a baby leaf salad and mayonnaise baby new potatoes.
WHAT GOES IN
Two handfuls of sea beet, stalks removed, leaves washed, roughly chopped
300g fresh wild crabmeat
1 organic onion, finely chopped
2 garlic cloves, crushed and chopped
1 red chilli, de-seeded and finely chopped
1 bunch coriander, roughly chopped
Juice of one lemon
50g Parmesan, grated
250ml organic cream
4 organic egg yolks, plus 1 whole egg
Sea salt and pepper
Organic olive oil
Your favourite recipe for savoury pastry, blind baked in a 20-22cm tart dish
HOW IT GOES
In a large frying pan, fry onions until soft. Then add chilli, garlic and fry for a few more minutes. Add the sea beet, and when soft, toss in the crabmeat. Fry together and mix thoroughly, then add the coriander, lemon juice and Parmesan.
Lightly beat together the egg and cream and season.
HOW TO FINISH
Spoon the sea beet mixture into your baked tart case. Pour over your egg and cream. Bake, for 30-40 minutes at 140°C, or until set.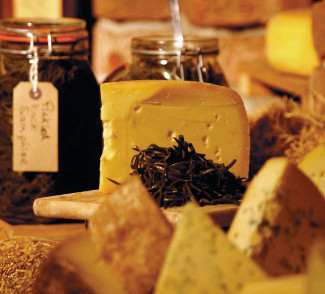 PICKLED WILD ROCK SAMPHIRE
Season: March-November
Samphire is found at the upper end of seashores with rock outcrops or shingle, and colonises dry stone seawalls. At The Strawberry Tree restaurant they find that "pickled samphire works well with all shellfish, but it is also perfect to keep for when flatfish are caught after September. It is also a treat with honky-heady Irish blue cheese or really well-matured Irish hard cheeses and, finally, is a cool pickle that works really well with slow-cooked winter Irish Hill Hogget." (ie mature, one year old lamb).
WHAT GOES IN
500g wild rock samphire
300g organic caster sugar
Small organic onion, sliced finely
1 organic celery stick, chopped finely
2 organic bay leaves
½ tsp organic pink peppercorns
½ tsp organic fennel seeds
1 tsp organic mustard seeds
½ organic red chilli – chopped finely
Zest of 1 lemon
500ml organic red wine vinegar
HOW IT GOES
Twice wash the wild rock samphire and set aside in a large container. In a large pot, place sugar, onion, celery, bay, seeds, chilli, lemon zest and pour over the vinegar. Put on the heat and stir until everything is mixed. Bring to boil and then simmer for a few minutes. Let cool a bit, then pour the pickle over the rock samphire in the large container.
HOW TO FINISH
Pack the warm rock samphire into sterilised Kilner jars, then pour in the strained pickle, filling the jar right to the top. Put the lids back on and it will keep up to 3 months in a cool, dark place.
*** For more about foraged food and wild food recipes, see this month's Darina Allen Column, and also In Season.