BUTCHERS - TEN OF THE BEST
The small shop is beginning to enjoy a comeback and it all started a few years ago with shoppers giving a renewed vote of confidence to the local butcher. Here are just ten iconic businesses that are at the forefront of the shop local revolution.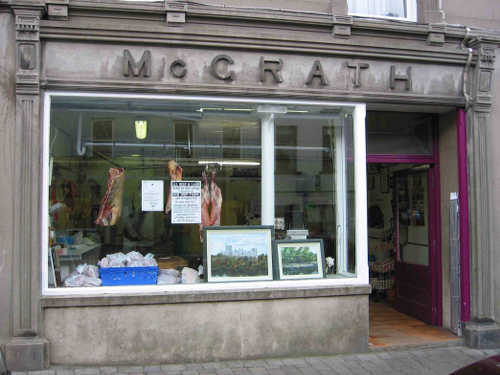 Michael McGrath Butcher
Lismore, Co Waterford
A rare treasure in an age of supermarket meat counters, this highly-prized fourth generation butcher in the heritage town of Lismore is of the old school, where traditional methods decree that meats will hang in the shop awaiting the customer's order. In business since 1900, it is now run by Michael McGrath and his son John, known as 'Sca' McGrath. With on-premises abattoir, not only do they slaughter their own cattle, but also offer the facility to other local farmers. They specialise in selling top quality meat for home freezing, including sides of beef and lamb - and you'll find McGrath's meat on many a fine table, such as local culinary hot spots The Tannery, in Dungarvan, and Ballyvolane House near Fermoy.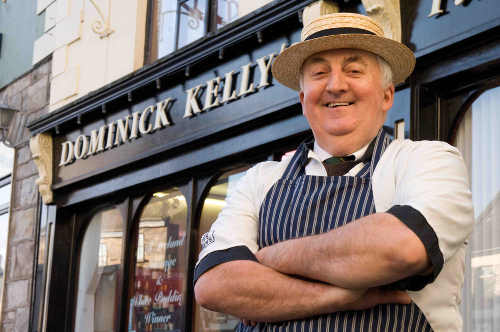 Kelly's of Newport
Newport, Co Mayo
A famous traditional butchers with a licensed abattoir where they slaughter all their own locally sourced lamb and beef, Kelly's of Newport has been in the family since 1930's and the larger-than-life Sean Kelly is one of Ireland's best-loved butchers. Although many of their products are now widely distributed, including to the UK, people love the shop and travel great distances for a bit of banter and to buy Kelly's renowned black and white puddings and sausages – and, especially, their traditional 'putog' black pudding, a unique product similar to haggis. Kelly's innovative Greenway Pudding celebrates the Gourmet Greenway Food Trail (which goes through Newport), its magic ingredient is seaweed from the nearby Atlantic shoreline and it sports a map of the Greenway trail on the label. How could you resist?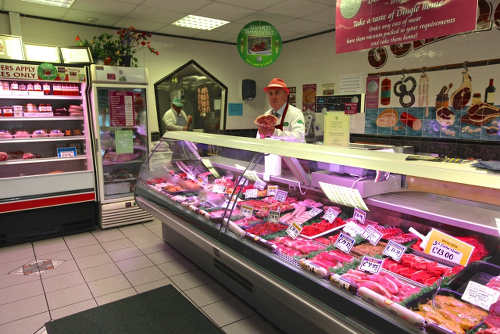 Jerry Kennedy Butchers
Dingle, Co Kerry
No ordinary butchers, Jerry Kennedy's traditional shop run has been in the same family for generations - the Antarctic explorer Tom Crean, who ran The South Pole Inn (see entry), was once a customer and Jerry still has the original ledger recording his meat orders ('Paid in Full'!). Pride in tradition together with an eye for innovation has made this shop a destination for visitors (who are urged to 'take a taste of Dingle home') as well as loyal local customers. 'Pré-salé' mountain lamb from the Blasket Islands and Dingle Peninsula is perhaps the biggest attraction in its short season (Jul-Oct) - the rugged terrain and salt-laden air gives the lean, late-season meat its unique herby flavour and slightly salty tang. But Jerry is equally respected for all of his meats, which come from his own and neighbouring farmers' fields, and he takes the concept of 'Farm to Fork' to a new level on his website where his trusted suppliers - including Donncha Kelliher, herdsman of the Blaskets flock - are profiled. Like many other craft butchers, Jerry is also famous for his excellent sausages - which you could try before buying if you pop around to The Garden Café (see entry) where their 'Dingle Dog' features a different Kennedy sausage every day. Well worth seeking out.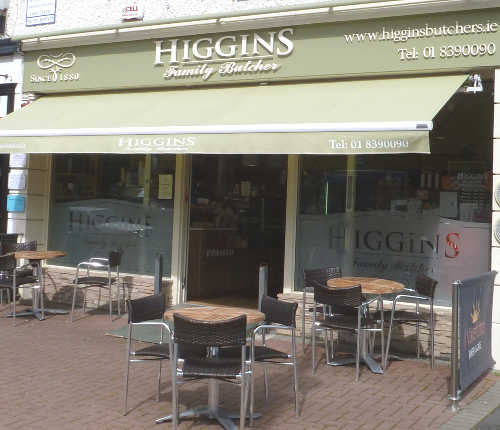 Higgins Family Butchers
Sutton Cross, Dublin
How many butchers have a glass-walled dry-ageing room at the back of the shop, where the full carcasses are hung to mature - and from which your specified order will be cut and expertly butchered by friendly and informative staff as you watch? Although a new arrival to Sutton Cross in 2013, this business actually began in nearby Baldoyle in 1880 and is well known to locals. If the pretty sage green frontage doesn't lure you in the smart little tables of the bakery and café, a branch of the lovely Il Valentino at the Grand Canal Basin, certainly will. Either way, once found it soon becomes a favourite destination. Specialities include handsome roasting cuts (the pork produces the crunchiest crackling ever), poultry, smoked and green rashers (dry-cured in-house), pies and ready meals (made locally with their own meat), and an array of daily-made speciality sausages (try the lamb and rosemary). Smart display cabinets offer many other speciality foods worth travelling for - Wild Irish Game from Co Wicklow, for example, even haggis for that Burns Night dinner. Exceptionally informative website too. Well worth a detour. [Also at: Unit 3, Portmarnock Shopping Centre.]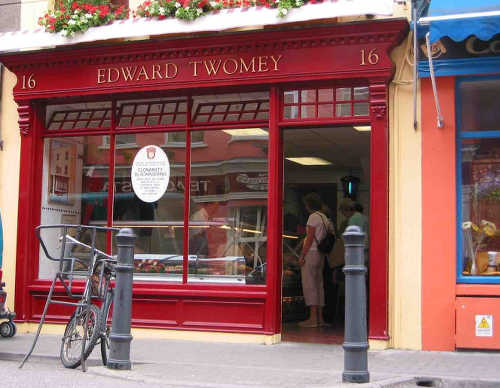 Edward Twomey
Clonakilty, Co Cork
Thanks to that great butcher, the late Eddie Twomey, Clonakilty is known internationally for the appealingly grainy black pudding that he made to an old recipe. Since Edward's untimely death in 2005, Colette Twomey has taken up the reins with great enthusiasm and business acumen, having moved the production to a new level, without sacrificing the essential character of the original handmade product. Although most popular as a breakfast meat, black pudding is a versatile ingredient in cooking and many chefs have a preference for Clonakilty Black Pudding because of its consistent standard and a texture which is interesting yet stable; it has a particular affinity with seafood - black pudding and scallops have become a classic starter combination, for example. But this fine traditional butchers shop does much more than sell the iconic black pudding. They do everything else well too, offering a full range of fresh meats and meat products, all of a very high standard.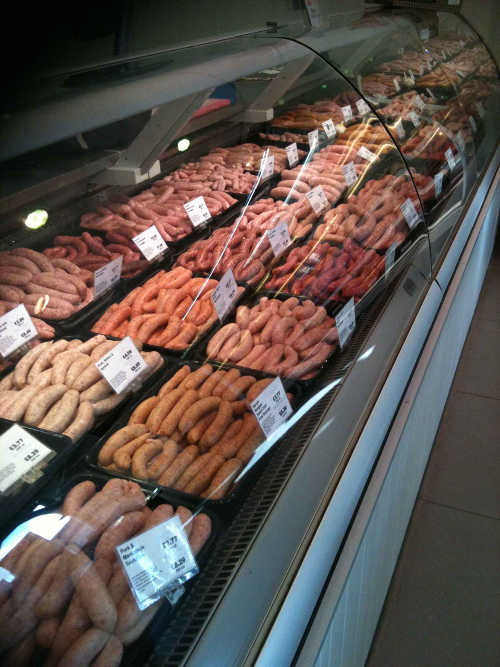 McCartneys of Moira
Moira, Co Down
Easy to spot by the queue forming out into the street, and still in the McCartney family after nearly one and a half centuries, this flower-decked shop in the pretty village of Moira is renowned especially for Award Winning Sausages (thirty different types, seen on menus throughout the province) and commitment to supporting local farmers; all meat is sourced within the province and shoppers come from far and wide to buy it. Third generation George McCartney - who has been in the business for nearly half a century - has achieved numerous accolades, notably for his Handmade Corned Beef and Sweet Cured Corned Pork. As well as excellent meats and deli products, their two-storey coffee shop and bistro offers great daytime food with many specialities offered and the trademark friendly service.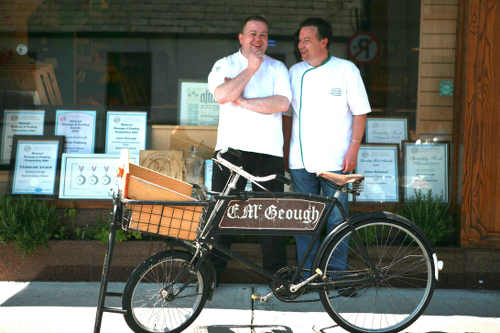 McGeough's of Oughterard
Oughterard, Co Galway
Whether for a special joint of meat - local Connemara Hill Lamb, perhaps (Sep-Dec) - or to top up with speciality foods, a visit to this wonderful shop is de rigeur for foodies when heading out west from Galway for a break in Connemara - and again when heading back home. Now in its second generation, James McGeough - a German-trained master butcher - has achieved national renown for the business established by his father Eamonn in 1971. Its USP is what goes on the back of the shop, where James McGeough has a purpose built unit for the production of speciality meats that are unique to McGeough's: air-dried and smoked meats and salamis that take up to six months to cure, and are showcased at leading restaurants. Beginning always with top quality Irish meat - most famously Connemara lamb, but also beef, pork and bacon - the meat goes through a lengthy process of curing in a mix of local herbs and spices, hanging for many months in temperature controlled drying rooms and finally smoking for one day using beech chips, turf or oak for their distinctive flavours... Not surprisingly, these products are much sought after - they are simply superb.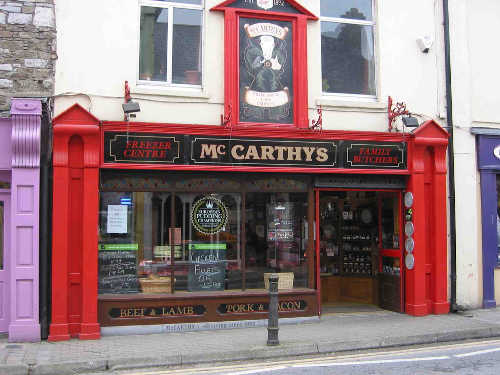 Jack McCarthy Butchers
Kanturk, Co Cork
One of Ireland's most famous butchers, and with good reason: not only do Jack and his son Tim McCarthy, who is the fifth generation McCarthy, stock an exceptional range of top quality meats, including local free range pork, Aberdeen Angus beef, Duhallow milk lamb and free range chicken, but you'll also find speciality products including spiced beef, air-dried beef, North Cork pancetta and Ardrahan cheese & smoky bacon sausages here – plus their black pudding, a star product which has earned Gold Medal approval from like-minded butchers in Normandy, no less. It is the highest award ever received by an Irish entrant to the 'Brotherhood of the Knights of the Black Pudding' competition – an achievement which could possibly be attributed to McCarthy's special ingredients of cream and whiskey…. And, bang on the money commercially too, they have an excellent online shop.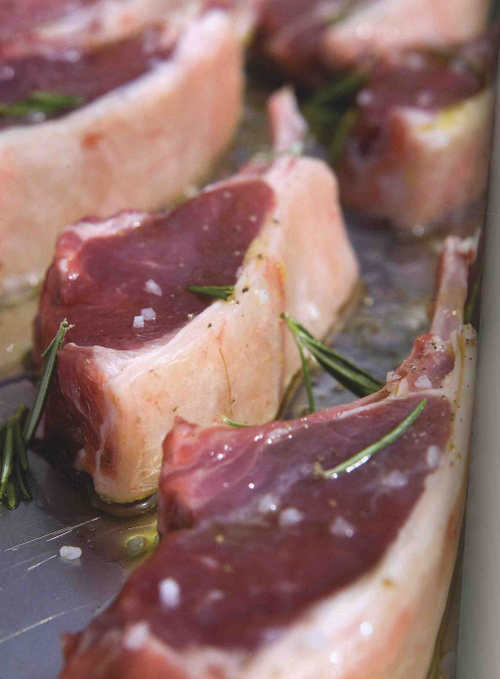 James Whelan Butchers
Clonmel, Co Tipperary
Fifth generation butcher Pat Whelan is a leading figure in the Tipperary Food Producers Group and the Totally Tipperary Food Festival, and one of Ireland's most innovative butchers. Operating from an impressive modern shop in a small shopping centre, he was among the first to go online and, while emphasising his traditional roots, constantly thinks outside the box. For example, he offers 'the world's first Irish beef bonds'; an unusual concept in butchery (details are on his website), it involves advance purchase of Angus and Hereford beef and is similar to investing in wine to lay down - except that you should take delivery of a mixed box of meat in less than three months. Whelans are certified organic meat and poultry retailers, but their speciality is in dry-aged grass-fed Hereford and Aberdeen Angus beef from their own family farm, processed at their own abattoir. An extensive range of prepared meals and artisan products is on display, both made in-house and supplied by other small producers. Also at: The Avoca Food Market, Monkstown, Co Dublin (where occasional butchery demonstrations are offered, see website for details), and Avoca Rathcoole. Pat has two cookbooks to his name too, one written with food writer Katy McGuinness.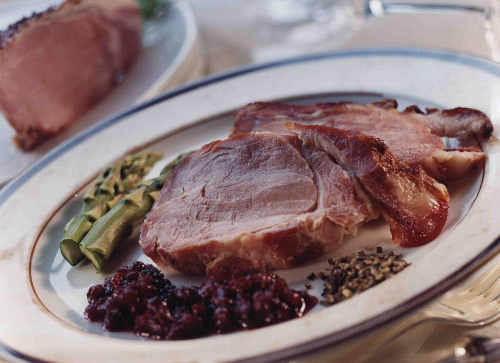 O'Doherty's Butchers
Enniskillen, Co Fermanagh
O'Doherty's shop is a model Northern Ireland butchers and you can buy many good things here, including Aberdeen Angus beef from cattle reared naturally on the shores of Lough Erne, and game from local estates. But there is one product that attracts customers from far and wide. In a county famous for its pork, 'Fermanagh black bacon' is a stand-out product; made (and trade-marked) by Enniskillen butcher Pat O'Doherty, it has earned its place in the food lovers hall of fame. The O'Dohertys keep their own herd of free range Saddleback pigs on Inishcorkish Island on Upper Lough Erne and visits to the island can be arranged by appointment. This local delicacy is available in several versions (the oak smoked one tastes 'like the bacon that used to be left up the chimney of the farmhouse to smoke'); it can be ordered for postal delivery (see website for range of products) and there's even a Fermanagh Black Bacon Cookbook, which includes a lot of interesting information about pigs and pork. O'Dohertys also stock a wide range of speciality meats, and make many other products - the beef sausages, burgers and traditional black and white puddings, in particular, attract special praise.