CHRISTMAS SHOPPING BREAKS - TEN OR SO OF THE BEST
For a well-earned relaxing short break before the seasonal madness really kicks in - and Christmas shopping without the pain - top up your credit card and head for one of these great destinations.

Marlfield House SOUTH-EAST
Gorey Co Wexford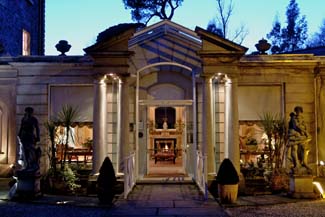 Any excuse to visit the Bowe family's magnificent Regency House just outside Gorey (R742, Courtown Road) will do just fine, and their adults-only 'Winter wonderland shopping extravaganza' planned for Thursday 13th of December 2012 (5pm –9pm) is a seriously tempting one, especially it includes a festive cookery demonstration with special guest Darina Allen and floral demonstrations of festive table and mantle displays by Joeanna Caffrey. Marlfield is renowned for its tastefully luxurious décor and you can be sure that the Bowe girls – sisters Margaret and Laura, and mother Margaret – will have plenty of treats in store when they promise a 'treasure trove of hand selected gifts and pressies', including jewellery, skincare products, manicures and makeovers, designer gladrags, sassy shoes and hand bags, cashmere throws and baby clothes, cushions, candles, cakes and hampers and all sorts of other irresistible goodies. It's good value too, as the €35 ticket price for the evening includes a glass of bubbly and a light fork supper; a special B&B fate is also available, from €75pps – call or email to reserve tickets and/or accommodation. A donation will be made to The Darina Allen India Fund (Learning Camp) in association with Indian NGO Seva Mandir raises money to educate children from the tribal village of Varvalia in Rajasthan, India.
Imperial Hotel SOUTH
South Mall, Cork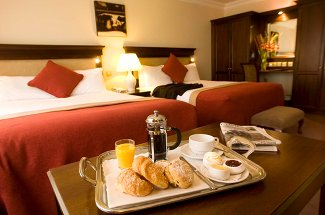 Cork's unique character is to the fore in the festive build up - particularly on Grand Parade where, for the four weekends leading up to Christmas, it's one big festival space, with a food and craft market open each day, and Bishop Lucey Park magically transformed into an illuminated Christmas wonderland. The historic Imperial Hotel offers keen rates (two nights B&B with one dinner, just €119pps), secure parking and an exceptionally convenient location - near the river, handy to the activities on Grand Parade and just a couple of minutes walk from the Patrick Street shopping area (home to BT and other temptations) - all making this characterful hotel a perfect base for a Christmas shopping spree. Recent renovations brought new life to its fine old public areas and transformed others - the main restaurant is now the stylish contemporary Pembroke Seafood Bar & Grill, for example - and bedrooms were given a right royal makeover. There's also a luxurious spa (with Aveda salon), the English Market is just around the corner – and you could even pop out to Mallow one evening, to the famous annual Longueville House 'Girls Pre Christmas Night Out' (www.longuevillehouse.ie).
Killarney Royal Hotel SOUTH WEST
Killarney Co Kerry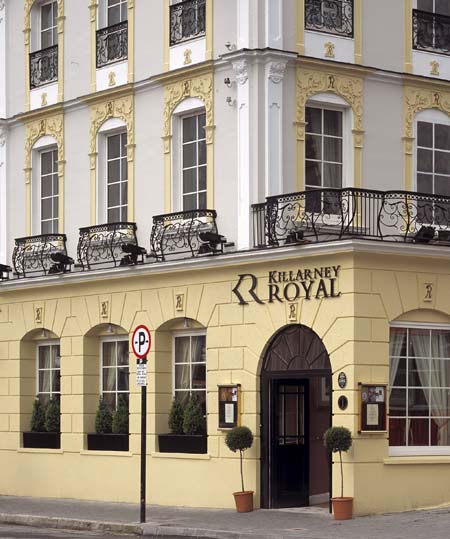 If you've always thought of Killarney as a summer destination, think again – Killarney is Ireland's 'Best large Christmas Town Winner of 2012'. These past masters at getting visitors to relax and enjoy themselves have plenty of imaginative festive activities to offer (calendar of events on christmasinkillarney.com), whether for the holiday itself or for a pre-Christmas shopping and relaxation break. Open air markets run in the town centre over two weekends (14th-16th and 21st-23rd December), there are jaunting sleigh rides, Dine in Killarney evenings in the town's restaurants, music a-plenty and much more. The Killarney Royal Hotel is one of the pleasantest places to stay in the town centre and, throughout December, they offer a very reasonably priced one-night festive package (€79pps) beginning with mince pies, clotted cream and tea for two by the open fire, a complimentary pre-dinner mulled wine before dinner in The Candle Room Restaurant and Full Irish Breakfast the next morning. Another special offer that would be great fun is a 4 night Cork & Killarney break (from €380) staying the other two nights at the 5* sister hotel Hayfield Manor near UCC.



Wineport Lodge MIDLANDS
Glasson Co Westmeath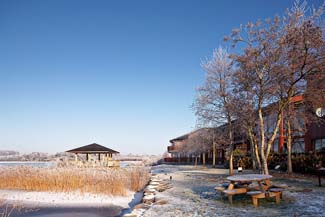 Familiar to viewers of RTE's popular show, The Restaurant, Ray Byrne and Jane English's lovely lakeside lodge styles itself 'Ireland's first wine hotel' and it is nothing less than stunning. It simply oozes style and comfort, with thirty beautiful rooms (all with private balconies overlooking the lake), a hot tub and treatment rooms... All this, plus one of the most beautifully located restaurants in Ireland, make a stay at Wineport tempting at any time, but coming up to Christmas it¹s pretty irresistible for a mixture of shopping opportunities and relaxation. Glasson Craft Gallery has lots of Christmas Gift ideas, from locally produced jams, preserves and festive goodies, to works by local artists, ceramics, glassware etc, and Athlone Town Centre, with over 60 shops, is nearby too ­ and, as guests can sometimes feel strangely reluctant to leave this place at all, Wineport itself will have a gift emporium onsite. For family outings, there are seasonal Sunday lunches (Santa in attendance) and, only a few minutes away, Glendeer Pet Farm is transformed into Ireland's Lapland for the month of December - children can see all the animals, meet Santa and feed his deer, Dancer and Prancer. Or, of course, you could always combine an adult shopping expedition with one of the Wineport Christmas Party nights, on Friday December 7th, 14th & 21st – you can just go for dinner (in a party of 8+) or stay on overnight and round off the treat with a lazy full Irish breakfast. Details of seasonal packages are on the website ­ and, to celebrate the Irish Jobs Initiative, there's 5% off all customer bills until December 31st.
Limerick Strand Hotel MID WEST
Ennis Road Limerick Co Limerick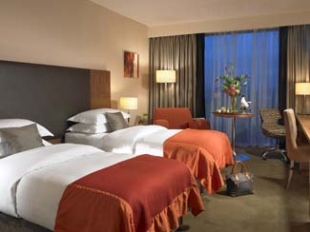 Just a short walk across the Sarsfield Bridge from the city's main shopping area, this modern riverside hotel (formerly Hilton) makes a great base for shopping – and, like the city itself, it is gaining a reputation for good food. Executive Chef, Tom Flavin, works hard to make food provenance and seasonality a point of difference, especially in The River Restaurant which was the Bord Bia 'Just Ask' Restaurant of the month in August - and they even have a pantry range, The Secret Ingredient, offering a taste of Limerick to bring home. It's a good shopping city, especially for food, and the renovated Milk Market is within comfortable walking distance - a visit to this historic market, which is now covered, is a must for any food lover visiting the city. Of the many festive events scheduled for November and December, the atmospheric Christmas Market at the Milk Market (29th November to 24th December 2012; www.MilkMarketLimerick.ie) is not to be missed, with about 60 stalls and shops offering all kinds of everything including fantastic food.

No. 1 Pery Square Hotel & Spa MID-WEST
1 Pery Square Limerick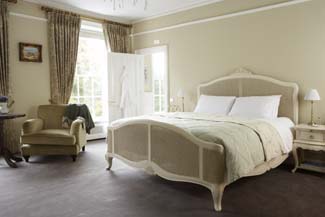 'Let Limerick Surprise You!' is a great marketing tag line for a city and county that has far more to offer visitors than many people imagine, and there's no better time to find out for yourself than coming up to Christmas, when the city is a-buzz with festive preparations. As well as the famous Christmas Market at the Milk Market, the Georgian district has one all of its own. No. 1 Pery Square boutique hotel begins the Christmas season on 23rd November, with a pop-up Christmas shop in the wine room (where there's a series of tastings in November and December) just before the start of the picturesque Limerick Georgian Christmas market, which runs throughout the weekend. Their stalls offer local artisan foods, arts and crafts, toys and Christmas cards, with Christmas carols each day to jolly up the spending. The hotel has some great special offers too, including a 2 night pre-Christmas shopping break package (with complimentary access to the thermal spa among the treats) from €149pp; room-only rates are also available on some nights.



Ashford Castle NORTH-WEST
Cong Co Mayo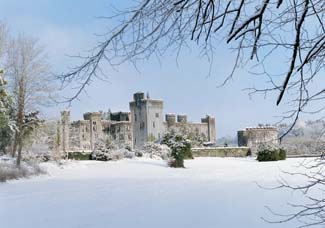 Who wouldn't relish the thought of a day or two being spoilt rotten at Ireland's grandest castle hotel? Set in 350 acres of beautiful parkland beside Lough Corrib, its immaculately maintained grounds and real 'castle' interior mean a stay here is always a very special experience. Renowned for its exceptional range of activities, warm hospitality and Chef Stefan Matz's superb cooking, it's a place to spend a few days if you can, but even one night always recharges the batteries. So why not give someone (yourself, perhaps?) an early Christmas present of a night or several here, away from the hustle and bustle of seasonal demands - although, for that Christmas shopping that's still on your mind, Galway city is only a short drive away. Pre-Christmas breaks at Ashford Castle include a one night 'Gift Before Christmas' treat which is brilliant value at just €295 for two, including B&B, Afternoon Tea, a 3-course dinner in the Georges V Restaurant and complimentary green fees for two. Various other late autumn/winter and Christmas /New Year packages also available and some of the prices should be a pleasant surprise – well worth checking out.


Brooks Hotel EAST
Drury Street Dublin 2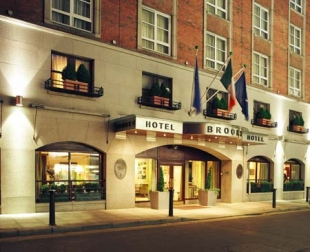 Located between Grafton and South Great Georges Streets (and just across the road from a multi-storey car park), the Sinnott family's discreetly luxurious hotel near St Stephen's Green is perfectly situated for a shopping break. And what a restful retreat to return to after shopping 'til you drop! Bedrooms even have a pillow menu (choice of five types) so the good night's rest so essential to the success of shopping expeditions is pretty much guaranteed. There are plenty of temptations in the capital, including the Taste of Christmas, at the Convention Centre 25th-27th November; FOOD & WINE Magazine Christmas Show, at the RDS 29th November to 3rd December; and the National Crafts & Design Fair, RDS 5th-9th December. And don't miss the fun of the legendary Marvel Room at Brown Thomas, which offers a host of magnificently indulgent designer gifts. The hotel's special offers include 1 and 2 night 'Dublin Can be Heaven' breaks from just €95pps including dinner at Francesca's Restaurant, where Euro-Toques chef Patrick McLarnon's menus focus on seasonal fare, including foraged wild foods. The hotel is also open for Christmas.
Pembroke Townhouse EAST
90 Pembroke Road, Ballsbridge, Dublin 4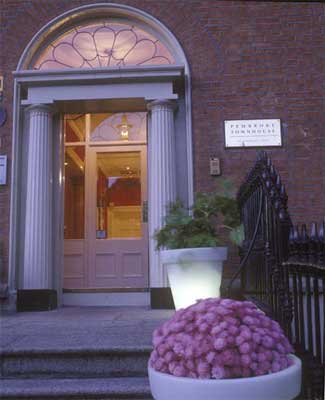 For those who prefer to stay in a smaller establishment rather than an hotel, this handsome Georgian townhouse would make a lovely, civilised base for a spot of Christmas shopping, and it's handy to the RDS where the FOOD & WINE Magazine Christmas Show is on, 30th November-2nd December. A homemade chocolate cake on the reception desk invites guests to taste a slice at check-in – and then you 'make yourself at home and raid the larder in the middle of the night for home baked cookies' (no calorie counting please). It's all pretty luxurious and, along with the personal hospitality of a smaller property – courtesy of the hands-on manager Fiona Teehan - you'll find amenities usually expected of an hotel, including wi-fi in all areas and private parking (a big bonus around here: drive straight to the carpark at the back on arrival, then take the lift with your luggage). Breakfast with a sense of occasion offers a full buffet with dishes like French toast and omelettes as well as the full Irish....Good value too, with the 2-night 'city package' €210 for two.



The Ice House Hotel NORTH-WEST
The Quay Ballina Co Mayo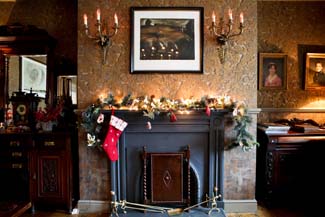 A funky mix of 'heritage' (in the original building) and contemporary style (in the new build), this unusual hotel and spa has given the traditional town of Ballina a fresh, more youthful, feeling – and earned an enviable reputation for the good food served in its atmospheric light-filled Pier Restaurant. Always game for a party, they're in their element coming up to Christmas, with a series of themed events planned for December, including very attractively priced Christmas Party Nights (only €45, with mulled wine and mince pies on arrival, festive 5 course banquet, and dancing courtesy of the in-house band; B&B also available at €45pps). Other options for locals and residents include festive dinners (from €28.50 for two courses), from 6pm daily in December excluding scheduled party nights, and a'Santa Visit' on two Sundays, 9th &16th December. There's some good shopping in the town – Clarkes Salmon Smokery (www.clarkes.ie) for some very special foodie gifts, for example – and the famous Foxford Woollen Mills is just a short drive from The Ice House. Their Christmas craft fair, where local craft producers display their products, is on the 4th & 5th December and, throughout the month, the Woollen Mills store is converted into a festive emporium with a vast array of beautiful Christmas gifts. Special Offers are also available at Chill Spa at The Ice House throughout the party season.


Park House Hotel WEST
Forster Street Eyre Square Galway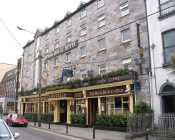 Known with good reason as the city of fun, Galway is renowned for its good shopping and markets – especially the Saturday food market – and they've recently added an atmospheric Continental Christmas Market to their portfolio of must-visit attractions. Held in Eyre Square, it is run by Galway City Business Association, the local team who ran the hugely successful Volvo Ocean Race stopovers. For four weeks (November 23rd-December 22nd), they promise a great Christmas atmosphere and even more stalls this year - so, no need to jet off abroad to enjoy a traditional continental Christmas market, just head for Galway and spend the money there instead (thereby injecting an estimated €10m into the local economy). Great places to stay include this fine hotel just off Eyre Square which is handy to the main shopping area (and the station); it has the individuality that comes with owner-management and makes a lovely base. Special offers include midweek/weekend breaks from €109pps (2 nights B&B& 1 D); discount for online pre-purchase.


The Fitzwilliam Hotel Belfast NORTH
1-3 Great Victoria Street Belfast BT2 7BQ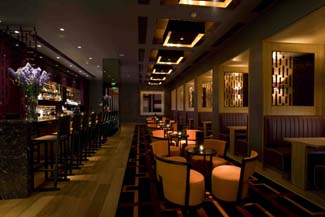 With the Titanic Experience proving such a huge success and attracting visitors from all over the world, 2012 has been Belfast's year- and how. And it's sure to end in high style too, with festive events a-plenty (www.discovernorthernireland.com/events), notably the annual Christmas markets held at St George's Market and City Hall (see below). This stylish five star hotel is in an enviable location beside the Grand Opera House, near the city's main rail and bus station, and only a couple of minutes walk from the main shopping areas – and it's home to Menu by Kevin Thornton, the great chef's more casual northern restaurant. Capitalising on the great location, the hotel's special packages include a one night pre-Christmas Shopping Break (room rate from £100) and a Christmas Continental Market Experience (room rate from £109); held nearby in the Belfast City Hall grounds, speciality foods are the main attraction at the market but there are also gifts and crafts, a Santa and other family entertainment (runs 17th November – 20th December daily, times vary). The Fitzwilliam is also open over Christmas.
Crescent Townhouse NORTH
13 Lower Crescent Belfast BT7 1NR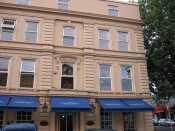 For those who prefer to avoid big hotels, Crescent Townhouse would make an ideal base to soak up the festive atmosphere in Belfast and shop – it's one of the city's most popular places to stay, and for good reason. Near QUB and just a short stroll from the city centre, it's an elegant Victorian building on the corner of Botanic Avenue, and it offers a lot at an attractive price (B&B from £45pps), including a choice of very comfortable traditional or contemporary rooms and good food at their Metro Brasserie. Both of the big Christmas markets are within walking distance, with plenty of other retail temptations along the way – and loads of foodie treats when you get there.

Best places to Stay for...