FAMILY WINTER BREAKS - TEN OF THE BEST
It can be hard to tear yourself away from the comforts of home during the colder months – but there's exceptional value to be had in winter, and lots of extremely comfortable places offering something special so why not start the year off with a treat. Try any one of these and you should return home refreshed and ready for anything.


Park Hotel Kenmare
Kenmare, Co Kerry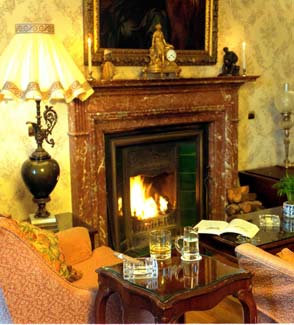 Francis Brennan's iconic hotel closes after the festive season, but it is a hugely popular choice for a Christmas family gathering. Some guests make it an annual outing, and who could blame them? The hotel itself is the essence of cosy comfort, a perfect winter destination with open fires; the staff are fantastic, with that special knack of making every guest feel special – and the food, of course, is legendary. The Christmas programme runs on reassuringly traditional lines, with mince pies and mulled wine a-plenty, singing around the fire and the endless sequence of meals that is essential to the Christmas ritual (and geared for varying age groups). Christmas dinner is an evening black tie affair, leaving the day free to do as you wish. There are loads of outdoor and indoor things to do, children's activities – and, joy of joys, an in-house cinema screening classics like Miracle of 34th Street (1947) and It's a Wonderful Life (1948).


Clontarf Castle Hotel
Castle Avenue, Clontarf, Dublin 3.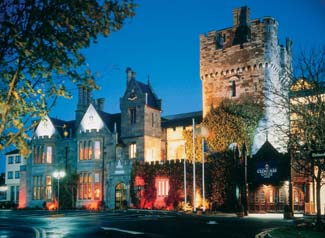 Clontarf Castle may not have the spacious grounds associated with the name (sold off for housing long ago, alas) but there's a 12th century castle at its heart and this fine hotel has character. It's in a great location, offering a break accessible all the attractions of the capital – but out of the city, and equally convenient to things to do outdoors, as Bull Island, St Anne's Park and Howth are all among the nearby places to visit. Development of the hotel has been sensitive, with new sections imaginatively incorporated into the old castle structure, retaining the historic atmosphere; some rooms, including the restaurant and the old bar, have original features, and the bedrooms are luxurious and warmly decorated. All this, together with the hotel's longstanding reputation for professional and caring service and good food, makes the Castle a desirable destination, whether for Christmas itself – a 2-night package is offered, with generous reduction for children – or a short break.


Dunraven Arms Hotel
Adare Co Limerick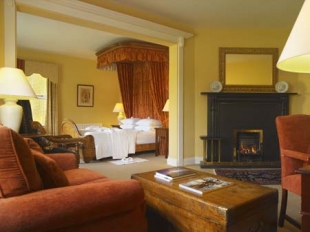 A stay in the Murphy family's large but comfortably inn-like hotel in the centre of the pretty village of Adare is no hardship at any time, but it has that old-world comfort and cosiness that make it an especially good winter destination. Their determination to combine personal service and quality with value is renowned and equestrian activities, including hunting, are a big attraction - and, although many individual travellers sing its praises, Dunraven has become a mecca for special family times like weddings and Christmas. The Christmas package is extremely reasonably priced (inquire for details dependent on children's ages etc) and – typically – they offer a fourth night free for guests who can manage to get away in time to check in on 23rd December. The Christmas programme is different from other hotels, with an emphasis on families doing things together – listening to the Seanchai, following the hunt, going to the races – and, true to form, Santa arrives on horseback!


Hilton Park
Clones, Co. Monaghan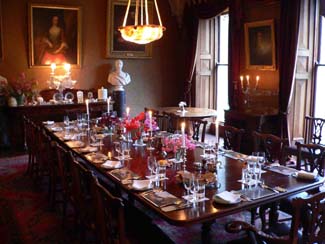 Big Houses were designed for entertaining and they are perfect for off-season get-togethers like family reunions. The Madden family's mansion near Clones would be ideal, promising "roaring wood fires, delicious dinners by candlelight, warm hospitality and total privacy". Guests have exclusive use of this grand but friendly house, which has a fine old Erard concert grand piano (which guests are welcome to play), rooms full of books, extensive gardens and long walks in the grounds - also private lakes for fishing, in season. Johnny and Lucy Madden have made it famous for good seasonal and local food, with meats, including lamb, pork and venison, sourced from the estate while the walled kitchen gardens supply much of the fresh produce for the kitchen. Johnny and Lucy's son, Fred (whose cheffing experience includes Rowley Leigh's Kensington Place) and his wife, Joanna, now represent the 9th generation of Maddens - welcoming parties of 8 to 14 guests, who should eat very well indeed.


The Cottages
Seabank, Bettystown, Co Meath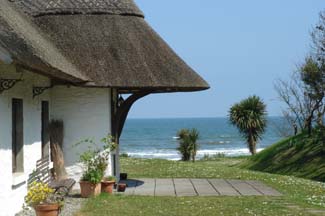 You could be forgiven for thinking that these impossibly pretty cottages are new, but they are actually about 300 years old and have recently been re-thatched and renovated to a very high standard – making an idyllic destination for a break in this popular family holiday area. With direct access to miles of sandy beach (where, off-season, you may hardly see soul) the little hamlet is gated so the cottages and their surroundings are completely secluded - yet within walking distance of shops and restaurants. Varying in size to sleep between two and six, all are comfortably appointed for all year use, with traditional interiors (plenty of comfy furniture), central heating, well equipped kitchens, good bathrooms, all mod cons and plenty of books. And there is lots to do and see nearby, including visits to cultural sites such as Newgrange, or simply playing golf (40+ courses within an hour's drive). Open all year, with 5 day minimum stay over Christmas.


Railway Lodge
Oughterard, Connemara, Co. Galway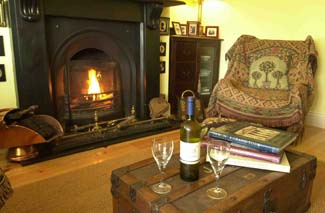 Just outside Oughterard village and a short drive from Galway city, Carmel Geoghegan's traditional country house style B&B is named after the railway which once ran from Galway to Clifden and built on the family farm, where her father still breeds Connemara ponies. It's open all year and has open fires, a cosy sitting room (TV available but not much in demand) and plenty of space to relax. Children are welcome, also pets by arrangement, and - with four comfortable bedrooms in the main house (two of them on the ground floor) and an extra one in an adjacent self-catering cottage - this would be a lovely place for a family to be based for a winter break exploring Connemara and enjoying the activities of the area, such as walking and horse riding. Carmel is a welcoming and relaxed host who loves spending time in her nice old-fashioned kitchen, and will happily make dinner for guests (by reservation).


Martinstown House
The Curragh, Co. Kildare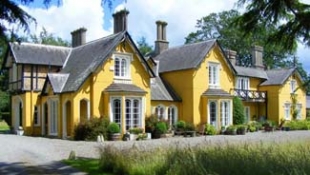 Edward and Roisin Booth's delightful 200-year old 'Strawberry Hill' gothic house near Punchestown, Naas and The Curragh race courses, was built by the architect Decimus Burton, who also designed the lodges in the Phoenix Park. Set in 170 acres of beautifully wooded land, it is on a farm, with free range hens, sheep, cattle and horses, an old icehouse, and a well-maintained walled kitchen garden that provides produce for the house in season. While not suitable for children under twelve, it would make an interesting and very comfortable destination close to Dublin for older families who would appreciate its special qualities - gracious but not too grand, it has open fires and comfortable bedrooms with individual character. A stay here is sure to be enjoyable, with the help of truly hospitable hosts who offer good food – including a delicious afternoon tea on arrival - and believe that holidays should be fun, full of interest and with an easy-going atmosphere.


Brown Trout Golf & Country Inn
Aghadowey, Co Derry BT51 4AD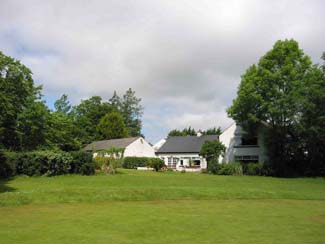 Friendliness and a relaxing laid-back atmosphere have earned this lively family-run country inn a lot of friends. Golf is a major attraction, both on-site and in the locality, but it's a pleasant and hospitable place for anyone to stay – and, although it isn't particularly a family destination, children (and pets) are welcome and it would be ideal for families with older children who are into activities such as golf or horse riding. While not especially luxurious, accommodation is very comfortable of its type and allows a sense of independence, as most rooms are arranged around the main courtyard on the ground floor, and there are also some newer 5* cottage suites nearby, with living area and open fire. The friendly bar is the heart of the Brown Trout, with live music at weekends and serving good casual food – and there's also a restaurant, serving wholesome country evening meals and Sunday lunch. And there's lots of interest nearby; very nice too.


Harvey's Point Country Hotel
Lough Eske Donegal Co Donegal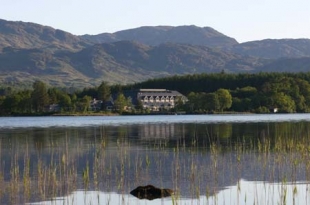 This well-managed hotel on the shores of Lough Eske is in one of Ireland's most beautiful inland locations and makes an extremely comfortable base for a winter weekend of walking and other outdoor activities. The hotel has grown a lot in recent years and the luxurious new rooms, which are very large, have attracted a whole new clientele. Meanwhile, the the older rooms - which are tucked away in front of the extension, along the ground floor corridor – remain popular with many regular guests; although less luxurious, they are very comfortable and will appeal if you would enjoy being closer to the countryside, with access to the lough (and if you would like to bring your dog). The food has always been good too, enjoyed - after a drink by the welcoming log fire in the bar – at a table with views across the lough, and entertained by the hotel's pet geese coming in off the water at feeding time.


The Heron's Cove
The Harbour Goleen Co Cork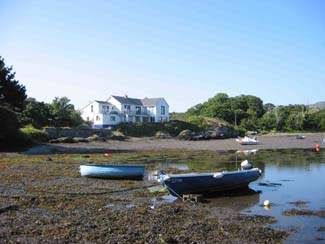 There is something very special about tourist areas off-season and West Cork is no exception – and when the tide is in and the sun is out there can be few prettier locations than Sue Hill's restaurant with rooms overlooking Goleen harbour. In the summer it is known mainly as a seafood restaurant, but there are five rooms too and they're open by reservation off season for dinner, bed & breakfast. The rooms have been refurbished recently and some have private balconies; there is one family room and they are all en-suite and comfortable, with satellite TV, phones, tea/coffee-making facilities and hair dryers. The Heron's Cove philosophy is to use only the best of fresh, local foods (in summer there's a natural leaning towards seafood, less so in winter), and great ingredients, pleasing cooking, friendly attentive staff and an away-from-it-all atmosphere make for an enjoyable stay – and, despite the quiet location, the pubs in the village are only 300 yards away. Open all year except Christmas/New Year.
Best places to Stay for...