GORGEOUSLY GREEN DESTINATIONS - TEN OF THE BEST
The question of ecological damage caused by tourism has been taxing many a mind of late, and many establishments are now taking active measures to reduce environmental damage, some achieving national recognition with the Green Hospitality Awards scheme, and some receiving official EU recognition of standards being met. These are just a few of Ireland's best environmentally responsible (and lovely) places to stay.

Bush Hotel
Carrick-on-Shannon Co Leitrim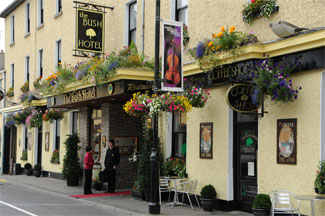 It is interesting that one of Ireland's oldest hotels should be the first hotel in Ireland to receive the EU Eco-label 'Flower' award in recognition of its commitment to sustainable tourism and protection of the local environment: The Bush may be best known for its old-fashioned hospitality and exceptionally pleasant and helpful staff, but it's clear that there's nothing backward-looking about the management. The 'Flower' comprises 84 very specific and technical criteria in energy, water and waste management - with much emphasis on environmental awareness & innovation. Initiatives undertaken include installing over 1300 Class A Low Energy bulbs which provide 97% of lighting in the hotel, contracting Airtricity as its electricity provider, and emphasising locally sourced products. The hotel also does not accept pallets, shrink wrap, bubble wraps or polystyrene, all deliveries now come in returnable and reusable plastic crates and all excess packaging is removed by suppliers. The Greenbox eco-tourism area is close by, taking in parts of Donegal, parts of Sligo, West Cavan, Fermanagh and Leitrim, but – along with Enniskillen - Carrick-on-Shannon is excluded from the project due to its size of population; however, interest in eco-tourism in the general area may drive well-earned extra business to the hotel. MD Joseph Dolan commented that, "From a business perspective, our environmental management approach has delivered significant cost reductions which we have been able to pass on to our loyal customers." The Bush Hotel was the Winner of the Guide's Green Ireland Hospitality Award 2010.



Derrynane Hotel & Holiday Homes
Caherdaniel Co Kerry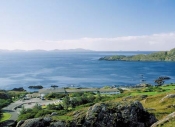 This well run hotel with its own beach and gardens – and a wide range of activities on site and nearby – offers great traditional family holidays. It's an unassuming 1960s style hotel and the accommodation, while very comfortable, is quite modest. But, under the excellent management of Mary O'Connor, this hospitable place provides a welcome home from home for many a contented guest, both staying in the hotel itself and at the outstandingly attractive and well-equipped holiday homes alongside. The hotel provides its own walking brochure and other activities include fishing, watersports (www.derrynaneseasports.com), horseriding (www.eaglerockcentre.com), and golf (Waterville GC offers special rates); they also offer special breaks for garden lovers, who can take the Fabulous Five Garden Tour of South West Kerry, with visits tofive of the region's most famous gardens – nearby Derrynane National Park & House, Kells Garden at Caherciveen, Glanleam on Valentia Island, Muckross House & Gardens in Killarney and Derreen Gardens near Kenmare. Caherdaniel is at the heart of the Kerry Geopark (www.kerrygeopark.ie), which is central to sustainable tourism in the area - so look out for Geo-Trails, Eco Tours and events which highlight the unique geological, historical and cultural traditions of the region.



Ballynahinch Castle Hotel
Recess Co Galway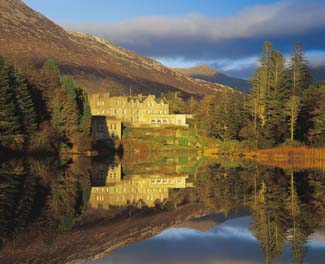 There are many reasons to love Ballynahinch Castle Hotel – its picturesque setting; its history, romance and beautiful gardens; its great fishing and other country pursuits; its comfort and character – and you will eat extremely well there too. But best of all is the natural environment and, appreciating their good fortune, the management have long regarded themselves as mere custodians of this beautiful place. Many energy-conserving and waste reduction measures have been introduced to safeguard it and the hotel, which is a partner in the Leave No Trace Programme (www.leavenotraceireland.org), is also committed to enhancing the surrounding ecosystems through a woodland regeneration programme (guests can even participate in a Plant a Tree break), and invasive plant species removal. Renowned for their salmon fishery, their fisheries management programme is something very dear to their hearts, and the results are heartening - closure of nearby salmon farms and the ban on drift netting having resulted in 'an immediate renaissance in the fishery'.



Ard na Breátha Farm Guesthouse
Drumrooske Middle Donegal Town Co Donegal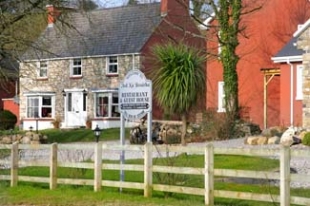 Theresa and Albert Morrow's welcoming guesthouse on the edge of Donegal Town is, as they say in their brochure, 'a place worth finding' - and one of the first in Ireland to receive the EU Flower Award for Eco Tourism. Although a residential area has grown up around them, the guesthouse - and restaurant – is tucked into a quiet corner of their busy working farm, with views over the garden to the countryside. There is a very happy atmosphere and the house is carefully planned to be relaxing, with a proper bar and a contemporary residents' lounge with an open fire and a panoramic view of the Bluestack Mountains. Attention to detail, caring customer service and concern for all things environmental has earned the Morrows a great reputation with their many delighted guests, who like the country style rooms and, most particularly, Albert's excellent laid-back breakfasts and reasonably priced dinners – all locally sourced and organic where possible. Real Irish hospitality.


Coopershill House
Riverstown Co Sligo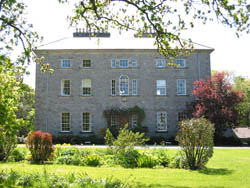 One of Ireland's most delightful and superbly comfortable Georgian houses, the O'Hara's have lived here since their sturdy granite mansion was built in 1774. It's a warm and friendly place, where the family silver is used with magnificent insouciance (even at breakfast), and with many fascinating features. "We were eco-friendly centuries before it became fashionable!" as current owner Simon O'Hara puts it, and in 2009 Coopershill became the first luxury property in the UK or Ireland to achieve the EU Flower Award. "The house was built in an age of self sufficiency and designed with enormous windows for light, to be heated with bio-fuels and to use the rain that falls on her roof. Set in a 500 acre estate of woodland and pasture, we are able to produce much of our own food, compost vegetable waste and sustainably produce firewood." They also produce the environmentally-friendly Coopershill Venison, recently awarded an Irish Food Writers' Guild Food Award.



Brookhaven House
New Line Road Waterville Co Kerry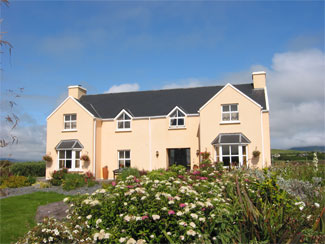 Overlooking the Atlantic Ocean and Waterville Championship Golf Course, Mary Clifford's family-run custom-built guesthouse in the Kerry Geopark (www.kerrygeopark.ie) is known for comfort and personal service and it's surrounded by a colourful garden, with a little river running along its length. It's easy to see why this peaceful place might be an award winner in the Green Tourism Business Scheme (www.green-business.co.uk). GTBS is the national sustainable tourism certification scheme for the UK; dating back to 1997it now has over 2,000 members across the UK and Ireland, and is the world's largest and most established scheme of its type. Participating businesses are assessed against a rigorous set of criteria, covering areas like energy and water efficiency, waste management and biodiversity; those achieving the standard receive a Bronze, Silver, or Gold award. Brookhaven gained Silver - so, with golf, hill walking, watersports, angling and horse riding all nearby, why not book a seaview room here and enjoy the Ring of Kerry sustainably.



Arch House Farm Guesthouse
Florencecourt Enniskillen Co Fermanagh BT92 1DE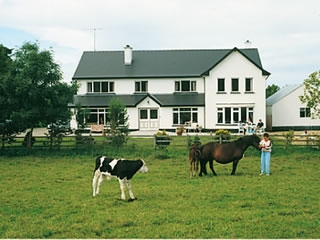 Located beside Marble Arch Caves and the magnificent National Trust property Florencecourt House, Rosemary Armstrong's friendly farm guesthouse offers comfort, warm hospitality, a relaxed atmosphere and good home cooking: not only does Rosemary offer meals for guests, but she also gives scone and bread making demonstrations in her kitchen and even has a shop selling home produce. It's a good place for a family stay as children are very welcome, and there's lots to do and explore nearby. Fermanagh is in the Greenbox (www.greenbox.ie), a geographic area of the North-West designated Ireland's first eco-tourism destination. Surrounded by water (Shannon Erne Waterway, Lough Erne, Atlantic Ocean) it has unique ecosystems, an unspoiled landscape, centres of learning such as The Organic Centre, a Geo Park (Marble Arch Caves) and several offshore islands. All of which make it perfect for eco friendly holidays – and Arch House holds both the The Greenbox Ecotourism Label and, since 2007, the EU Flower Award.



Westport Woods Hotel
Westport Co Mayo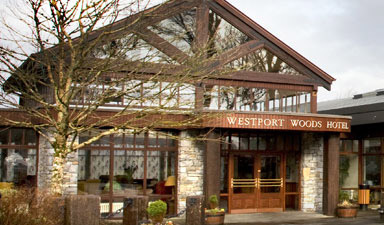 Conveniently situated between the handsome planned town of Westport and its nearby harbour, Westport Woods has a well-earned reputation for friendly and helpful staff, its wide range of special breaks for all age groups - and its environmental policies. In both 2010 and (at the time of going to press) 2011, the hotel was a finalist in The Green Awards (www.greenawards.ie) but, awards apart, they've been working away at their environmental plan for years. Having reduced their carbon footprint very significantly ("even the swimming pool and leisure centre are more eco-friendly than most"), the ambitious aim is to be carbon neutral. It's a policy they enjoy sharing with guests, who are not only offered an environmental DVD, but even encouraged to ask for a personal environmental tour. As well as many familiar recycling and energy-efficient measures, unusual ideas include using recycled tyres and runners for the playground surface, and introducing an arboricultural programme that will soon include a nature trail.



Ard Nahoo
Mullagh, Dromahair, Co Leitrim,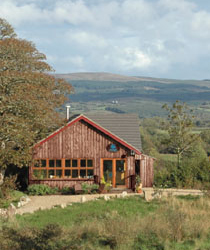 Founded in 2001 by environmentalist and alternative health care practitioner, Noeleen Tyrrell (a singer in her spare time), and massage therapist, Brendan Murphy, Ard Nahoo is an EU Flower and Greenbox Certified Eco Retreat in a lovely and little known area of North-West Ireland. They offer a range of courses and workshops (including yoga, meditation, Reiki, detoxification and vegetarian whole food cookery), saying "whatever you choose, a visit here will leave you feeling utterly relaxed and rejuvenated." And that choice could simply be a self-catering family holiday or break with friends in one of their new Eco Cabins. If that sounds very back-to-basics, think again: this is eco-luxury. Built with sustainable cedar from Donegal, the cabins are insulated with hemp, have wood pellet stoves, decking with picnic tables, and all the mod cons essential for a comfortable stay including a fridge freezer. There's an organic welcome pack too, and even a small shop on site. A break with a difference.
Best places to Stay for...