ISLAND DESTINATIONS - TEN OF THE BEST
You can't beat an island for that away-from-it-all feeling - so why not take a late season break and head off to a special island destination for a few days? Or, thinking of next year's holidays, some of these unique places are booked up many months ahead, so it's time to get your name down now…

Inis Meain Restaurant & Suites
Inis Meáin, Aran Islands, Co Galway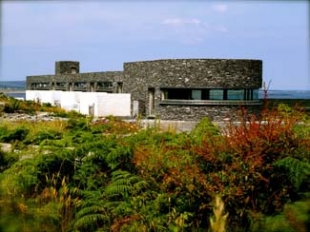 The Aran Islands fascinate many travellers to Ireland and, while Inis Mor is the most popular destination, quieter pleasures are to be found on the smaller middle island, Inis Meáin, where the old traditions are stronger. Here, Ruairi and Marie-Thérèse de Blacam's modern restaurant and suites has attracted much well-earned praise – not only for Ruairi's magnificent food, but also for the simplicity of the accommodation (where books, bicycles and fishing rods are provided instead of television), and the way that the long, low cut-stone building blends into the surrounding limestone landscape and is true to the spirit of the island. Ruairi cooks superbly, using ingredients that are mainly sourced on the island – and, increasingly, home produced. Eventually the couple aim to source everything here, and they already have a growing collection of livestock as well as raising a wide range of crops. If you seek peace and quiet amid terraced limestone and traditional culture, this is the place for you - but don't delay if you plan to visit next season as, despite adding extra accommodation, bookings at this wonderful place are like gold dust.
The Dolphin Hotel & Restaurant
Inishbofin Co Galway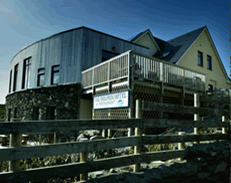 Weather permitting, the boat leaves Cleggan Pier for Inishbofin Island several times daily all year – and it is a pilgrimage that many fans of life on this unspoilt island make as often as possible. Known for its wonderful walking (three looped walks, all with stunning scenery), diving, sea angling, beautiful beaches, wildlife - and great traditional music in the evenings – Inishbofin is also blessed with a good choice of places to stay and eat. Many regular visitors head for The Dolphin, which siblings Pat and Catherine Coyne have run since 2000, first as a restaurant and now as an environmentally friendly small hotel. People love the big, bright bedrooms (some with private sundeck), the sea and mountain views, and the way the building links with outdoor spaces. And Catherine is known for her cooking. While the bar food is quite traditional, more adventurous evening meals see Catherine combining her own organic vegetables and herbs with local meats and seafood, in dinner menus that change with the seasons. Self catering accommodation is also available.
Lusty Beg Island
Boa Island Kesh Co Fermanagh BT93 8AD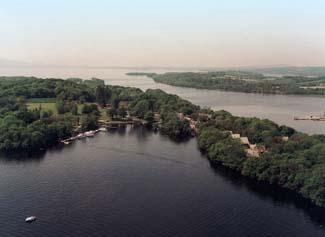 Lusty Beg Island is located off the main Kesh - Belleek road and (unless you arrive by boat) a little ferry takes you over to the island. It's an unusual place and worth a visit, if only to call into the pleasant waterside pub for a drink, a cup of tea or an informal bite to eat. However, you could stay much longer as accommodation is available in lodges, chalets and a motel, all spread relatively inconspicuously around the wooded island. Conferences, corporate entertaining and management training are specialities, and all sorts of activity breaks are offered. There's a leisure centre with swimming pool, sauna, tennis and pool table, and there's also a football pitch, canoes, bike hire, archery, clay pigeon shooting, and equestrian & fly fishing nearby. If indulgence is more your style, the tranquil waterside Island Spa offers a two-storey retreat featuring gorgeous Voya organic seaweed products from Co Sligo. Visiting boats are welcome and there is likely to be music on Saturday nights. Bar food is available daily in summer, probably weekends only off season - phone ahead for details and also to confirm days and times of barbecues and other theme nights.
Aran Islands Hotel - Ostan Arann
Aran Islands Co Galway

On a height overlooking Kilronan harbour and just 3 minutes walk from the main centre, Ostan Arann is the only hotel on the biggest island of the group and is becoming very popular for both visitors and locals. A young, very professional, team - brothers, Keith and Niall Madigan and Chef Damien Lyons, all from Ennis - have taken over this warmly comfortable hotel and all intend making Inis Mor their home. They are fully open from April to October and available throughout the winter for special events, including The Ted Fest (last week in February). All the island's big events are held at the hotel, from celebrations to funeral meals, and their wedding pack would tempt anyone to have the big day here (horse and trap to and from the church, reception in the most beautiful marquee overlooking the sea and a complimentary 1st anniversary dinner…). Their Sibin Pub has an open fire and traditional Irish music at weekends, but it's also an excellent dining destination, serving wholesome food in an atmospheric setting.
Inishbofin House Hotel & Marine Spa
Inishbofin Island Co Galway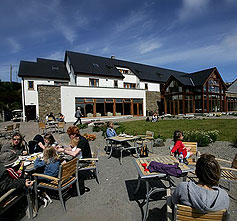 Ferries to Inishbofin run regularly from Cleggan and the Day family's hotel on Inishbofin pier is the first port of call for many visitors to the island. Overlooking the inner harbour, it has been transformed into a large luxury hotel in recent years. The wonderful John Behan sculpture representing the legend of the white cow 'Bofin,' which was in the old house, has found a new home here, in a large bright high-roofed entrance lobby and lounge with Spanish tiles and cherrywood finish. A long bar with polished wooden floors is smart and stylish and, like the dining room on two levels, has great views to the sea and mountains. On the first floor a truly lovely library/lounge with balconies off it is totally constructed in glass so there is a panoramic view of sea, harbour and mountains. Bedrooms are luxurious for an island hotel; restful in pale greens and cream, with bucket chairs, flat screen TV and balconies, all have bath and shower; audio visual equipment and broadband is available too. Popular for family holidays in high season, it is a more romantic destination at quieter times and, with a spa and beauty salon, the hotel is also in demand for weddings.


Clare Island Lighthouse
Clare Island Co Mayo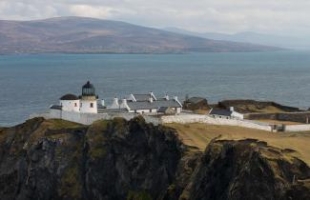 If an island stay is the ultimate escape, a stay in a lighthouse at the northern tip of a mountainous island four miles off the rugged west coast of Ireland should fulfil the dream very nicely. Renovated to a high standard and opened for guests since 2013, Clare Island Lighthouse offers wonderful views and a stylishly spare yet cosy base to enjoy exploring the island - which is an artists', walkers' and nature lovers' heaven. The main living area is in the former lighthouse keeper's home, where the kitchen, drawing room and dining room/library provide communal space for dining and socialising, as would have been the case when the lighthouse was manned. After being collected from the harbour, welcomed and shown to their highly individual rooms, guests meet at 7pm for a drink before dinner is announced with a gong at 7.30pm. All are seated at one large table, where good simple food is served, reflecting the seasons and the region. This is a special experience and it is best to stay for two nights if possible.
Pier House Accommodation & Restaurant
Inish Mor Aran Islands Co Galway

Paraic and Maura Joyce's popular guesthouse is literally on the pier and has seen little obvious change in recent years. But all is not as it seems, as Rory Joyce, their only child, has left behind a job with AIB, to take over with his parents. They also have a great new chef, Lisa Ryan who is from the mainland but engaged to an Islander and plans to stay. She has a total girl brigade in her kitchen and is making a big name for herself on the islands' food scene. Lunch here can be magic, sitting outside on fine days, (simple hearty rustic food - crab with buttermilk Caesar dressing; steak sandwich on toasted sourdough with wild garlic mayonnaise… ) Dinner is always booked up and no wonder - she has a wonderful food sense and wants to develop an island food style which is not too like the mainland.
Waterford Castle Hotel & Golf Resort
The Island Ballinakill , Waterford Co Waterford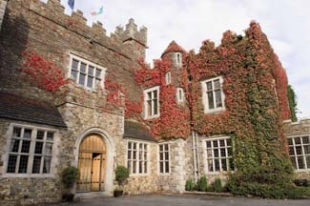 On the outskirts of Waterford City, just off the Dunmore East road, a discreet sign will lead you to the private ferry that brings guests across to this beautiful old hotel, which dates back to the 16th century and is situated on its own 310 acre wooded island (complete with 18-hole golf course). This romantic and quietly luxurious hotel combines the elegance of earlier times with modern comforts and the good cooking of chef Michael Thomas. The property changed hands in 2015 and has been acquired by a person/family living abroad but with connections in the area. The word is that a 'major expansion programme' is planned so, if you treasure this characterful small hotel and its delightful island, it might be advisable to visit sooner rather than later. It may be much smarter in a year or two, but it may also have lost some of its charm.


Belle Isle Castle
Belle Isle Estate Lisbellaw Co Fermanagh BT94 5HG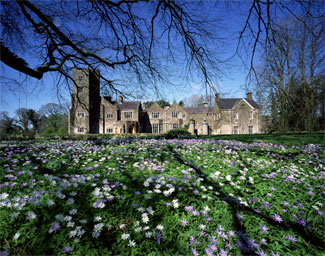 Magically situated on one of eleven islands on Upper Lough Erne that are owned by the Duke of Abercorn, the original castle dates back to 1680 and has mid-19th century additions, including a courtyard and coach house which have been converted to make appealing self-catering accommodation. They are available as individual lets but are especially useful for guests attending the small weddings which are very popular at the castle, or visiting the cookery school. [Cookery School: Tel +44 (028) 66 385 228 ; http://www.irishcookeryschool.com.] The castle itself is impressively furnished with antiques, and has eight romantic bedrooms and a delightfully exclusive away-from-it-all country house atmosphere. Visitors will find many wonderful things to do in this idyllically beautiful area - fishing is an obvious first choice but there are also golf courses nearby, field sports can be arranged and there are historic houses and gardens to visit nearby.


The Manor House
Rathlin Island Co Antrim, BT54 6RT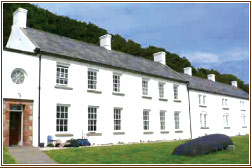 A ferry from Ballycastle will take you to Rathlin Island, which is Northern Ireland's largest offshore island and located six miles off the Antrim coast. Renowned especially for bird watching, Rathlin is eight miles long and less than one mile wide and, with a population of under 100 and very few cars, it has an away-from-it-all atmosphere that is now becoming rare. It appeals to people who like to get up close and personal with nature, offering an opportunity to explore the special features of an island in a wild location. But, at the end of the day - when the last ferry has left for Ballycastle - a few lucky folk should be able to repair to a room at the 18th century Manor House, a listed building right at the harbour. Having been awarded a grant by the Coastal Communities Fund to develop this beautiful island asset, the Rathlin Development and Community Association has closed it for refurbishment and upgrade from a B&B to a 3 star Guest House for 2016, when it will reopen with full restaurant facilities.

Best places to Stay for...