PET FRIENDLY ACCOMMODATION - TEN OF THE BEST
The Guide has always sought out pet-friendly places to stay and we recommend many wonderful destinations all over Ireland. This is a growing market, especially for travellers from the UK and within Ireland, and we are delighted that a growing number of establishments are seeing the light and welcoming their guests' four-legged friends.
The Mustard Seed MID-WEST
Ballingarry, Co Limerick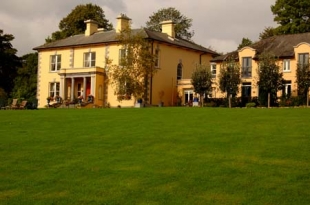 Our 2014 Pet Friendly Hotel of the Year is an absolute gem, much-loved by its many returning guests - and their pets. It all began with Dan Mullane's famous restaurant The Mustard Seed which started life in Adare in 1985, then moved just ten minutes drive away to Echo Lodge, this spacious Victorian hideaway set on seven acres of lovely gardens, with mature trees, shrubberies, kitchen garden and orchard - and very luxurious accommodation. Although The Mustard Seed is actually a four star hotel, it is an hotel like no other and this magical hideaway has immense appeal to many different types of guest - many of whom travel great distances for the food alone. And Dan Mullane is not only one of nature's great hosts, but also one of a minority of Irish hoteliers who understand that, for many people, pets are part of the family and they expect them to be treated accordingly. Far from the token pet friendliness of those who offer distant kennels or the use of an outhouse in the yard, his welcome to guests travelling with pets is genuine and thoughtful. Pets are allowed in most areas of the hotel, except the restaurant, and they can stay with their owners in suitable ground floor rooms with doors opening onto the garden - very handy, as you can pop out with your pet without having to go through the hotel reception areas.


Hotel Dunloe Castle SOUTH-WEST
Beaufort, Killarney, Co Kerry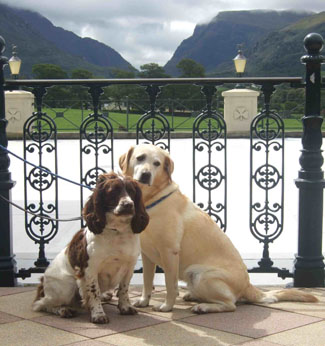 This five star resort hotel is a sister property to the Hotel Europe, nearby at Fossa, and the serene Ard na Sidhe overlooking Caragh Lake. Blessed with one of Ireland's most hauntingly beautiful locations, it overlooks the Gap of Dunloe and is set in magnificent grounds that include an equestrian centre (home to the hotel's gentle Haflinger Ponies, with riding available to guests at all three of the group's hotels). Although long famous for special qualities including its setting, world class gardens (catalogued in a booklet by plantsman and broadcaster Sir Roy Lancaster, who supervises new planting) and exceptional leisure facilities, this is not an hotel that stands still and, having created very family friendly accommodation and activities in recent years, they then turned their attention to the family pet. For a nominal charge per night, this former Pet-Friendly Hotel of the Year offers a choice of luxurious kennels or a dog friendly guest room where you will find a food and water bowl with floor mat, special pet treats and pet beds and (a very practical idea) "a doggy throw, to cover the sofa with, should that be your pet's preferred sleeping place!" With 20 acres of grounds and gardens (clean-up bags provided), it's emphatically a five star destination for dogs – the only trouble is likely to be persuading them to hop in the car when it's time to leave.


Gregans Castle Hotel WEST
Ballyvaughan The Burren Co Clare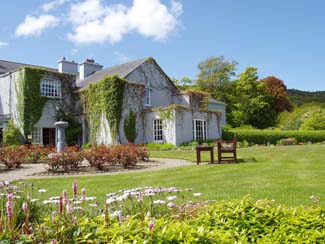 In addition to offering simple joys like warming turf fires and unparalleled views across the Burren landscape, Simon and Freddie Haden's quietly luxurious country house has earned a reputation as one of Ireland's top food destinations and it may not seem the likeliest of places to welcome pets. But if you enjoy travelling with your dog, there's nowhere better to be than the West of Ireland - and the Burren is a walkers' paradise, so it's a very natural place to head for with your dog. Being animal lovers themselves, Simon and Freddie appreciate the need to treat one's pooch to the occasional night away and they extend the Gregans Castle welcome "to particularly loved four legged friends". Of course some guests may be less than delighted to have canine company, so dogs are not allowed to roam around the public areas of the hotel, but they always have supervised access to the grounds and, fortunately, the hotel's accommodation includes a number of ground floor rooms which are potentially very suitable for pet lovers. One, designated as a special "doggy" room, has its own sheltered outdoor area, an outdoor kennel and an indoor play pen/bed for times when the weather is disappointing. The gardens at Gregans Castle have been ingeniously designed to include a woodland area that seems much larger than it is, thanks to the use of meandering paths that zig zag through the trees, so it's ideal for those late night and early morning walks - pooper scoopers at the ready, of course!


Harvey's Point Country Hotel NORTH-WEST
Lough Eske Donegal Co Donegal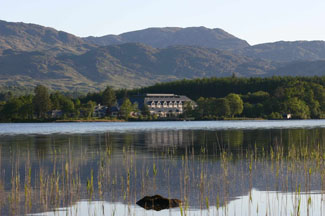 Another hotel that has earned a reputation for exceptional food, Harvey's Point is beautifully located, on the shores of Lough Eske, and is in an area renowned for wonderful walking – in fact walking is a regular theme among the many excellent short breaks that they offer throughout the year, so it's hardly surprising that dog lovers enjoy coming here. First opened by the Gysling family in 1989, it has always been a pet friendly place. In the early days, the original owner Jody Gysling (now living nearby) was never to be seen without a couple of friendly black labs tagging along beside him and - although it has grown much bigger and more luxurious of late - this friendly hotel, now run by Jody's brother Marc and his wife (and General Manager) Deirdre McGlone, still welcomes guests with pets. All of the rooms and suites are extremely luxurious and those on the ground floor, along the corridor from the reception area and with easy access to the grounds and lough, are popular with dog owners.


Carbery Cottage Guest Lodge SOUTH-WEST
Durrus, Bantry, Co Cork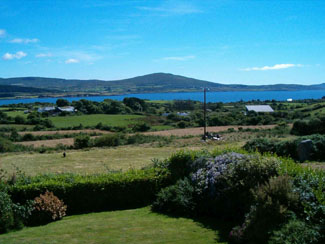 Mike Hegarty and Julia Bird are former owners of the unique Tin Pub, at Ahakista, and they brought the laid-back charm associated with it to this purpose-built B&B and adjoining self-catering cottage, which enjoy beautiful coastal views. They chose from the outset to make people who travel with their dogs especially welcome, and this USP has made Carbery Cottage a favoured destination for pet owners travelling in Ireland - dog lovers heading to West Cork now make a beeline for this haven near Durrus, where there are kennels provided, and large grassed penned areas for dogs to run. It offers a home from home for owners too, with lounging space indoors and out, evening meals (seasonal seafood banquets are a speciality) and packed lunches by arrangement – and all sorts of hospitable gestures including a well-stocked drinks fridge where you replace what you take, or use it to store your own purchases. Building on their special reputation as a dog lovers' destination, Mike – who is a trained dog handler – can also offer off-season dog training weekends. Innovative and practical, this is sure to be enjoyable and rewarding for both owners and their pets. West Cork here we come.


Rathmullan House Hotel NORTH-WEST
Rathmullan Co Donegal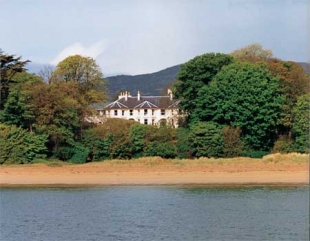 Set in lovely gardens on the shores of Lough Swilly, the Wheeler family's famous country house hotel has always been known for good food (their breakfast buffet was legendary long before it became a popular feature elsewhere). Yet, in keeping with its beach-side location and popularity as a traditional family holiday destination, Rathmullan is almost as well known for its pet-friendliness – and they have a special pet-friendly room with a sleigh bed for Fido. No excuses are ever needed for a trip to Donegal, but if persuasion is called for, bringing the dog makes it an especially attractive option - and there are hill walks and miles of uncrowded beaches to choose from, beginning at the bottom of the garden.


Renvyle House Hotel WEST
Renvyle Connemara Co Galway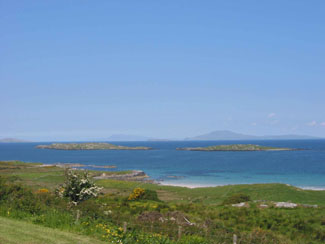 Not a lot of people know this, but Renvyle became one of Ireland's earliest country house hotels, in 1883. This Lutyens-esque house has been in and out of private ownership since then of course – most famously, Oliver St John Gogarty invited many famous guests here to this hauntingly beautiful area. The scenery is stunning in good weather but, thanks to its character, open fires, Tim O'Sullivan's great food and the hospitality of General Manager Ronnie Counihan and his staff, it is always a great place to be – especially for guests with family or pets in tow. For dog owners this Connemara haven is a real find, with wonderful walking in the area and plenty of space around the gardens, golf course and beach for those morning and evening strolls. A number of the larger rooms are particularly well suited to people with families and pets – especially some of the ground floor rooms, which have little fenced garden areas outside. Simply magic.


Cromleach Lodge Hotel & Ciúnas Spa NORTH-WEST
Lough Arrow Castlebaldwin via Boyle Co Sligo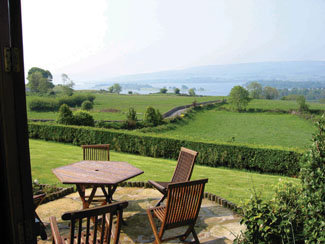 Since 1978, Christy and Moira Tighe have welcomed guests to this special place in the hills just above Lough Arrow. Although it has grown dramatically since then, it has always been a luxurious retreat and the Tighes have a whole fistful of USPs to offer, including fine dining (with a stunning view) and an exceptional standard of housekeeping. Not, perhaps, the kind of place you'd expect to welcome dogs…but not only are dogs welcome here, but owners are actually encouraged to bring them along and they are permitted to stay (under supervision) in the bedrooms. There's plenty of space for walking around the hotel grounds and, as well as having a spa for human guests, pooch pampering is offered too, courtesy of professional dog groomer Blathnaid O'Connell who previously ran a veterinary practice in Dublin. The area around Cromleach is beautiful and unspoilt, and it's a good area for walking – in fact walking breaks are another speciality of this unusual hotel.


Lough Inagh Lodge WEST
Recess Connemara Co Galway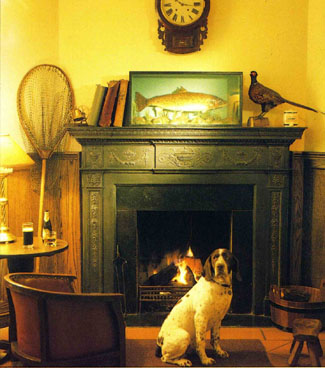 This lovely, pet-friendly small hotel makes a good base for anyone interested in exploring this spectacularly beautiful area, and is only 42 miles from Galway. The hotel has special appeal to sportsmen and other lovers of the great outdoors, who often bring their dogs, and many others come here just to relax and enjoy the restful atmosphere and comfort of open log fires in the library and the oak-panelled bar. Fishing (Lough Inagh & Derryclare Fishery, at the top of the Ballynahinch system) is a key attraction in season, and golf, pony trekking, hill walking and garden visits are among the other things to do nearby at various times of year. Special interest breaks, including guided walking breaks for groups of 6-12, are a speciality, and off-season specials give especially good value, but you don't have to be over-organised to make the most of a break here. People travelling with their dogs may be interested in the hotel's booklet of walks and cycle trails for independent guests; ranging from about 11/2 to 4 hours or more, these walks are "intended for walkers who just want to get out along the valley and into the foothills" although they also keep guides to more demanding walks in stock. After a day in the open air, this warmly hospitable and very comfortable place is lovely to come back to.


Beech Hill Country House NORTH
23 Ballymoney Road Craigantlet Holywood Co Down BT23 4TG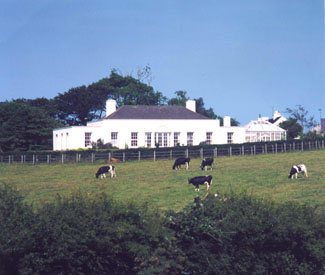 If you ever need somewhere really relaxing, peaceful and away-from-it all to stay near Belfast, Victoria Brann's Georgian-style house in the hills above Holywood is just the place. Although not pretending to be old, the proportions are classic and it's beautifully furnished with family antiques – once inside it has the genuine feel of a period house. Rooms complete with hospitality trays, fresh flowers, comfortable chairs, wireless broadband and laptop-size safes look out over the rolling North Down countryside and have lots of little extras: beds are made up with fine Irish linen, bathrooms have robes and slippers, also a neck cushion for the bath, there's even a hot water bottle just in case – and a torch thoughtfully placed beside the bed. And it comes as a nice surprise in such pristine surroundings that Victoria is an animal lover, a kennel is available and small dogs are allowed in bedrooms by arrangement. She was also a caterer in a previous life and it shows in delicious (and very generous) cooked to order breakfasts, served in a classic dining room – decorated, among other things, with a collection of silver cloches from her catering days. And, in summer, breakfast may be served in a spacious conservatory overlooking a croquet lawn...
Best places to Stay for...