ROMANTIC GETAWAYS - TEN OF THE BEST
Although mid February may be a clichéd time to take a romantic break, there is never a bad time to plot and plan - and these are just a few of our favourite romantic destinations in Ireland to get you thinking …
Ardtara
Upperlands, Co Londonderry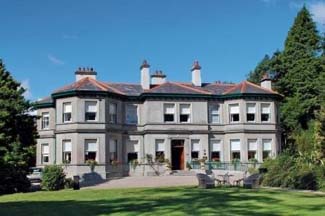 Former home to the Clark linen milling family, this elegantly decorated Victorian country house is known for its warm atmosphere and genuine hospitality. A member of Ireland's Blue Book, the property changed hands in 2014 and, as the new owners are the highly regarded Browns Restaurant Group (of Derry City and Letterkenny), there is a sense of real excitement surrounding its future. Manager Valerie Ferson and her team remain in place to oversee the house in general, but there are big changes in the kitchen and restaurant, where the new young chef is Eddie Attwell - a name we may expect to hear a lot more of as food lovers flock to experience this romantic venue for themselves. While not especially large, it is a fine house with luxuriously furnished bedrooms, well-proportioned reception rooms including a proper bar - which has access to the recently renovated conservatory and garden - and antique furnishings and fresh flowers everywhere, giving it a homely ambience. The restaurant was previously a snooker room and, with its full Victorian skylight and original hunting frieze, it makes an unusual setting for an exceptional dining experience.
Clare Island Lighthouse
Clare Island, Co Mayo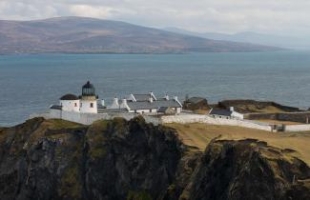 If an island stay is the ultimate escape, a stay in a lighthouse at the northern tip of a mountainous island four miles off the rugged west coast of Ireland should fulfil the dream very nicely. Especially when the island was once home to the pirate queen, Gráinne O'Malley. Romantic history aside, Clare Island Lighthouse now makes an unusual and atmospheric place to stay on the largest island in Clew Bay, which is a unique destination for artists, walkers and nature lovers. The only lighthouse in Ireland to have two towers (both of which are in use), this wonderful, historic property dates back to 1806 and has been in private ownership since being decommissioned in 1965. The current owner, Hamburg native Goesta Fischer, bought it in 2008 and, together with local business partner and interior designer Rosie McCann, renovated it to a high standard before opening for guests in 2013. Now a Blue Book property, the main living area is in the former lighthouse keeper's home and the style throughout is spare and arty, with original flagstones, bare wooden floors and a lot of white. Traditional bright red paint and original artwork provide visual warmth, while underfloor heating, and atmospheric open fires and stoves keep all areas cosy. This is a special experience, so stay for two nights if possible. Who's arguing with that?
Ballynahinch Castle
Recess Co Galway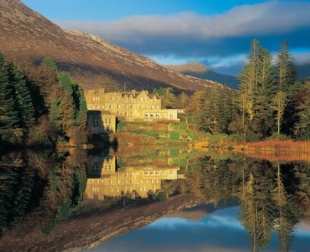 Renowned as a fishing hotel, this crenellated Victorian mansion enjoys a most romantic position in 450 acres of ancient woodland and gardens on the banks of the Ballynahinch River. Although impressive in scale it is wonderfully relaxed in atmosphere - a magic combination which, together with a high level of comfort and friendliness (and an invigorating mixture of residents and locals in the bar at night), all combine to bring people back. The tone is set in the foyer, with its huge stone fireplace and ever-burning log fire and many of the (very comfortable) rooms have lovely views over the river. Excellent meals are served in both the Owenmore Restaurant (a bright and elegant room for evening meals, organised to allow as many tables as possible to enjoy its uniquely beautiful river setting) and the mighty high-ceilinged bar, which has a huge fireplace, and many mementoes of the pleasures of rod and hunt – and is a good place to drop into for lunch when touring Connemara. A stay at this wonderful place is a restorative treat, and it will always be memorable.


Marlfield House Hotel
Gorey Co Wexford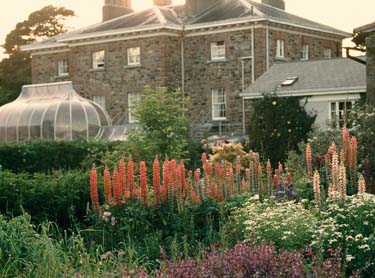 Once the residence of the Earls of Courtown, and now an elegant oasis of unashamed luxury and tranquillity, where guests are cosseted and pampered in sumptuous surroundings, the Bowe family's impressive Regency house is set in 36 acres of woodlands and immaculately maintained gardens - and imposing gates, a wooded drive, antiques and glittering chandeliers all promise a very special experience. Superb accommodation, which includes some very grand state rooms and a vast Master Suite, is luxurious in the extreme – and delicious food is another major part of the experience: the conservatory, with its stone statues and hanging baskets, overlooks the beautifully productive kitchen gardens and is one of the most romantic dining spots in the whole of Ireland, especially by candlelight. Marlfield offers some lovely short breaks and re-opens for the season at the end of February - and is available all year for weddings and special events
The Merrion Hotel
Upper Merrion Street Dublin 2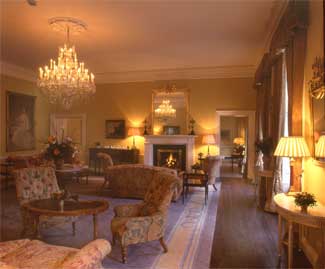 A break in the capital can be the ideal romantic treat. Just off Dublin's finest Georgian square, The Merrion (a former GCGuides Hotel of the Year) was created from four restored Georgian townhouses and, with marbled hallways and beautifully landscaped gardens, the period elegance of the hotel provides a stunning setting for romantic celebrations: beautifully furnished guest rooms and suites have sumptuous bathrooms and, although not a budget destination, the hotel's unusual 'no service charge' policy will help to ease the bill. Many of the capital's main cultural attractions are nearby – including the National Gallery, which is just a short stroll away – and most of the capital's leading restaurants (L'Ecrivain, Thorntons, Pearl Brasserie, Dax , One Pico and The GreenHouse among them) are within easy walking distance; and the hotel itself offers exceptional dining opportunities, in both the hotel's Cellar Restaurant and Restaurant Patrick Guilbaud, still unchallenged as the country's premier fine dining destination after all these years, which is next door and accessible directly from the hotel. Discreet, thoughtful service is an outstanding feature of the Merrion, and staff - under the direction of General Manager Peter McCann - are invariably courteous and helpful. The pamper factor of the romanesque, mosaic-tiled Tethra Spa is also predictably high – what more could you want?


Wineport Lodge
Glasson Athlone Co Westmeath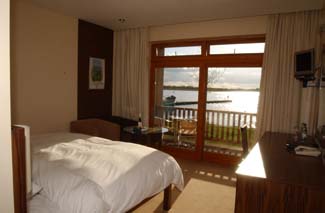 Ray Byrne and Jane English's lovely lakeside lodge (winner of several GCGuides awards) is one of the most romantic destinations imaginable, both for its beautiful location and the luxury, service and good food to be found within. Luxurious suites and guest rooms all have seriously sumptuous bathrooms and private balconies overlooking the lake – and superbly comfortable beds (with goose down duvets and extra large pillows) face the view…And then there's the food: Wineport Lodge began life as a restaurant, and the combination of stylish seasonal cooking and a uniquely beautiful setting remain unrivalled throughout Ireland. A magic spot.


Hayfield Manor Hotel
Perrott Avenue College Road Cork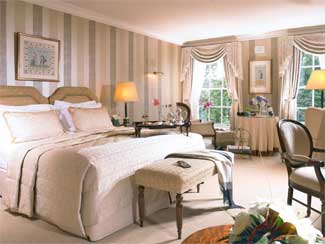 If a city break in Ireland's culinary capital appeals, the discreetly stylish Hayfield Manor could be the place for you. Cork's premier hotel is set in two acres of mature trees and gardens in the south-west of the city, near the university, and has the feeling of a large period country house (albeit with some striking contemporary features); managed with warmth and discreet efficiency, it makes a luxurious base for a romantic break. Rooms have a deliciously high pamper quotient and there's a choice between fine dining in Orchids restaurant and a more casual style in the smart contemporary Perrotts; on site facilities include a spa and indoor swimming pool, the city centre is a pleasant walk away in fine weather – and many activities, including golf, are available locally. (Open all year.)

Gregans Castle Hotel
Ballyvaughan Co Clare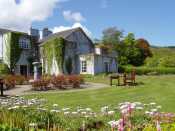 Simon Haden and his artistic wife, Freddie (who's responsible for the very beautiful, subtly updated décor) offer quiet opulence, open fires and understated romance at this gently luxurious country house hotel overlooking The Burren - winner of several of our awards over the hyears, including Hideaway of the Year. It's a place with a long and interesting history and, although the present house is relatively modern (only going back to the 18th century!) and has some quite recent additions, the exterior is simple, which is in keeping with the surrounding landscape and gives it an air of mystery – such a contrast to the warmth, comfort and uniquely serene atmosphere within. And the stunning food that attracts so much well deserved praise makes it a magic spot to return to for a wonderful dining experience after a day out walking. Discreetly hospitable staff, soothing luxuriously furnished bedrooms – many of them romantic – and delicious, meticulously sourced food all make this a great place to be: the perfect hideaway.



Longueville House Hotel
Mallow Co Cork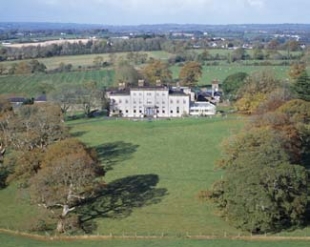 Set in 500 acres of private wooded grounds and gardens just west of Mallow, the O'Callaghan family's elegant Georgian mansion overlooking the River Blackwater offers sumptuous accommodation, elegant day rooms with open fires, and a cosy drawing room bar. Dine in the wonderful restored Turner conservatory, which is romantically draped with muslin and candlelit at night, or the cosy Presidents Restaurant (named after the family collection of specially commissioned portraits of all Ireland's past presidents), either of which make a stunning setting for William O'Callaghan's memorable meals, based on produce from the river, farm and garden – including the delicious Longueville House Cider and Longueville House Apple Brandy, both made on the premises from their own apples. (Open Wed-Sun all year, other times for groups by arrangement.)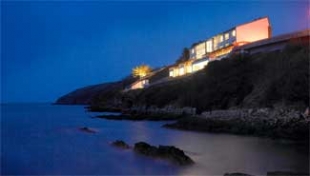 The Cliff House Hotel
Ardmore Co Waterford

With its fresh contemporary style, ambitious cooking and emphasis on professional and genuinely caring service, the Cliff House (our Newcomer of the Year when it opened in 2009) brought a new focus to an area of outstanding hospitality and unspoilt natural beauty which has somehow remained a well kept secret. On the edge of a pretty village with much to recommend it (sandy beaches to walk, excellent food and pubs, a charming local pottery and gift shop…), this striking hotel is in a beautiful cliffside location – many will fondly remember old-fashioned afternoon teas on the terrace in its former guise - and, despite its dramatic modern design, the sea remains the star. And, with Head Chef Martijn Kajuiter's exciting food and good old-fashioned hands-on management from General Manager Adriaan Bartels, this is a place that's been making a lot of friends – for both the hotel and the area. A must for romantic foodies – and could be just the spot for your wedding, with civil ceremonies possible on site...


Red Cliff Lodge
Spanish Point Co Clare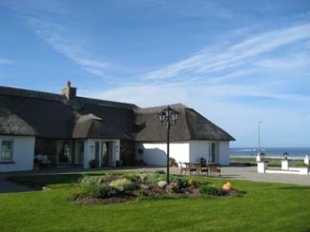 You won't do better than West Clare for an away from it all atmosphere, and John and Brid O'Meara's attractive thatched restaurant with rooms overlooking Spanish Point Beach has it all. Although the high-spec restoration and development of the property gives it a new feel, it actually dates back to 1840 - and Thomas Moroney, the local landlord who built it, chose well when he selected the site, which is one of the best in the area. It's best known as a restaurant but, while sumptuously decorated to give a sense of occasion at any time and serving delicious food, Red Cliff is not just a dining destination as it also has six gorgeous suites. Beautifully and very comfortably furnished with separate seating areas, these romantic pads have superb views, excellent insulation from the sea breezes, top quality 6ft beds, flame effect remote control fires, 32" LCD flat screen televisions, internet access, direct dial telephone and a discreet, well organised kitchenette with tea and coffee making facilities and breakfast welcome pack... The perfect hideaway in fact.

Best places to Stay for...