WOODLAND WALKS - 10 OF THE BEST
Autumn is perhaps the loveliest time of the year to enjoy woodland walks and foraging, and there are plenty tempting places to stay that are surrounded by wonderful forested grounds or with parkland or gardens to visit nearby. Here are just ten of our favourites to think about…
Ashford Castle
Cong, County Mayo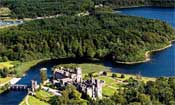 Set in 350 acres of parkland, with magnificent views of Lough Corrib and the River Cong, Ireland's grandest hotel dates back to the early 13th century, and it has recently been purchased by new owners who have a real vision for the property. Anyone who loves beautiful surroundings will be thrilled to stay here - or simply to visit the gardens and grounds. The autumn colouring in the parkland and forests surrounding the castle can be stunning, and there's something for everyone, from the seriously keen walker to the weekend visitor in search of a gentle stroll. Guided walks are offered around the estate (for as few as three people, so it doesn't have to feel like a bus tour) and a cycling tour, but you can just as easily take any of them at your leisure as clear information is given on each, including the amount of time to allow (from about half an hour to two hours). And a good long walk will be rewarded by outstanding food by acclaimed executive head chef, Stefan Matz, and his team, either in the Castle or at Cullen's Cottage restaurant in the grounds, which offers an excellent accessible alternative – and off-season offers at Ashford Castle can be very good value too.
Cashel House Hotel
Cashel, Connemara, Co Galway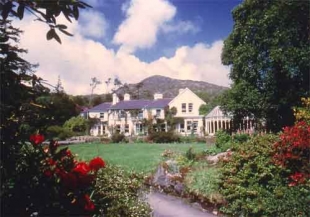 Kay and the late Dermot McEvilly opened Cashel House as a hotel in 1968 and it gained a national (and international) profile almost right away as General and Madame de Gaulle chose to stay here for two weeks the following year. The de Gaulle visit meant immediate recognition for this very comfortable and cosy hotel, but it did even more for Ireland by putting the Gallic seal of approval on Irish hospitality and food. Today's guests are fascinated by the photographs and other memorabilia in the hall, and you can even sit in de Gaulle's favourite spot in the garden, with views out over the bay. Kay McEvilly is a keen gardener and the beautiful gardens and woodland surrounding the house are another special point of interest - and she also offers short residential Cashel House Garden Courses; relaxed and informative, with respected guest speakers, they have proved a great success.


Sherwood Park House
Kilbride, Ballon, Co Carlow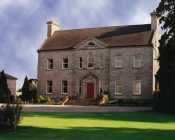 Built around 1700 by a Mr Arthur Baillie, Patrick and Maureen Owens' delightful Georgian farmhouse has sweeping views over the countryside and is an "accessible country retreat for anyone who enjoys candlelit dinners, brass and canopy beds, and the relaxing experience of eating out while staying in". It's a good area for walking, and the beautiful Altamont Gardens are on the doorstep (just 5 minutes away on foot).



The Old Inn
Crawfordsburn Co Down BT19 1JH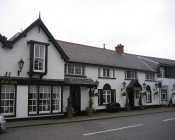 Oak beams, antiques and gas lighting emphasise the natural character of this famous and hospitable 16th century inn – the oldest in continuous use in all Ireland. Although very handy to Belfast it's in a pretty village setting, just a mile from the sea – and with plenty of scenic walking nearby at Crawfordsburn Country Park and the North Down Coastal Path. Good food too, in their Lewis Restaurant, named after the author C.S. Lewis.




Sheen Falls Lodge
Kenmare Co Kerry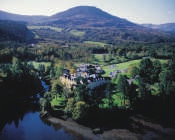 The waterside location of this famously stylish hotel just across the river from Kenmare town is beautiful, and it is set in a 300-acre estate of woodland, riverside walks and gardens. The Queen's Walk, a beautiful 19th century plantation named after Queen Victoria in anticipation of her visit to Kerry in 1861, takes you through lush woodland; although renowned for exotic tree ferns and spring-flowering cultivars (rhododendron, azalea, camellia), it is lovely in autumn too. Accommodation is contemporary classic, offering traditional luxury with a modern lightness of touch – and dinner here is always a treat.


Mount Juliet
Thomastown, Co Kilkenny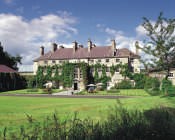 The distinctively lush beauty of County Kilkenny lies in its rivers and woodlands - and there's no better time than autumn to visit Mount Juliet House, set on 1500 acres of unspoilt woodland, pasture and formal gardens beside the River Nore. Although now perhaps best known for golf, this is one of Europe's greatest country estates and offers many activities, including beautiful walks, fishing, horesriding, and a Spa & Health Club for pampering. Excellent food too: choose between some of the best fine dining in the country at the Lady Helen Dining Room, or contemporary style in Kendals restaurant at Hunters Yard.


Roundwood House
Mountrath, Co Laois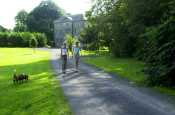 It is hard to see how anyone could fail to love the Kennans' unspoilt early Georgian house, which lies secluded in mature woods of lime, beech and chestnut, at the foot of the Slieve Bloom mountains. A sense of history and an appreciation of genuine hospitality are all that is needed to make the most of a stay here – forget about co-ordinated decor and immaculate maintenance, just relax and enjoy walking in the grounds, Rosemarie's good home cooking and chatting to Frank at the fireside. Magic.


Temple House
Ballymote, Co Sligo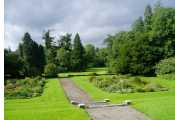 Roderick and Helena Perceval are the latest in a very long line (Percevals have lived here since 1665), and their home overlooks the original lakeside castle which was built by the Knights Templar in 1200 A.D… The present Georgian mansion was redesigned and refurbished in 1864 and some of the furnishings date back to that major revamp. Today, guests return from bracing woodland walks on the 1,000 acre estate to enormous rooms cheered by big log fires – and after dinner, perhaps, an outing to the renowned traditional Irish music and dancing sessions nearby in Ballintubber.


Richmond House
Cappoquin, Co Waterford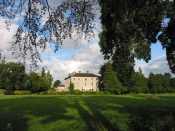 For returning guests - knowing the genuine hospitality, comfort, caring service and excellent food awaiting in the Deevy family's fine 18th century country house and restaurant just outside Cappoquin - there's always a sense of pleasurable anticipation as you approach Richmond House through well-maintained parkland. And, with lovely woodland walks alongside a nearby river (and garden visits too in summer), it makes an excellent base for exploring this wonderfully beautiful and unspoilt area.


Ballyknocken House
Ashford, Co Wicklow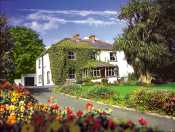 Perfectly placed for enjoying the autumn splendour of Mount Usher gardens and the Wicklow Hills – including tranquil lakeside forest walks at Glendalough, only a short drive away - well known chef and author Catherine Fulvio's charming Victorian farmhouse has been in the Byrne family for three generations and they have welcomed guests for over thirty years. Since 1999 it has been run by Catherine, who refurbished the house delightfully in old country style; it is now renowned for comfort, cosiness and warm hospitality - and, of course, her wonderful home-cooked food and the cookery school.
Best places to Stay for...