Just Ask Restaurant of the Month for November - Inch House, Thurles
The "Just Ask!" Restaurant of the Month winner for November is Inch House, Thurles, Co Tipperary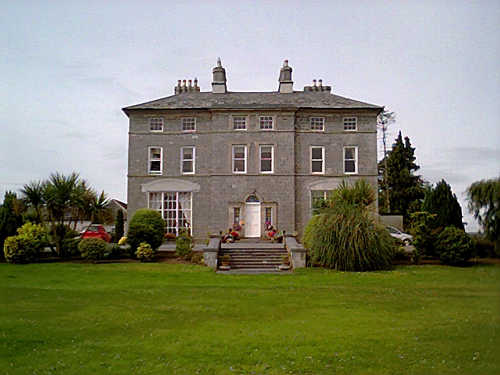 Built in 1720 and rescued from dereliction by John and Nora Egan in the 1980's, Inch House stands like a welcoming beacon at the centre of the family's large tillage farm near Thurles.
Its sense of connection to the land is palpable, embodying a family philosophy that is tangibly demonstrated in their fine classically furnished restaurant, where showcasing local produce has always been a priority.
Unusually, this includes not only a selection of the many outstanding producers and suppliers in County Tipperary (and other parts of Ireland), but also Nora's own home-produced black pudding which is made to her mother's traditional recipe and, a rarity these days, uses fresh blood (from Crowe's Farm Meats near Dundrum, who also supply excellent breakfast meats).
Provenance is king here and nearly all ingredients used are local, including meats, all of which are Irish: Beef is supplied by ABP in nearby Nenagh and lamb from Slaney Valley in Camolin, Co. Wexford. Glinvalley chicken and Silverhill Duck are supplied by Pallas Foods and pork and bacon come directly from Crowe Farms of Dundrum.
Fresh fish is supplied by Atlantis, Kilmore Quay in Co. Wexford and seasonal vegetables - notably their main crop Record potatoes - salads and herbs are produced on their own farm and also come from The Green Bowl company, an organic grower in Cahir. Nora's own traditional award-winning black pudding is handmade on site from an old family recipe.
Veronica Molloy's long-established Crossogue Preserves from Ballycahill feature on the breakfast table, along with Burren Smokehouse smoked salmon and a Tipperary cheeseboard with Cooleeney and Cashel Blue to the fore.
Other local businesses that play a part in the unique Taste of Tipperary that guests experience at Inch House include The Apple Farm in nearby Cahir, which supplies fruit - apples, pears, plums, strawberries - in season and The Tipperary Cheese Company in Two Mile Borris, who supply yogurt and mascarpone cheese.
It all adds up to a vivid sense of place that visitors take away with them on leaving - along with some of the Inch House sauces and preserves that are on sale, perhaps.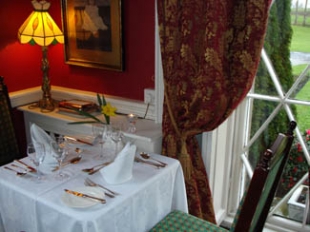 Sample Menus
We offer a Mid Week Menu From 6.00pm -9.30pm Tuesday to Fridays. 2 courses €29.00 or 3 Courses for €35.00. On Saturday we offer an extensive A la carte menu.
Special Menus are also available for group booking, please contact Inch House on 0504 51348 for further details.
These are sample menus and subject to change:
Inch House Midweek Menu
Three Course €35.00
Two Course €29.00
Starters:
Atlantic mussels gremolata done with garlic crumb crisp topping, lemon zest & fresh parsley
Salad of Irish smoked chicken with a brunoise of vegetables and served with our Inch House balsamic dressing
Cream soup of evening
Inch House Black Pudding salad with sweet potato wedges, red onion and Inch House garlic and herb mayonnaise (Black pudding available Gluten Free)
Parisenne of Melon served with fruit & Baileys cream liquor
************************************************
Optional starters:
Silver hill barbury Duck breast spring roll with plum sauce (€4.00 supplement)
Deep fried Cooleeney Cheese served with Inch House red onion marmalade (€4.00 supplement)
Timbale of poached cod & salmon, chilled topped with zesty cocktail sauce & complimented with Burren smokehouse rosette of smoked salmon (€4.00 supplement)
Our salad leaves come from a local organic grower called the Green Bowl Company
************************************************
Main Course:
Irish sirloin 8oz steak cooked to your liking & served with creamy pepper sauce
Oven baked supreme of Irish chicken stuffed with Tipperary brie, basil and sundried tomato served on a corn mash and accompanied with a pesto cream sauce
Honey roasted Confit of Irish Silver Hill duck leg served with braised red cabbage & Inch House ginger & orange sauce
Gortnamona goats cheese tartlet served with red onion marmalade
Baked fillet of Hake with a caper and black pepper caper crust served with citrus beurre blanc
All main courses served with selection of local vegetables & steamed potatoes & garlic potatoes.
Our potatoes are grown here at Inch House along with herbs and salads in season.
Optional Main courses:
Irish Fillet 12 oz steak served with creamy Fahey's farm chestnut mushrooms & a bordelaise sauce (€13.00 supplement)
Grilled fillets of Seabass served with Irish bacon & leek cream sauce (€9.00 supplement)
Rack of Irish Lamb served with colcannon & sweet onion jus (€11.00 supplement)
************************************************
Midweek Dessert Menu:
Shortbread ginger biscuits
Shortbread ginger biscuits served with cider & apple compote with chantilly cream
Strawberry Toblerone cheesecake €8.50
Strawberry Toblerone cheesecake served with Bailey's scented chocolate sauce
Inch House Style sticky toffee pudding €8.50
Inch House sticky toffee pudding served warm with vanilla ice-cream & chocolate crème anglaise
Hazelnut Meringues €8.50
Hazelnut Meringues served with fresh cream and caramel sauce
Inch House Dessert Plate €11.00
A selection of Five Desserts from our Pastry Chef
Homemade Ice-cream €8.00
Selection of Inch House Homemade Ice-cream served with Fresh Cream
Fruit Sorbets €8.00
Selection of Fruit Sorbets complimented with Seasonal Fruit
Inch House A la Carte Menu
Appetiser:
Cream soup of the evening €7.00
or
Boulabán farm fruit sorbet €4.50
****************************************************
Starters:
Baked Atlantic Mussels €10.00
Baked Atlantic mussels with a garlic crumb crisp topping
Inch House Salad €10.00
Crowe's Farm bacon, croutons, red onion & cherry tomato tossed in wholegrain mustard Caesar dressing
Parisian of Honey Dew Melon €9.00
Parisian of Honeydew melon served with fresh seasonal local fruit & dressed with Baileys Liqueur
Inch House Black Pudding & Goats Cheese €12.00
Inch House Black Pudding, & topped with the award winning Knockdrinna Goats cheese & served with Caramelised Onions & mixed Berry Compote
Smoked Chicken & Mushroom crepe €12.00
Smoked Chicken & mushrooms served in a cream sauce & a savoury crepe
Prawn & Avocado €11.00
Avocado filled with prawns, topped with Marie-Rose dressing & side salad
Our traditional black pudding is Handmade here at Inch House using only the freshest of Local and Irish ingredients On St. Patricks Day we won a bronze Medal at the Concours International du Meilleur 2011, France.
***********************************************************
Main Course:
Irish Entrecote 12oz Steak €28.00
Sirloin Steak cooked to your liking & served with a Pepper Sauce (h)
Irish Fillet 12oz Steak €32.00
Fillet Steak cooked to your liking, served on a bed of Sautéed onions & topped with a with Mushroom & Whiskey cream sauce
Supreme of Irish Chicken €26.00
Supreme of Irish chicken stuffed with chorizo & Crowe's farm streaky bacon & served with a wholegrain mustard Sauce
Grilled Fillets of Seabass €27.00
Fillets of Seabass served with nibbed almonds & a citrus beurre blanc
Roulade of Irish Pork Fillet €26.00
Fillet of Irish pork from Crowe's Farm, rolled and stuffed with Inch House black pudding & apricot herb stuffing with a redcurrant reduction
Grilled Fillet of Hake €25.00
Fillet of Hake served with a julienne of stir-fried vegetables & pesto cream sauce
Vegetarian Spring Roll €19.00
Selection of roast vegetables wrapped in spring roll pastry & served with our Inch House plum chutney
Main Courses Served with a Selection of Vegetables &Potatoes.
All Main Dishes are served with Sauce on them. Please mention when ordering if you would prefer Sauces served separately on any Dishes.
****************************************************
Dessert:
As a member of Good Food Ireland we are committed to using the core indigenous ingredients of Irish cuisine and promoting local and artisan food producers
Luxury Chocolate Tart €8.50
Rich Chocolate tart with a Shortcrust Pastry base served Homemade Ice-cream
Inch House Dessert Plate €11.00
A selection of Five Desserts from our Pastry Chef
Homemade Ice-cream €8.00
Selection of Inch House Homemade Ice-cream served with Fresh Cream
Berry Crème Brulle €8.50
Glazed Berry Crème Brulle served with Fresh Cream
Fruit Sorbets €8.00
Selection of Fruit Sorbets complimented with Seasonal Fruit
Selection of Farm House Cheese €12.00
A selection of Farm House Cheese from across Ireland
Mixed Berry Cheesecake €8.50
Mixed Berry Cheesecake served with fruit compote & fresh cream
Sticky Toffee Pudding €8.50
Warm Sticky Toffee Pudding served with caramel Sauce & vanilla Ice-cream
Tea/Coffee €2.00
Our Suppliers
Here at Inch House we purchase and support local producers and Irish suppliers. This is something we are very proud of as we want to give out customers the best produce from Tipperary and across Ireland.
Below is a list of some of our Suppliers:
• Our Irish Beef is supplied by A.I.B.P. Nenagh Co. Tipperary.
• Our Irish Chicken is supplied by Pallas Foods, Newcastlewest, Co. Limerick.
• Our Pork is supplied by Crowe Meats, Dundrum, Co. Tipperary and Thurles Bacon, Thurles, Co.Tipperary.
• Our Breakfast Sausages are supplied by the local Butcher Joey O'Dwyer, Borrisoleigh, Co. Tipperary.
• Our Fish is supplied by The Good Fish Company in Cork.
• Our Irish Lamb is supplied by Slaney Valley, Camolin Co. Wexford.
• Our Eggs are supplied by Ballyfree Browns, Smithboro, Co. Monaghan.
• Our Yogurt and Mascarpone Cheese is supplied by The Tipperary Cheese Company in Two Mile Borris
• Our Apples, Pears, Plums & Strawberries Come from The Apple Farm in Cahir in the Season.
• Our Jams come from Crossogue Preserves in Ballycahill
• We grow our own Potatoes, Rhubarb, Lettuce and herbs in Season. Also we produce our own Traditional Black Pudding and a range of homemade chutneys and dressings.
Here is a List of our Irish Cheese Suppliers:
• Cooleeney Cheese Selection
• Cashel Blue Cheese
• Gubbeen
• Boilie Goat's Cheese
• Carrigaline Farmhouse Cheese Selection
• Baylough Cheese Selection
• Durrus

Homemade Produce
Inch House is surrounded by a working farm. 250 acres of oats, barley & wheat are grown each year and harvest time starts in late August and into September.
John and his son Joseph work hard right the way through the year to store, dry and roll the grain for re-sale to local farmers throughout the winter and spring of the year.
Inch House also proudly produces Garden Potatoes for the local market as well as supplying the busy restaurant with top quality Record Potatoes all year round.
Nora and the chefs have worked together to create a range of homemade chutneys, dressings and sauces to compliment our Traditional Black Pudding.
Honey Mustard Vinaigrette
Balsamic Dressing
Orange Sauce
Plum Sauce
Red Onion Marmalade
Mixed Berry Compote
Mango Chutney
Here are some serving suggestions: Create your own Black Pudding Salad with Potato Wedges and then drizzle with balsamic dressing or why not try a slice of Black Pudding on the barbeque, pop it in a wholegrain bap with some chutney and a little garden salad. Bon appetit!

----------

VIEW ALL JUST ASK RESTAURANT OF THE MONTH WINNERS
---

"Just Ask!" is a public awareness campaign that aims to encourage consumers when eating out to look for information on where the food (particularly meat) on their plate comes from, and encourages chefs to provide this information on their menus. The programme supports both large and smaller artisan suppliers, encouraging both Irish diners and visitors from abroad to support restaurants that are in turn supporting their suppliers.

Here at Georgina Campbell Guides we have always been avid supporters of the 'eat local' concept, and we always enjoy reading menus that have a real sense of place. The dining experience is greatly enriched by knowing that the food on your plate is inspired by the produce and traditions of the area, and sourced nearby – and we would love to see more chefs sharing that precious information with their guests.

If you are a visitor to the area, learning a little about local food and the people who produce it adds a special extra dimension to the visit – and, for residents, it reinforces a natural pride in the good things of their locality and makes a meal all the more enjoyable.

So, we are delighted by the high standard of menus that continue to be submitted for our ' "Just Ask!" Restaurant of the Month Competition', menus that really speak of the best of Irish foods – and the dedication of both the people who make them, and the chefs who select them to create wonderful dishes with real Irish flavour for our enjoyment.