St Tola Organic Goats Cheese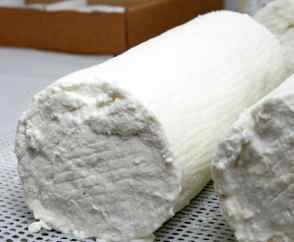 The revival and development of Irish farmhouse cheesemaking over the last 30 years has seen some extraordinary enterprises take root and thrive – including St. Tola Organic Goats Cheese, which is produced in the West of Ireland by Siobhan Ni Ghairbhith on the family farm at Inagh, Co. Clare; a village just south of The Burren and nine miles north-west of Ennis, it is easily identified by the Biddy Earley Brewery at the cross roads, which was Ireland's first brewery pub.

Handmade organic cheeses containing no additives or preservatives, the St. Tola cheeses are mild when young, becoming more distinctive in flavour as they mature. The soft St. Tola range includes logs (both light flavoured fresh cheese and full-flavoured mature); individual crottins, which are usually sold fresh but can be matured on request; and slices.

St Tola hard cheese is a round, creamy coloured cheese a little like a mature cheddar, with a hard rind and a deliciously tangy, nutty flavour. It's made in several sizes, including a small one (200g) which is perfect for hampers and picnics. The latest addition to the range is St Tola Feta Style, with a springy texture and mild salty flavour; used fresh it is ideal for crumbling into salads, and it keeps its shape in cooking.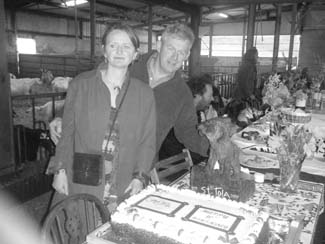 For Siobhan, 2009 marks ten years of producing these outstanding cheeses, which have won many awards, including recent success at the Great Taste Awards, British Cheese Awards and National Organic Awards and also one of the carefully selected accolades from the Irish Food Writers' Guild, who only commend three or four very special products each year.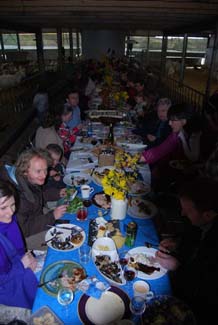 Guests who came to celebrate Siobhan's first decade got a tour of the farm and cheesehouse to see how the cheeses are produced (visitors are always welcome, by prior arrangement, including school tours). Guests of honour included Meg Gordon, the original cheese maker of St Tola who first started producing the cheese in 1982 with her late husband Derrick Gordon, and a feast showcasing local produce was served in the goat house while the herd of over 200 goats looked on and entertained the visitors as they dined on fresh mussels and oysters, Burren Rack of Lamb (supplied by Burren Life Project), Organic Pork from Crowes Butchers, salads by Jam Bakery and of course St Tola Cheese tartlets, cheesecake and cheeseboard, all accompanied by organic wines provided by Mary Pawle Wines.

Availability: Unusually for a goat cheese, the St Tola range is available all year. It is served in many good restaurants (including, in Co Clare, the Earl of Thomond Restaurant at Dromoland Castle, Gregans Castle Hotel and Berry Lodge); it may be purchased throughout Ireland at supermarkets including Tesco and Superquinn, specialist suppliers such as Sheridans and many independent grocers. Also available from selected outlets in Britain, including Neals Yard Dairy.

For further details, visit www.st-tola.ie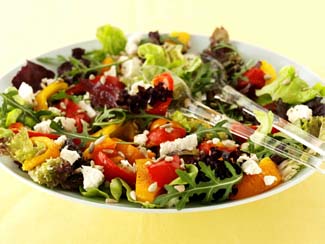 RECIPE: ROASTED PEPPER AND GOATS CHEESE SALAD

This colourful salad can be on the table in a flash if the peppers are prepared ahead – they are also edible raw, of course, but the flavour is harsh and they tend to be indigestible so it is well worth taking a little trouble to get a tender texture and sweet flavour. Mixing off extra virgin olive oil with sunflower oil makes for a lighter flavoured dressing, if preferred; salt may not be needed as the cheese has a salty flavour.

Click here for recipe